BREAKING: Winner-Takes-All for U.K. Army's Training, Simulation Contract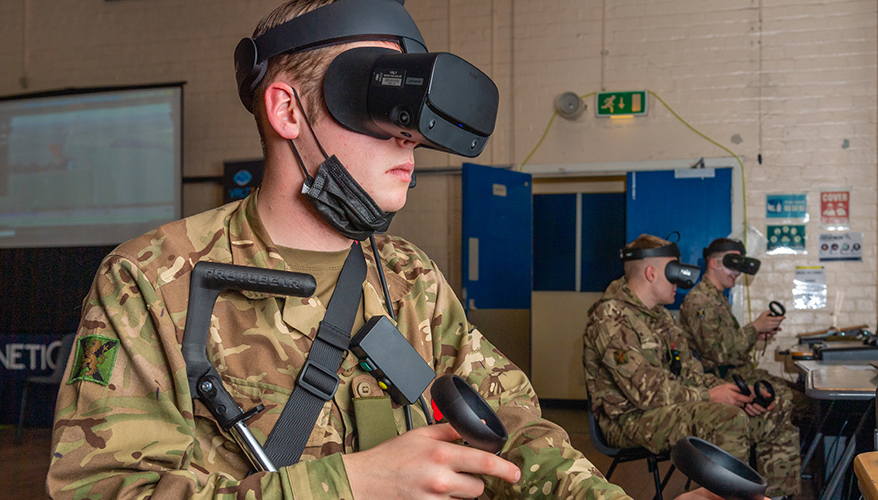 Ministry of Defence photo
LONDON — The British Army on April 28 revealed its game plan for its new training and simulation program — it will award a single-source contract worth more than 600 million pounds that will run for 10 to 15 years.

The Collective Training Transformation Program is the British Army's long-term program that intends to modernize its currently out-of-date training with live, virtual and constructive systems.

Service officials for the first time revealed their plans to roll out the program over the next decade and a half at the IT2EC trade show in London, the continent's largest annual training and simulation confab.

With a guarantee of hundreds of millions of pounds and work that will endure for up to 15 years, the contract will be hotly contested by major defense contractors involved in training and simulation.

Mike Cooper, senior responsible owner of CTTP in the Ministry of Defence, said the U.K. Army has 600 millions pounds to spend over the first 10 years of the contract plus an additional 200 million in investment money to get the program going.

"With the program running 15 years, clearly the final contract value will be greater than that," he said in a panel discussion.

Officials at the conference laid out a timeline that will end with a contract award in the later part of 2025. Prior to that, in phase one, requests for information will be released around January 2023. Phase two will result in several companies receiving contracts to develop and submit their ideas.

The next phase will whittle down candidates further while officials research the company's ability and capacity to do the work. The next phase will cut the competitors down to two candidates with the winner revealed in 2025.

"There is a balance being struck between wanting to get on with this as quickly as we can, but also having sufficient information and confidence — both in terms of the numbers and to get the relationship [with the contractor] right. Because at the end of the day, this is going to be a massive commitment of taxpayers' money," Cooper said.

CTTP has air and maritime versions as well with the Royal Air Force and Royal Navy on their own paths to modernize what they believe are outdated training and simulation systems. Earlier in the conference, a navy representative said the sea service had only received authorization to kick off its version of the program about two weeks ago. The Royal Navy is approximately two years behind the RAF, he said.

The British Army, meanwhile, wants a flexible system adaptable to changes in technology that are sure to happen over the next 15 years, officials on the panel said.

"Flexibility is multifaceted. It is the ability to train in different places linked to an expeditionary [force] but also about timing. When do you want to train? What do you want to train?" Cooper said.

The Army wants "the ability to analyze and deliver training in a more data-informed, evidence-based approach," he said. It wants to train wherever soldiers are in the world and to move data around quickly.

It also wants to be interoperable so it can train with partners and allies, he added.

"Clearly synthetics … will play a massive part in this," he said, referring to computer-based simulations. "We're looking at a whole, massive, immersive and rich and complex environment."

The system will also emphasize training in complex, urban environments, Cooper said. That is a factor the U.K. Army has known about since before the current conflict in Ukraine, he added.

Cooper said, while this will be a single source contract, and the British Army will consider the winner a strategic partner, "this is not about outsourcing training. We cannot transfer that ultimate risk" to industry, he added.

"This is about a strategic partner supporting us, having a system that works, but is still under the direction and control of the army," he said.
Topics: Training and Simulation