Coast Guard Confirms Delay for New Icebreakers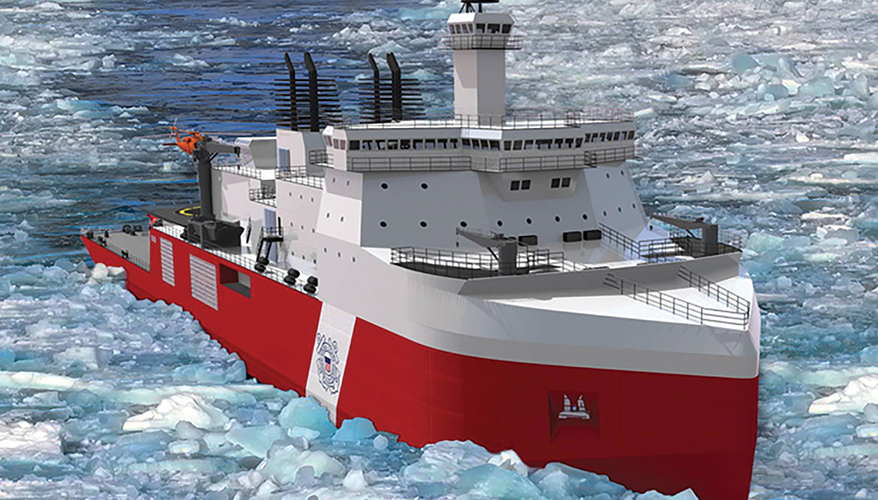 NATIONAL HARBOR, Md. — The pandemic and design-related work will push the Coast Guard's new icebreakers to an expected 2025 delivery date, according to service leaders.
Icebreakers are difficult to build and are an important national asset, Rear Adm. Douglas Schofield, assistant commandant for acquisition and chief acquisition officer for the Coast Guard, said at the Navy League's annual Sea-Air-Space conference in National Harbor, Maryland. The Coast Guard is working with the Navy to collaborate on the design.
"We're excited to get her out, start building this year, and then deliver her in [2025]," Schofield added.
Commandant of the Coast Guard Adm. Karl Schultz announced last fall that the delivery date of the new icebreakers would be delayed one year due in part to COVID-19 as well as a complex design of the new cutters. The fiscal year 2022 budget requested $80 million for the procurement of three Polar Security Cutters.
The new Polar Security Cutters will have a "multi-mission construct," given that the ship will sail through extreme temperatures and conditions around the world and breakthrough ice as thick as six feet. Currently, the Coast Guard has one heavy-duty icebreaker and a medium-duty icebreaker, which is primarily used for research purposes.
The Coast Guard is working on a more effective, versatile design than that of previous icebreakers, Schofield said.
"There's a lot of great design aspects that we're working in here with more maneuverable, up-to-date hull form that actually takes less maintenance and less horsepower to break the same amount of ice," Schofield continued. The multi-mission aspect, which includes boat launching, helicopter recovery, as well as tailoring to crewmembers' needs, is crucial, he added.
When asked about the human aspect of the future fleet, Acting Director of Civilian Human Resources Capt. Laura Collins said giving young recruits access to high-tech equipment provides them with the tools they need to use their natural acumen and apply it to their work at the Coast Guard.
Collins also acknowledged the role new fleets can play in diversifying the Coast Guard and providing women with more opportunities to serve. Women who get more opportunities to serve are more likely to stay in the Coast Guard, Collins said in reference to a 2019 RAND Corp. study on women's retention.
"And one of the amazing things that we're doing with our new cutters is enabling that mix-gender crewing," she continued. "With all of our modern cutters, we accommodate those mix-gender crews and we build more capable surface force and a more capable Coast Guard."
Topics: Maritime Security