WEB EXCLUSIVE: Ukraine Invasion Prompts Plea from French Official to Speed Up NATO Tech Integration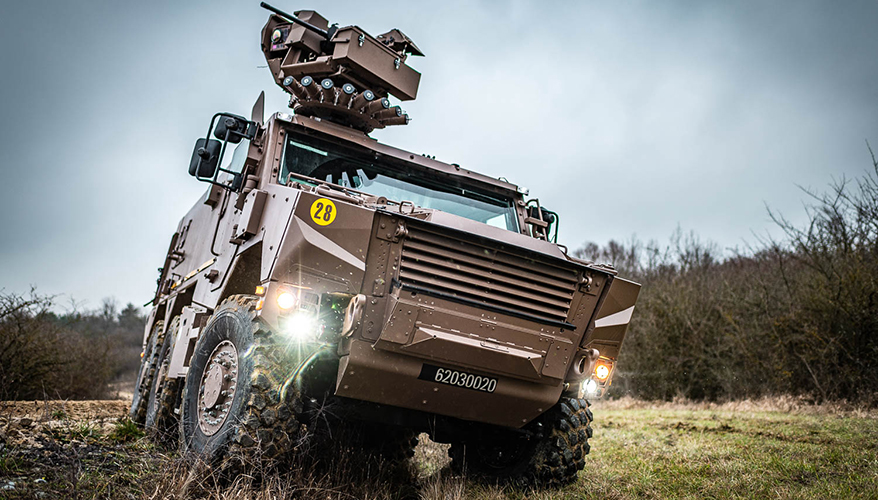 Griffon multi-role armored vehicle
Arquus Defense photo
NATO officials for years have been preaching the need for interoperability among member nations' weapon systems. France's top defense official said in light of Russia's war against Ukraine, it isn't happening fast enough.
French Chief of Defense Gen. Thierry Burkhard March 8 said: "The systems that are deployed within NATO countries have to be compatible with the other systems in use within NATO, so we need to make sure they are compatible [and] interoperable in massive ways," he said. "I think we're not making progress in the right direction in that field."
Russia's invasion of Ukraine highlights the need to speed up NATO interoperability, he said.
The ability for weapons and other military systems to communicate and share information among NATO allies is one of the most important aspects for the alliance's success in future fights, Burkhard said during a fireside chat hosted by the Center for New American Security.
Collective interoperability is not currently the standard, he noted.
For example, Burkhard has witnessed communication issues with the increased deployment of the F-35 joint strike fighter into various NATO ally's air forces.
"The F-35 is designed as a very effective and efficient system," he said. "It has great qualities, but its design is a very closed system and I think this is a mistake."
NATO militaries must play a decisive role in ensuring network interoperability standards across the alliance, he added.
France is also working to improve interoperability within its own armed forces in an effort similar to the U.S. Defense Department's joint all-domain command and control, or JADC2, which aims to link sensors and shooters at the tactical edge.
France's internal campaign to achieve interoperability is part of its Scorpion program, which "aims at digitalizing all land forces in order to be able to extend information very quickly and also improve [our] operational pace in order to be able to impose our will on opponents," he said.
A document — Burkhard's Strategic Vision for 2030 — is not unlike modernization plans made by the United States and the United Kingdom to move away from operations against nonstate actors and prepare for potential conflict with adversaries such as China and Russia.
An exception the U.S. and U.K. militaries' desires to shrink the size of its land forces. France will be focusing its attention on upgrading its Army by the year 2030, he noted
This includes the development of two new ground vehicles for the French army to replace the service's aging vehicles and systems: the Griffon, a multi-role armored vehicle, and the Jaguar, an armored reconnaissance and combat vehicle.
Burkhard said the ability of these vehicles and other new capabilities to connect and share information across domains is "the true driver" for success.
Russia's operations — which have not gone to Moscow's plans — signal the true amounts of effort required for high-intensity operations.
"It doesn't mean that we are not able right now ready to engage in a high-intensity conflict, but not with all the assets that were identified or the level of training we [expected] to reach by 2030," he said.
"The situation today shows us that we need to speed up the process — but let us not lie to ourselves … that's what the invasion of Ukraine by the Russian army is showing negatively. This is something that requires a lot of effort and a lot of time," he said.
Topics: Global Defense Market