JUST IN: New Opportunities for Pentagon's Rapid Experimentation Program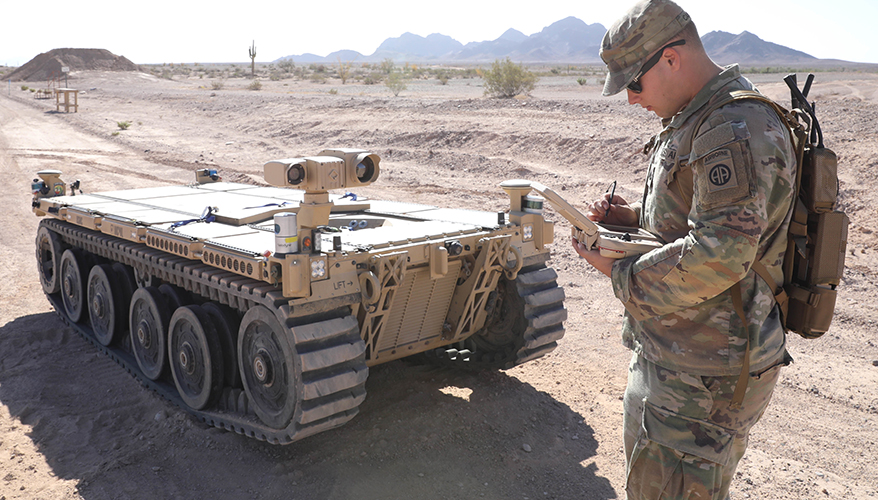 A soldier operates a ground robot in preparation for Project Convergence.
Army photo by Sgt. Marita Schwab
Companies that were worried they may be left out in the cold after not being selected for one of the Defense Department's rapid experimentation fund's 32 slots last year may still be in luck, according to one official.
Last year, the Pentagon chose 32 projects for experimentation out of thousands of proposals for its new Rapid Defense Experimentation Reserve, also known as RDER, said Alexander Lovett, deputy director of prototypes and experiments at the office of the undersecretary of defense for research and engineering.
The program aims to fill critical joint warfighting capability gaps as identified by combatant commanders. Lovett said industry and any branch of the military with their own early stages capabilities can still be assessed alongside the RDER-funded projects.
"The more I can let industry know what my problems are, [the more] they can spend their money and [I] don't have to spend my money," he said. "That's best for all."
Previously, officials said there were 200 proposals for the program, but Lovett clarified that there were only about 200 "decent" proposals and thousands of submissions in total.
The final list of technologies participating in the program is and will remain classified, he noted.
"We're saying that these are our capabilities and our gaps, and this is what I'm doing, so we probably don't want to put those two together in the
Washington Post
," he said.
Lovett noted experimentation is a continuous campaign and won't conclude after one event. The rapid experimentation program will allow effectiveness verification before embarking on major events such as the Army's annual Project Convergence, he said.
"What RDER really has allowed is for us to do this at a totally joint or multicomponent level," he said.
Throughout the experimentation phase, major technical questions will be answered in various environments, Lovett said.
"Some of these technologies we'll demonstrate in the desert, they will be out in the Pacific, they will be maybe in CENTCOM," he said. "Each one of those will have people who are measuring off those measures of effectiveness and measures of performance."
The Defense Department sent a late request to lawmakers for additional funding in the upcoming appropriations bill for fiscal year 2022. Lawmakers are likely to appropriate more than is requested, Heidi Shyu, undersecretary of defense for research and engineering, told reporters in January.
Meanwhile, Lovett said he is exploring opportunities for experimentation with coalition forces. In the first round of RDER experiments, three technologies are being developed jointly with international partners, he said.
An experimentation plan for Indo-Pacific Command "will be integrated as part of opportunities for RDER to both take technologies and or have coalition partners participate in RDER experimentation," Lovett said.
He will collaborate with the deputy science and technology advisor to Indo-Pacific Command to increase experimentation "wherever we can," he said.
"In a complex system of systems, I need a lot of events and the ability to do this," he said.
When asked how the Russian invasion of Ukraine would impact plans for the rapid experimentation fund, Lovett said the program is "on plan as originally laid out."
Topics: Army News