ALGORITHMIC WARFARE INFOTECH
DoD Tackling Software Development Challenges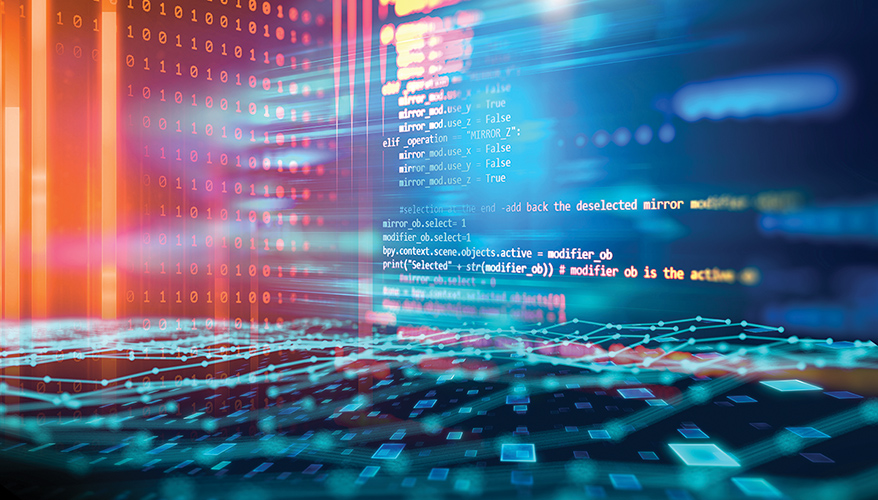 iStock illustration
The Pentagon is overhauling its acquisition of critical software as it increasingly relies on new systems for automation and decision making, officials say.
"Delivering a more lethal force requires the ability to evolve faster and be more adaptable than our adversaries," said Deputy Secretary of Defense Kathleen Hicks in a February memo. "The department's adaptability increasingly relies on software, and the ability to securely and rapidly deliver resilient software capability is a competitive advantage that will define future conflicts."
In the memo, Hicks signed off on a new modernization strategy aimed at accelerating software delivery schedules.
"Transforming software delivery times from years to minutes will require significant change to our processes, policies, workforce and technology," she said.
The strategy will support Pentagon priorities such as the development of joint all-domain command and control and artificial intelligence platforms.
"The approach is practical — unify efforts across DoD and partner with industry-leading software institutions to produce a portfolio of best-in-class software capabilities enabled by DoD processes," according to the document. "These capabilities must augment and integrate with other infrastructure components to include zero-trust architectures, electromagnetic spectrum capabilities and a growing inventory of connected military devices."
Implementation will be led by a software modernization senior steering group, according to Hicks. The group has been instructed to deliver an implementation plan within 180 days of the release of the memo.
Software delivery is "not a one-and-done activity" and approaching the development of the technology in that way is harmful, the strategy said. Instead, the document lays out a modernization framework that includes a minimum set of technical enablers and processes that must be addressed.
The framework "serves as a common lexicon and organizing construct for discussing and coordinating software modernization activities," the strategy said. "It is not intended to be all-inclusive or final but instead serves as a guardrail to focus implementation."
Danielle Metz, the Defense Department's deputy chief information officer for information enterprise, said the Pentagon is considering how it can transform business processes to ensure agility is baked into every step of software procurement, including contracting, acquisition, testing, evaluation and delivery.
The offices of the chief information officer, undersecretary of defense for acquisition and sustainment, and undersecretary of defense for research and engineering are teaming together — in partnership with the combatant commands and other defense agencies — to remove impediments and roadblocks to the Pentagon's current processes to streamline, improve, update and revolutionize software acquisition, Metz said during a recent roundtable with reporters.
The department wants to "democratize the exceptionalism" that has been seen in pockets throughout the military — including the Air Force's Cloud One program office and the Navy's Black Pearl software factory — through the establishment of a department-wide software factory ecosystem, Metz said.
"We want to be able to make sure that we inculcate that into the DNA of the department," she said.
Jason Weiss, the Pentagon's chief software officer, said the Pentagon currently has 29 software factories across the services.
"We're starting to see some serious groundswell of traction around that," he said. "We're seeing lots of lessons learned start to percolate to the top and a lot of collaboration taking place. … We are going to be looking at and listening to those software factories to determine what policy changes [we need] to prioritize."
However, the ecosystem won't create burdensome requirements or bureaucratic red tape for existing software factories, Weiss said.
"I see us as reinforcing and providing more momentum and encouragement for the software factories as opposed to them having to change the way that they are executing today," he said.
As the Pentagon looks to scale technology from the various factories, officials hope they can create efficiencies and cost savings. For example, one core capability to target could include source code management, according to Weiss.
"Do we need every single software factory to go out there and procure and manage and operate their own source code repository?" Weiss asked. That's an example "of where we can actually start to see economies of scale in terms of both operational capacity and cost reductions for the department across these software factories."
If the Pentagon can achieve that, that will allow the ecosystem to continue to grow while allowing the factories to operate with higher degrees of scale and precision without having to start from scratch at every point, he said.
The new strategy is a subset of the Defense Department's Digital Modernization Strategy and replaces the Pentagon's cloud strategy that was released in 2018.
"Given software's role and pervasiveness across all aspects of mission capabilities and supporting infrastructure, implementation success of this strategy will rely heavily on our partnerships across the department," Weiss said.
Beyond acquiring new technologies, the guidelines reinforce the need to attract and retain workforce talent, Weiss noted. The Pentagon must hire the right individuals to fill leadership positions and individuals need to engage in "upskilling" efforts.
"No one can be left behind in this journey" including military service members and civil servants, he said. "In this era of competition and the race for digital dominance, we simply cannot settle for incremental change anymore. The department must come together to deliver software better and operate as a 21st century force."
Topics: Infotech, Defense Department