JUST IN: Singapore PM Sees a Militarized Indo-Pacific in Wake of Russian Aggression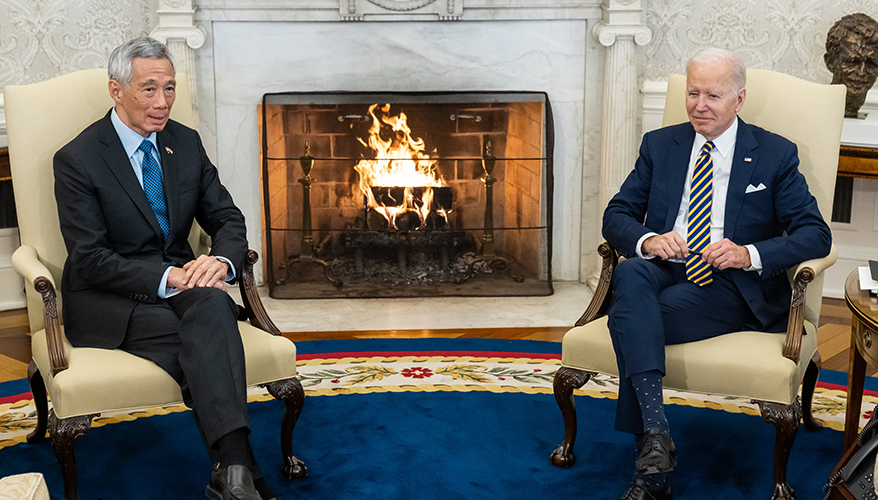 Singapore Prime Minister Lee Hsien and U.S. President Joe Biden
Photo via @POTUS twitter
Russia's invasion of Ukraine has caused small nations in the Indo-Pacific to cast a wary eye on their larger neighbors, Singapore Prime Minister Lee Hsien Loong said in a talk at the Council of Foreign Relations March 30.
"In Asia, you don't have NATO," Lee said. "But we do have hotspots. We do have issues which are difficult to resolve. And we do need institutions which will bring in countries in both sides."
Lee lamented the damage the war in Ukraine has done to multilateral alliances. "You no longer have a framework in which opponents, rivals, competitors work together and maybe disagree with one another."
The Russia-Ukraine war has damaged the international framework for law and order and endangers small countries, Lee added. To avoid falling into "disorder, autocracy, or anarchy," countries need strong economies. Without strong economies, nations can fall into disorder, he said.
The much larger Russia invading its smaller neighbor may bring about nuclear proliferation in the Indo-Pacific, Lee said, mentioing Japan and South Korea as nations who may pursue nuclear weapons programs.
"Every country is now going to ask, 'What lesson does this hold for me?'"
Russia's war against Ukraine has also highlighted the potential for conflict between China and Taiwan.
Lee referenced a poll in Taiwan that showed only one-third of the population — down from two-thirds last October — believe that the United States will intervene militarily in a potential Chinese invasion should the need arise. A referendum in Taiwan that would increase the conscription times from four months to 12 months is an indication of this increasingly militaristic attitude in small countries, Lee added.
The a future challenge for countries such as Taiwan and Singapore that deal with China is "how to accommodate a China which is going to become more developed, larger, more advanced in technology," he said.
Lee was also asked about China and Singapore's business relationship, given that U.S. companies have become increasingly frustrated with China's practices of investing in U.S. companies, taking their intellectual property, then taking it back to China.
"What the Chinese will want to do from other countries, is what the U.S. tried to do very hard in the 19th and early 20th centuries, and that is to pick up technology and ideas from others who have got these technologies and ideas," he said.
He advocated diplomacy to solve issues such as intellectual property theft.
"What you will need to do is to have a very serious conversation at very senior levels to make it quite clear that to have stable relations, you must have trust," he continued. "And if things are done which undermine that trust between the two countries, I may not be on the same page with you. I may not like you. But I need a certain basis of trust in order to do any business with you and solve problems together."
Topics: Defense Department, International, Global Defense Market