BUDGET 2023: Topline Budget, National Defense Strategy Prioritize China Challenge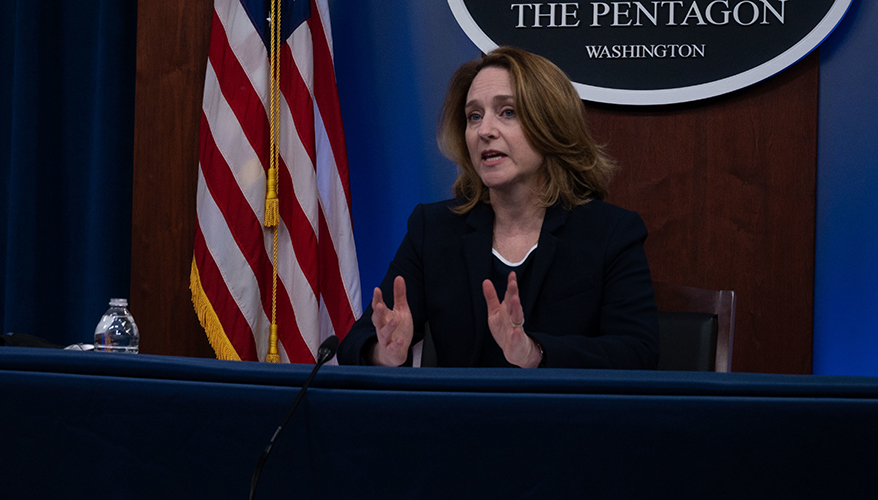 Hicks
Defense Dept. photo
The Biden administration's $773 billion budget proposal for fiscal year 2023 includes large increases to keep pace with threats such as China and climate change.
The fiscal year 2023 Defense Department Budget request of $773 billion is a $30.7 billion, or 4.1 percent increase, from the 2022 enacted amount.
Secretary of Defense Lloyd Austin III said the Pentagon is requesting nearly $56.5 billion for air power platforms and systems; more than $40.8 billion for sea power, to include nine more battle force ships, and nearly $12.6 billion to modernize Army and Marine Corps fighting vehicles.
"We are requesting more than $130.1 billion for research and development in this budget — an all-time high — because we understand the need to sharpen our readiness in advanced technology, cyber, space and artificial intelligence," he said in a statement.
Kathleen Hicks, deputy secretary of defense and chief operating officer, said while the Defense Department has the "people of Ukraine foremost in our minds" as they fight Russia, China remains the United States' "most consequential strategic competitor and pacing challenge."
That is reflected in both the budget proposal and a classified version of the National Defense Strategy that was recently delivered to lawmakers on Capitol Hill, she said.
The budget and NDS "act urgently to sustain and strengthen deterrence with the" People's Republic of China, Hicks said.
"The PRC has the military, economic and technological potential to challenge the international system and our interests within it," she said.
The topline includes $276 billion for "investments," which includes procurement, research and development, and test and evaluation. The investment in R&D is the "largest ever," she said at $130 billion.
"We must out-innovate and outperform would-be threats," Hicks said.
Officials did not at press time have an amount of funding they could disclose for the Pacific Deterrence Initiative. That figure would be released later, they said.
Undersecretary of Defense-Comptroller Chief Financial Officer Michael J. McCord said the administration put together the budget prior to Russia's invasion of Ukraine.
Meanwhile, there is no intended message proclaiming the Defense Department doesn't take the Russia threat and its nuclear weapons seriously, McCord added.
Hicks said there is $34.4 billion to recapitalize the three legs of the nuclear triad — ground-based missiles, strategic bombers and submarines — and modernizing nuclear command and control.
"This budget ensures that our forces are backstopped by a safe, secure and reliable nuclear deterrent," she said.
In addition, the National Nuclear Security Administration is requesting $21.4 billion to sustain and modernize the nuclear stockpile among other priorities.
The budget would also invest $135 billion in readiness, Hicks added.
For the first time, the budget requests breaks out funding across the services and programs to address climate change at $3.1 billion.
When asked if breaking out that number would only serve to act as an "attack surface" for lawmakers critical of such efforts, Hicks said it should be a bipartisan issue.
"Every lawmaker comes from a state or district where they're seeing the effects firsthand. Rising sea levels, drought, fires, hurricanes, increase in hurricanes and their severity and that affects our installations. We've seen a clear alignment in a bipartisan way with Congress on the installation resiliency piece of this," she said.
Meanwhile, "all of our climate investments are fully aligned with warfighter needs," she said of such technologies as electrifying vehicles.
The budget request also highlights issues of interest to the defense industrial base.
In line with our strategy we have five key focus areas for the industrial base: microelectronics, casting and forging, batteries and energy storage, kinetic capabilities and; strategic and critical minerals. She did not disclose how much was located to DIB issues.
The request also includes a 4.6 percent pay raise for civilian and military personnel to address inflation, which is the highest in some 40 years.
Rising prices did affect the budget, McCord said. The $773 billion represents 1.5 percent real growth over the enacted 2022 budget, McCord said.
"You have last year's number inflated and then add 1.5 percent on top of that," he confirmed.
Topics: Budget, Defense Department