ROBOTICS AND AUTONOMOUS SYSTEMS
Singapore Company Explores Robot Dogs for Combat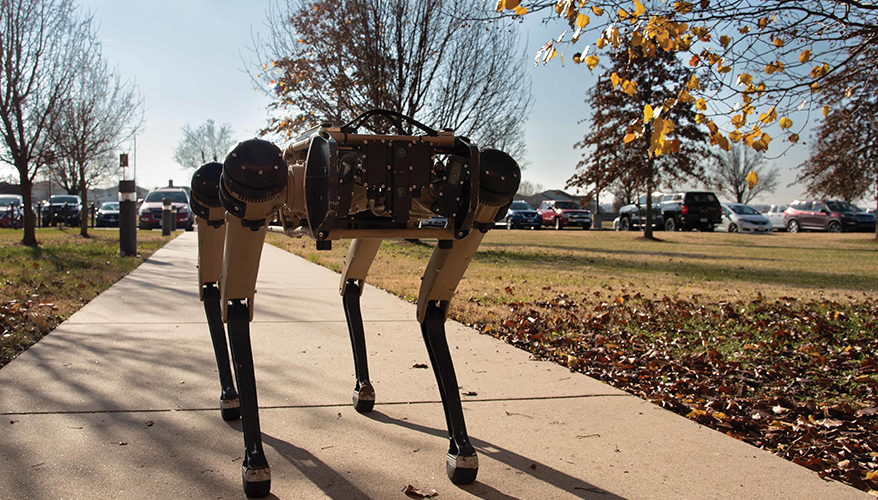 Ghost Robotics Vision 60 semi-autonomous robot dog
Air Force Photo by Airman 1st Class Shannon Moorehead
SINGAPORE — Singapore's largest technology company is experimenting with pairing soldiers and robots resembling dogs for combat.
ST Engineering displayed its vision for the Vision 60 ground vehicle made by Philadelphia-based Ghost Robotics at the Singapore Airshow in February. Though the robots are not quite yet in fighting shape, one day ST Engineering hopes they could be used to keep soldiers out of the line of fire, said Dave Eng, commercial director for the land systems division at the company.
Before the robots can be deployed with troops, ST Engineering is experimenting to determine the best way to mature and integrate software, sensors and remote control technologies within the system, Eng said.
"We are exploring [how] to support the soldier to fight in a real scenario," Eng said.
The standard unmanned quadruped — or a robot with four legs — comes with a simple camera system. ST Engineering will equip the Vision 60 with more advanced sensors such as lidar, which uses laser beams to detect surrounding obstacles. More advanced sensors would allow the robots to move with almost the same ease as a dog.
"We also inserted lidar on the [Vision 60] to give a better localization, so that when you go into a very small room or situation, you can actually maneuver more accurately," Eng said.
ST Engineering has also integrated cyber-hardening software to prevent attempts to hack the robot's controls, he said.
One of the biggest challenges is how to control the robots in a contested environment, Eng said. Current testing includes experiments for robots that respond to gestures, vocal cues and eye movements.
"Intuitive gesture controls … helps the man to control the robots in a way where the soldier is under heavy stress during a firefight," said Han Khoon Tay, principal engineer at Singapore Technologies Kinetics, a subsidiary of ST Engineering.
The goal is to find out which method takes the most burden off the soldier, who needs to focus on threats without worrying if the robot understood their orders, he said. In a combat situation, for example, there are likely to be loud noises that could disrupt voice commands.
The technology used by ST Engineering and off-the-shelf solutions are still evolving, said Letticia Fong, assistant vice president of corporate communications at ST Engineering.
"This is the ideal end scenario where everything works seamlessly together," she said. "But right now, we are not there yet."
Topics: Robotics and Autonomous Systems, Robotics