JUST IN: Ukraine War Called 'Catalyst' for Space-Based Remote Sensing Industry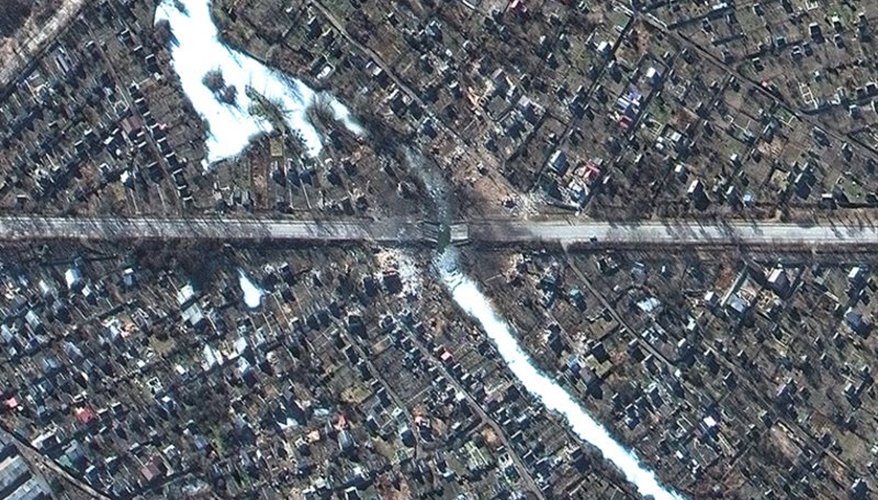 A bridge across the Stryzhen River in Ukraine appears to have been destroyed.
Maxar Technologies photo
While space-based sensors — once the sole purview of secretive spy agencies — have been making terrestrial images available to the public for almost two decades, the war in Ukraine is bringing the technology to the forefront, leaders in the field said recently.
"It really is a new era of tactical [intelligence, surveillance and reconnaissance] from space … the unblinking eye we always talked about 25 years ago, it's real today," said J.R. Riordan, chief revenue officer at BlackSky Technology, which operates its own satellites and integrates data from other spacecraft and sources to provide customers with intelligence.
In January, BlackSky began looking at the Russian buildup on the border of Ukraine. The company has been providing imagery and data to customers as well as the public and the media ever since.
"We continue doing it today on a 24/7 basis. We set up a crisis action cell within BlackSky to help our external customers, as well as others that may come forward and say we need help from humanitarian perspective," he said March 21 at the Satellite 2022 conference in Washington, D.C.
The public is seeing images in print and cable TV news networks of convoys, before-and-after images of buildings that were shelled, and in some cases, muzzles flashing from artillery positions.
Tony Frazier, executive vice president of Maxar Technologies, which both builds satellites and provides Earth observation data to customers, said his company has been monitoring events in Ukraine and Russia's ally Belarus, day and night, at land and at sea. Its sensors can see objects at resolutions of 30 centimeters.
Twenty years ago, the wars in Iraq and Afghanistan, served as a turning point for commercial communications satellite providers who answered the demand for high-bandwidth links to forces in the Middle East. The industry allowed the armed forces to operate unmanned aerial vehicles half a world away from bases in the United States.
Frazier said the Ukraine war is doing the same for space-based data collectors.
"The crisis in Ukraine has really been a catalyst for bringing together … our industry, for how commercial remote sensing and more advanced geospatial intelligence can be applied to a trending event, where you're having the ability to see, understand and interpret activity from space, to really deliver insights to those in need," he said.
Commercial providers can tap into all the high-quality assets that are collecting data across a number of platforms in space and transmit that data to the ground in short order, he Frazier said.
"We can disseminate that to different mission partners use a variety of government networks, both unclassified and classified" for tactical and strategic requirements, he added.
Another company that has entered a sector once only occupied by intelligence agencies is HawkEye 360, which collects radio frequency data. John Serafini, CEO of the startup, declined to say publicly what his company has been doing in the Ukraine area of operations.
HawkEye 360 is developing constellations that fly in clusters of three that will allow it to collect and precisely geo-locate radio frequency signals in the 50 megahertz- up to-18 gigahertz range, he said.
It will detect, analyze and track assets and extract intelligence from targets, military or otherwise.
This has been done in the classified domain but it's now bringing the capability to the unclassified world, he said.
"Part of our value proposition very much is that the data that we produce is shareable, it's exportable, it's able to be provided to coalition partners on the battlefield," Serafini said.
Riordan said space-based data can now be delivered to "your cell phone, your iPad, your computer — anomaly change and event detection — all delivered to the tactical edge."
James Platt, chief of strategic defense at the Department of Homeland Security, said, "There's a paradigm shift going on where [many] things … are going to be provided to the private sector. And we have to understand what that means for security resilience and U.S. critical infrastructure."
Topics: Space