JUST IN: Commercial SATCOM Providers Gearing Up for JADC2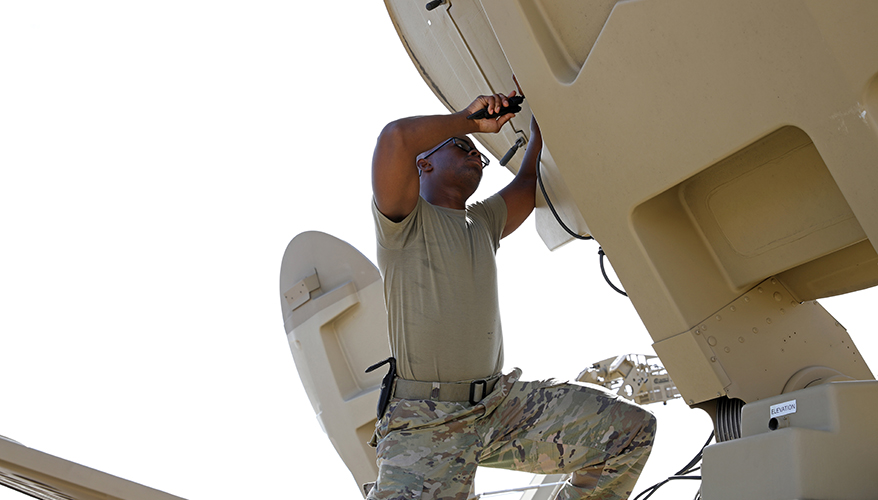 A soldier sets up a satellite transportable terminal in preparation for Project Convergence.
Army photo by SGT Marita Schwab
The U.S. military expects commercial satellite service providers to offer innovative technologies that will help it achieve its grand strategy to connect sensors and shooters known as joint all-domain command and control.
The Pentagon released an unclassified strategy document on JADC2 earlier this month. While the concept is "in action" today, commercial space innovations could allow the military to "crank it up," said Mike Dean, the Pentagon's SATCOM chief.
A Mitchell Institute policy paper released earlier this year
named satellite communications technology as the "backbone" of JADC2.
"We have a great opportunity with commercial space, moving their orbits closer and having low latency and high throughput satellites in order to do a lot of things in space that we weren't able to do before," Dean said during a panel at the Satellite 2022 conference in Washington, D.C.
For example, the Defense Department is currently able to sense a target using radar or imagery and then determine the appropriate action, a process called dynamic targeting. The challenge is creating a network of systems that can go through that process over and over, said Brig. Gen. Steve. Gorski, director of intelligence at Air Combat Command.
"We have to do that process for many targets that are moving on the ground, in the air, possibly in space, in a very compressed timeframe — multiple kill chains executed in just a matter of hours and that can decide the entire course of the war," he said.
"Commercial partners have been huge in helping us work through that problem set, but there's a lot more work to be done," Gorski said.
Russia's invasion of Ukraine has shown that the commercial satellite service providers have a role to play in conflict, said Jay Chapman, director of government solutions at Iridium Satellite Communications, which is aiding humanitarian efforts, sustainment and logistics operations in the country, he said.
Concepts like JADC2 can be tested in real time to evaluate how commercial space could augment military technologies, he added.
"It's a .... sad but opportunistic time for us all to look at what the right blend of capabilities is to support this," Chapman said.
Russian operations in Ukraine have also demonstrated how successful a fully integrated joint military communication network could be, Gorski said. While they are using advanced technologies, the Russian military is not operating how the U.S. military would operate with connected sensors and shooters in a conflict, he said.
"The Russians are not able to execute what we're hoping to get to in JADC2," Gorski said.
Meanwhile, Chapman pointed to industry's proliferation of low-Earth orbit, or LEO, and medium Earth orbit, or MEO satellites. The military typically utilizes a higher volume of satellites that are in geostationary orbit, which is farther from the ground than LEO or MEO platforms.
Satellites closer to Earth provide lower latency for the information the military needs to send information to warfighters. Chapman said the opportunities lower orbits provide for global coverage and lower latency can help the individual services escape from parochialism. Currently, each service is contributing its own experimentation program to the JADC2 effort, such as the Army's Project Convergence. But if all data can move around more quickly, the services have a better chance of finding unified solutions, Chapman said.
"We have to give the warfighter as many options as possible," he said.
But cybersecurity threats could prevent the commercial space industry from helping out the military. Dean said implementing a zero trust architecture could ensure commercial and defense partnerships.
In January, the Pentagon awarded Booz Allen Hamilton a contract to embark on a six month pilot of zero trust architecture. Dean said the services will have a better idea of how to proceed after the experiment.
"Jury's out on that," he said. He will be interested to see how that pilot works out, he said. Cyber attacks are inevitable, and implementing zero trust would enable the Defense Department to ferret them out more quickly, he noted.
Another concern is efficiency. Adding capabilities can create heavy and costly platforms, but the Defense Department has several networks and needs that will have to work together.
Dylan Browne, president of government business at satellite operator OneWeb, noted the military may have to make tradeoffs between capability and sustainability when it comes to using commercial satellites.
"As a for-profit company, we can only do a few things extremely well. We can't do hundreds of things well," he said.
Technologies such as cloud computing, artificial intelligence, machine learning and automation are in-demand features for satellites, he said.
Chapman added technologies like open standards and VPX cards allow for more efficient satellites. For example, the Army is working on the C5ISR/Electronic Warfare Modular Open Suite of Standards or CMOSS. It's intended to converge select Army warfighting capabilities into one system.
"We would all love to integrate with the right partner to create new solutions that can help minimize the number of boxes that a platform has to have on it," he said.
Topics: Defense Department