JUST IN: Space Companies Scoring Contracts to Extend Lives of Satellites (UPDATED)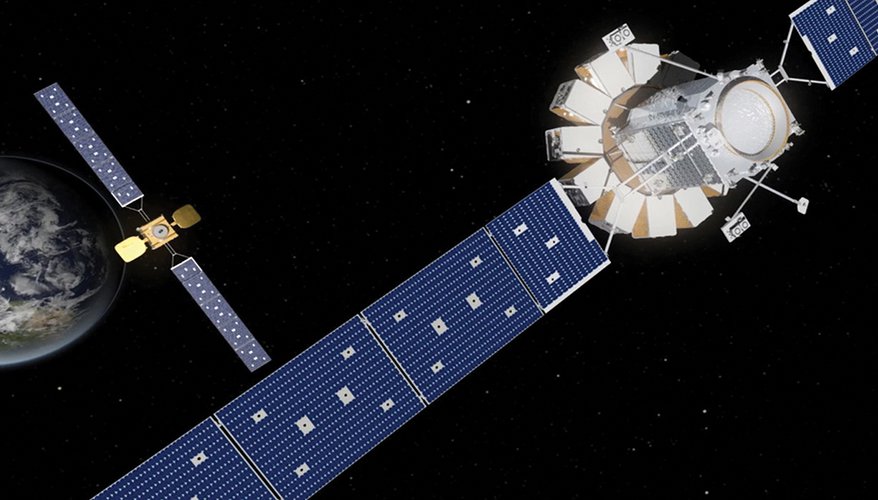 Rendering of a Mission Robotic Vehicle and Mission Extension Pods
SpaceLogistics illustration
As satellites from both the commercial and defense sectors continue to proliferate, the nascent on-orbit satellite servicing industry is offering new systems to make space a more sustainable environment.

Satellites provide an abundance of services — from intelligence gathering for the U.S. military to communications for commercial businesses. However, the average lifespan of today's satellites is around 15 years, mainly because that's how long it takes them to run out of fuel. And even if its payload and bus are still fully functional, a satellite with an empty fuel tank will no longer be of use and most often be pushed farther out into space, said Robert Hauge, President of SpaceLogistics, a subsidiary of Northrop Grumman.

"If we were buying a car and they told you that, well, when you're done driving the car — meaning you run out of gas — you have to park it on the side of the road and go buy another one, none of us would buy cars. But at 22,000 miles away, that's the way it's all done," Hauge said during a panel at the Satellite 2022 Conference in Washington, D.C.
The satellite industry needs to switch its mindset away from letting satellites no longer in service sit untouched in space. Instead, they need to come up with ways to repurpose valuable legacy satellites, Hauge told reporters later.

"We're going to make space more sustainable, because you don't need to build as many of these satellites, you [can] reuse what you've got," Hauge said.

SpaceLogistics is one of several on-orbit satellite servicing companies looking to use new technologies to perform life extension work on current and future satellites.

The company launched its first satellite servicing vehicle, the Mission Extension Vehicle, or MEV-1, in 2019. By early 2020, the vehicle successfully docked on Intelsat 901, a communications satellite in geostationary orbit, and will provide the satellite with life-extension services for a total of five years. A second vehicle, the MEV-2, was launched later in 2020 and docked on the communications satellite Intelsat 10-02 in April 2021

The Mission Extension Vehicle extends the life of satellites that are nearly out of fuel, Hauge said. Once docked to the satellite, the MEV uses thrusters and its fuel supply to control the satellite's orbit, he added.

Also in SpaceLogistics' on-orbit servicing portfolio are the Mission Robotic Vehicle, or MRV, and Mission Extension Pod, or MEP. The MRV is a servicing spacecraft equipped with a robotic arm and other tools that will install the MEP — an electric propulsion device that can extend the life of a satellite by six years, according to SpaceLogistics.

The company announced in February that it had finalized the first contract for the Mission Extension Pods with Australian-based telecommunications company Optus, which will send an MRV equipped with the propulsion packs to orbit in 2024 on a SpaceX rocket.

Although the Mission Robotic Vehicle will install the propulsion pods, Hauge said the spacecraft is a multi-mission vehicle that can do other kinds of servicing missions as well. For example, it could conduct replacement missions for satellite components including its inertial rate units, data storage units, payload components and more, he noted.

Another company looking to increase space sustainability by refueling satellites is Orbit Fab. The California-based startup is developing what it calls "gas stations in space," said CEO Daniel Faber.

"Once you have refueling in orbit, you can start doing things like recycling the equipment that's in the boneyard in space," he said. Once that's accomplished, the space industry can "start thinking about the business models around recycling, you can start thinking about what this means in terms of repurposing and reusing spacecraft."

Orbit Fab's refueling technology broke into the defense sector last week, when the company announced it had won contracts from the Air Force and Space Force worth a combined $12 million. Under the contracts, Orbit Fab will integrate its rapidly attachable fluid transfer interface, or RAFTI, fueling port with multiple Defense Department satellites, according to the company.

Orbit Fab also recently teamed up with AstroScale U.S., another satellite servicing company that specializes in orbital debris removal. The companies announced in January that Orbit Fab's geostationary orbit fuel shuttle will resupply Astroscale's fleet of Life Extension In-Orbit, or LEXI, Servicers with xenon propellant.

Ron Lopez, president and managing director of Astroscale U.S., said the conversation around sustainability in space is relatively new. Continued dialogue around the issue will allow satellite owners and operators to think about their designs and business models in new ways, he added.

"It's not just about some shiny new toy. It's really going to transform the industry in terms of how they launch, what they launch, and how they plan for future technology upgrades," Lopez said. "Doing that in a way that enhances space sustainability, but also … enhances the bottom-line."

AstroScale's LEXI spacecraft will perform life extension services for both commercial and government operators around the world, according to the company. This includes station keeping and attitude control, momentum management, inclination correction, GEO relocation and retirement to graveyard orbits. The spacecraft is expected to launch by 2026, according to the company.

Meanwhile, Hauge acknowledged that although the satellite servicing market's top priority at the moment is the commercial sector, it also wants the U.S. government to have a bigger seat at the table.

"If the government loves what's going on, but if they wait until 2026 once we're on orbit and we're starting to install these, they may be in a situation where we say, 'now you want one, but now we're booked solid out for the foreseeable future,'" he explained. "So we really want to get the government onboard sooner."
This story has been updated to correctly identify Robert Hauge as president of SpaceLogistics.
Topics: Space