NDIA PERSPECTIVE DEFENSE DEPARTMENT
Women Sustaining the Tradition of Service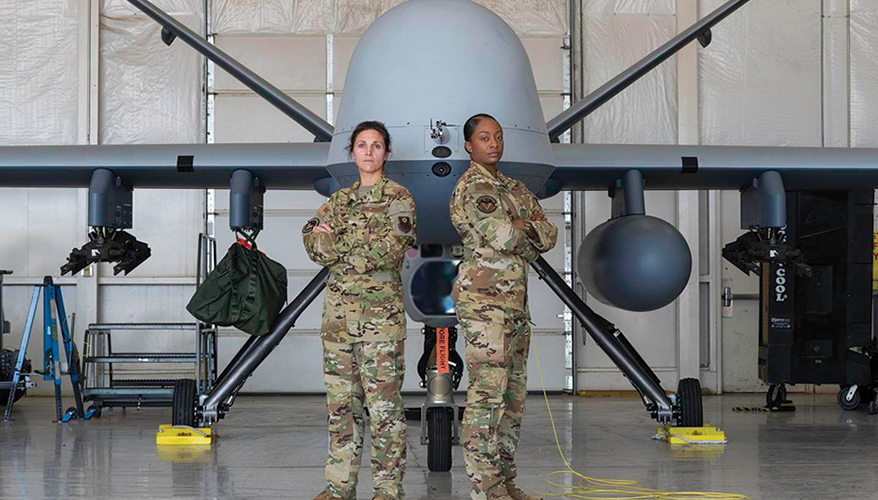 Air Force photo
Women serve. Throughout history, women have impacted combat and contingencies in many ways, as they worked to support their nations and their families. Among their most important contributions include fostering unity, promoting hope, and rallying to motivate others to support the fight and the fighters.
From foraging and laundering uniforms to healing wounds and alerting troops, from fundraising, to combat support to today's women filling combat positions across the services, women have served the United States with honor and distinction.
Before the colonial and British forces exchanged the first shots of the Revolutionary War on April 19, 1775, in Lexington, Massachusetts, and before the Minutemen assembled, policies barred women from combat operations, but those policies didn't prevent women from serving the American cause in a myriad of other ways.
Women of all ages traveled to perform support functions to help soldiers fight effectively. These dedicated women cooked, cleaned, nursed troops back to health, farmed and foraged for food. Some accounts claim women followed their husbands into combat, where they performed tasks including providing water to soldiers, cooling cannons and actively firing cannons after the soldiers manning them fell in action.
Supporting artillery was not the only combat support role played by women during the Revolutionary War. Sybil Ludington played a key role in a battle by serving as a messenger. On April 26, 1777, a rider arrived at the Ludington home to ask Col. Henry Ludington to assemble his regiment to repel a British attack on Danbury, Connecticut.
Unfortunately, the regiment had disbanded for planting season. With the rider too exhausted to continue, 16-year-old Sybil rode through the night to alert the regiment and urge them to fight to protect Danbury. She rode more than 20 miles, through dark woods and rain, encouraging the soldiers to muster and fight. While the British forces appeared to be departing Danbury upon the regiment's arrival, the unit's actions helped ensure the safety of a key city.
Women also served in later conflicts. Cathay Williams was born to an enslaved mother and a free father, making her a slave in Jefferson City, Missouri. At the start of the Civil War, Union forces occupied Jefferson City and forced captured slaves to serve the Union Army. Cathay's forced service included work as a cook and washerwoman. In these roles, she traveled with infantrymen as they fought across the country.
After her release, Cathay disguised herself and voluntarily signed up for a three-year enlistment in the U.S. Regular Army using the false name William Cathay. Authorities discovered her subterfuge when, after suffering from smallpox, she had difficulty meeting the physical requirements of her Army service.
Her additional hospitalizations eventually resulted in the post surgeon identifying her as a woman. Because of the prohibition against women serving, her commanding officer honorably discharged her. After her discharge, she joined an all-Black regiment making her the only known woman to serve as a Buffalo Soldier.
In 1875, a reporter from St. Louis heard about her service and interviewed her, publishing a story in the St. Louis Times Daily Times in early January 1876. Thirteen years later, Williams applied for a military disability pension, which was denied, and she died soon thereafter, with no recognition for her service.
During World War I, many women received recognition for their critical service as nurses. More than 22,000 nurses worked tirelessly, without rank or commission, helping wounded soldiers. These nurses worked in field hospitals and directly on the front line. Beatrice MacDonald, an Army nurse on duty at a casualty clearing station, sustained injury during an enemy air raid when shrapnel from a blast cut through her eye. With only one eye remaining MacDonald refused to leave her post and remained on duty, her dedication paralleling that of Cathay Williams and Sybil Ludington.
Women found another important way to serve during the Second World War. Rosie the Riveter remains an iconic symbol of service to this day. She represents all women who made the shift from traditional homemakers to industrial workers, producing required planes, tanks and munitions in numbers that turned the tide of the war. For example, women like Eastine Cowner, a former waitress, transitioned to factory jobs previously considered "man's work," reporting to manufacturing plants and shipyards to assure the Allies had the materiel needed to win the war.
This need for skilled workers meant airplane maker Boeing's percentage of women employees grew from 15 percent in 1942 to 40 percent in 1944. Women's service, in particular their ability to fill skilled manufacturing roles, ferry aircraft from factories to bases and from the continental United States to Europe, paved the way for women to move into national security roles of increasing authority and responsibility.
Today, women can serve in most combat positions, once they meet all qualification standards. They serve almost everywhere U.S. forces operate, playing a key role in America's national security, building on a proud tradition established, sustained and passed on to each new generation. From the birth of our great nation to today, women played a critical role in earning and defending our freedoms. And they continue to serve.

Hailey Matarese is membership manager at NDIA. Rachel McCaffrey is NDIA's vice president of membership and chapters and executive director of Women In Defense.
Topics: Defense Department