Surface Navy Building Digital Infrastructure to Harness AI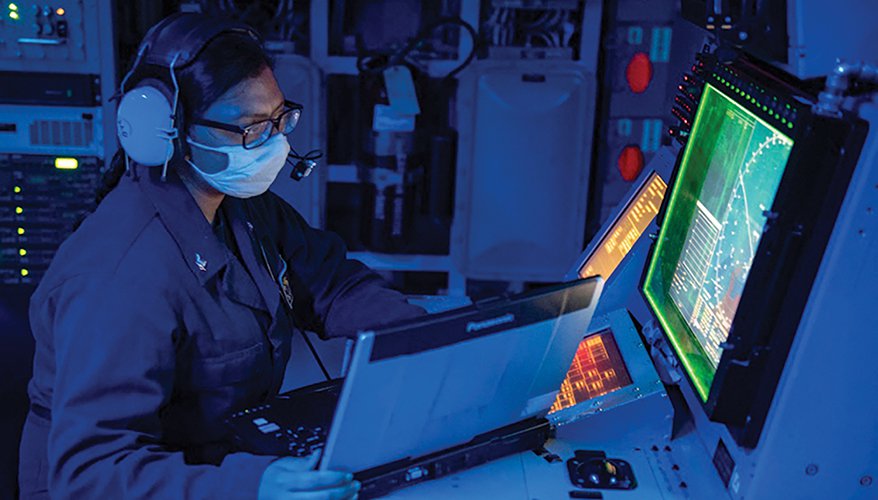 A sailor stands watch as the radar systems controller in the combat information center in the Arleigh Burke-class guided-missile destroyer USS Mustin.
Navy photo
The Pentagon has identified advanced artificial intelligence and machine learning technologies as critical components to winning future conflicts. To follow suit, the Navy's surface fleet has begun laying down the foundations for a digital infrastructure that can leverage the technology in contested environments.
The sea service is developing several platforms to capitalize on the capabilities that both AI and machine learning can offer. Rear Adm. Casey Moton, program executive officer for unmanned and small combatants at Naval Sea Systems Command, said the technology will likely permeate the force in the future.
"AI/ML is one of those watershed technologies in the history of the Navy," he said during a panel at the Surface Navy Association's annual symposium. It "is going to fundamentally change what we do."
Unmanned surface vehicles are one of several new capabilities the Navy is pursuing that readily uses artificial intelligence. According to a Congressional Research Service report titled, "Navy Large Unmanned Surface and Undersea Vehicles: Background and Issues for Congress," the technologies required for autonomous operations — like AI — will be key for the service's unmanned capabilities.
Artificial intelligence and machine learning are also critical to the service's new maintenance initiative, Condition-Based Maintenance Plus.
Once operational, the capability will leverage AI and ML to sort through a ship's data and use predictive analytics to identify issues with systems and subsystems that need to be addressed to preempt problems at sea, said Capt. Scott Larson, program manager for surface ship readiness and sustainment at NAVSEA.
In order to successfully implement AI to its fullest potential, the sea service is first building a robust digital infrastructure so it can harness the available data.
One line of effort is Task Force Hopper, which the Navy stood up in October. The group is made up of key stakeholders focused on the foundational aspects of artificial intelligence and machine learning adoption across the surface fleet.
Vice Adm. Roy Kitchener, commander of Naval Surface Force, highlighted the task force in his strategic guidance released in January, "Surface Warfare: The Competitive Edge." He directed Task Force Hopper to publish a list of action items with a "10-year horizon" no later than June 1.
"As warfare and information grow increasingly interconnected, the surface Navy will require an updated digital infrastructure to remain competitive in a future operating environment characterized by algorithmic warfare, network-centric operations and complex computing," according to the document.
Capt. Peter Kim, director of the Surface Analytics Group and lead of Task Force Hopper, said the group is "working to ensure our digital infrastructure is where it needs to be to scale AI quickly."
He added: "When we're talking about digital infrastructure, we're talking about digital talent, the platforms and the processes."
Despite some early progress, the Navy faces challenges in implementing artificial intelligence, said Lt. Artem Sherbinin, a navigation officer and member of Task Force Hopper.
For example, the Navy does not have the enterprise services architecture for every kind of artificial intelligence project it might want to pursue, Sherbinin noted.
"Just like your shipyards produce ships, you need some kind of foundational infrastructure to train AI models," he said during a panel.
"Access to those kinds of tools need to be provided at an enterprise scale."
Defense Department funding for artificial intelligence projects has surged in recent years. In fiscal year 2022, $874 million was requested — a $33 million increase from the previous year, according to budget documents.
However, paying for AI has become trickier, Sherbinin said.
"It's very difficult to walk into a resource sponsor's office and say, 'Hey, I would like $100 million for AI and for data infrastructure,'" he said. "What does that actually mean? What kind of return on investment are we going to get from that? Those are the questions that we're not really good at answering yet."
Having more complex conversations about artificial intelligence would be a step in the right direction, Sherbinin said.
"We need to move away from the conversation of slapping artificial intelligence onto a missile," he said. "We're looking at significant gains in maintenance, in lethality, in administrative use cases [by] using artificial intelligence."
Challenges related to accessing and producing quality data are slowing the Navy's progress.
AI works by combining data with algorithms. By analyzing the specific patterns and characteristics within a dataset, a machine's algorithm can be trained to accomplish a wide range of tasks — from alerting sailors of maintenance concerns to more rapidly identifying enemy objects of interest.
"Data is the foundation of artificial intelligence algorithms," Sherbinin said. "Whoever controls the world's data will get to AI first. And — to quote, unfortunately, Vladimir Putin — whoever gets to AI first will control the world."
Kim noted that a single Navy warship creates an estimated surplus of 115 terabytes worth of data every day — mostly from sensors.
Despite this, only a small percentage of that data is usable at the moment, Sherbinin said.
To make sense of the sea service's vast amount of information collected, the Department of the Navy in 2020 launched an enterprise data environment known as Jupiter. Based on the Pentagon's data analytics tool known as Advana, Jupiter is designed to help the department translate everyday data into insights, decisions and outcomes the Navy can act on. This is done by making data more "discoverable, accessible, understandable and usable."
"We've intentionally broken both the organizational lens on data, and our intent is to liberate data from the systems in which that data is housed to make it exploitable by any authorized user for any authorized purpose," said Duncan McCaskill, the department's chief analytics officer.
The data in Jupiter could be used in applications ranging from administrative tasks to warfighting capabilities — such as Project Overmatch, which is the sea service's contribution to the Pentagon's joint all-domain command and control effort. Having accessible and thorough information will be crucial for ML and AI to link sensors and shooters on the battlefield, officials said.
Rob Lui, chief data officer at the Naval Surface Warfare Center, said if the service wants to leverage artificial intelligence and machine learning, it must leverage platforms like Jupiter to understand data and quickly move information to where it is needed.
The goal is to create a "data advantage," a task for the entire Defense Department signaled by Deputy Secretary of Defense Kathleen Hicks in May, Lui said.
To standardize access to the many different silos of information produced by the Navy without having to rewrite its data, the service is starting to implement an open API standard, Lui said. Open APIs are application programming interfaces publicly available to software developers.
This would also allow the department to separate the information from their original systems, so it can be an asset to the service in the long term, Lui said.
In the future, "the ships aren't going to be here, the [legacy] systems aren't going to be here, but we want to make sure that the data is here," he explained. "That represents the sum total of our experience and knowledge as the Navy."
Decoupling data from individual systems and platforms would create an app-like experience similar to a smartphone, where the software could be developed or upgraded separately and then more rapidly integrated into ships, Lui said. It could just as easily be removed if there are issues with the software, significantly lowering risk, he noted.
"If we have the infrastructure in place, we can do this relatively quickly," Lui added.
Additionally, the Navy is tackling how to improve data collection on its ships.
The service is boosting its shipboard sensor system capabilities through improved electro-optical and infrared sensors, said Ted Jung, chief technology officer at the program executive office for integrated warfare systems.
The Navy is also introducing SPY-6 radar arrays built by Raytheon Missiles and Defense into its fleet of new guided-missile destroyers. The radars can detect objects from farther away, have a faster reaction time, and can more accurately differentiate between threats and non-threats, according to a Raytheon fact sheet.
Because the new technology will create exponentially more data for the Navy, officials have been working with Task Force Hopper and others on the best ways to collect, store and utilize that information, Jung noted.
NAVSEA is also in the process of pursuing a next-generation Shipboard Passive Electro-Optical Infrared program, or SPEIR. The 360-degree suite of sensors would not only improve situational awareness aboard ships but also generate data, according to a news release.
In the meantime, Jung said his office is working to harness the data coming from EO/IR sensors already on ships.
"We feel that we can … provide better information to help your decision loop and be able understand your environment better using machine learning and AI techniques from all your different sensors and a lot of these warfare systems that you have on your surface ships," he said.
Topics: Navy News