AFRL Demos Space-Based Solar Power System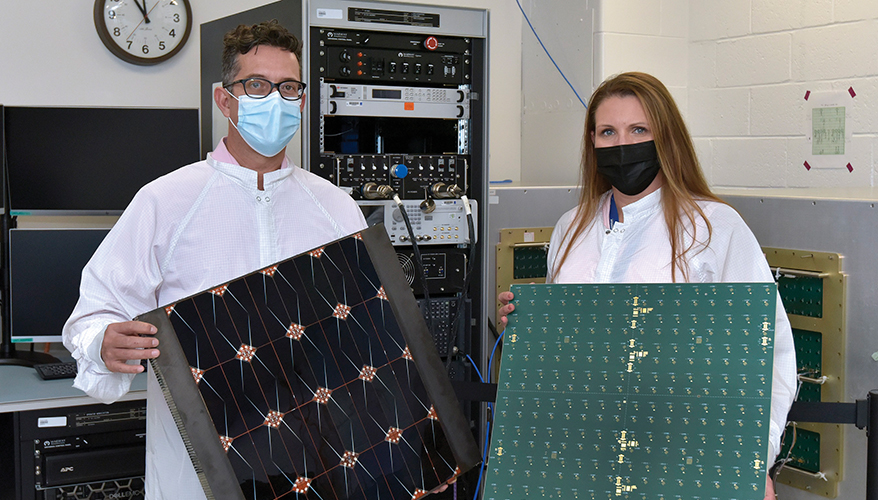 AFRL photo
The military may be one step closer to powering its bases with solar energy from space.
Researchers from the Air Force Research Laboratory's Space Solar Power Incremental Demonstrations and Research Project, or SSPIDR, successfully converted solar energy to radio frequency and simulated beaming it down to Earth at Northrop Grumman facilities in Linthicum, Maryland, according to a news release.
The experiment, conducted in December, was the first end-to-end demonstration of technology that the company and AFRL believe will inform the future of space-based large-scale solar power collection.
AFRL awarded Northrop Grumman a $100 million contract in 2018 to develop a satellite payload that would demonstrate the key elements of the research lab's Arachne flight experiment, which aims to test technologies for a prototype solar power transmission system capable of powering a forward operating base from space.
Researchers were able to simulate beaming the converted energy to a receiving station on the ground, said Melody Martinez, SSPIDR's deputy project manager.
That energy would then be collected by an antenna and transformed into usable power for warfighters, according to an AFRL fact sheet.
"It's been a very interesting topic in science fiction and as a future capability, but nothing's actually happened with it before," Martinez said.
This was the first time such a capability had been demonstrated, she noted.
"The fact that you don't need to store the energy somewhere before you beam it — it's seamless," she said. "As long as there's solar illuminating the [photovoltaic cells], you're getting [radio frequency] on the other side."
During the demonstration, researchers from SSPIDR used a "sandwich tile" designed by Northrop Grumman to convert artificial sunlight into radio frequency energy, Martinez explained. The tile consists of two panels — one layer of photovoltaic cells that first collects solar energy and powers the second layer that facilitates solar-to-RF conversion and forms a beam, according to the news release.
Beaming solar energy from space has benefits over ground-based solar panels, Martinez said. "By elevating your solar panels from the ground to space, you're getting direct sunlight," she said. "You can position your satellite in such a way that it's eclipsed for a very little amount of time."
Once the Arachne is launched in 2025, the data collected from the experiment will inform AFRL on the design of a future, large-scale system.