Air Force Seeks to Bridge Aerial Refueling Gap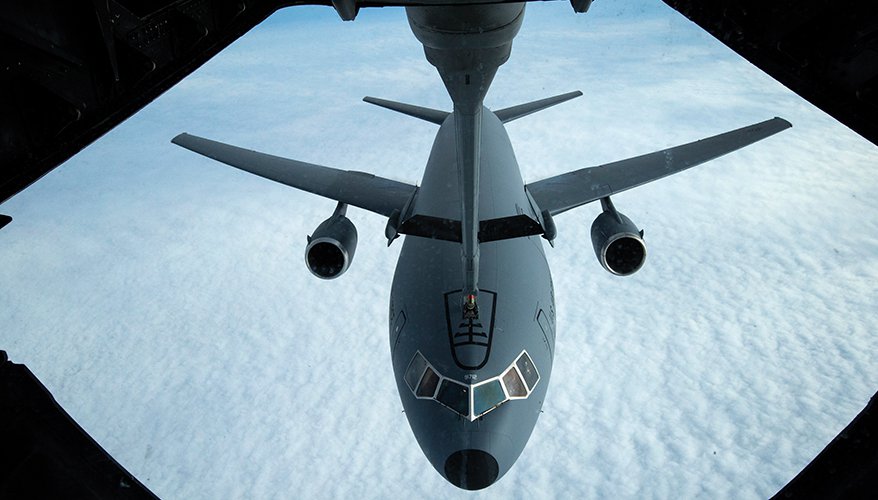 An Air Force KC-10 Extender being refueled by a KC-10.
Air Force photo
The Air Force is facing a gap in aerial refueling capacity through the mid-2020s as it retires aged KC-10 and KC-135 tankers faster than they can be replaced by the troubled KC-46A Pegasus or a follow-on tanker aimed at serving as a bridge between existing and next-generation capabilities.
A Hudson Institute report released in November, "Resilient Aerial Refueling: Safeguarding the U.S. Military's Global Reach," estimates the service will experience an approximately 6 to 11 percent reduction in aggregate fuel offload capacity this decade.
In 2021, the Air Force's 442 operational KC-10s and KC-135s and 50 partially operational KC-46As were "likely capable" of delivering approximately 33 million pounds of fuel at 2,500 nautical miles, said Timothy Walton, lead author of the report. By 2024, he assessed fleet capacity may drop to "around 30 million pounds of fuel, using a nadir of 479 fully operational tankers."
The 2022 National Defense Authorization Act would allow the Air Force to retire 14 KC-10s this year, another 12 in 2023 and 22 KC-135s in 2022. That's a reduction of 48 tankers in the next 23 months. Any plans for further cuts in 2023 likely won't be known until March or April when the president's budget request is expected to be released.
In statement to National Defense in early February, Air Mobility Command acknowledged that there is a "projected AR capacity shortfall." But the organization says it can "close" the shortfall by getting utility now from the 55 KC-46As delivered to date by Boeing as part of the KC-X contract for 179 tankers awarded in 2011.
Already years behind schedule, the KC-46 will not be certified for full operations or cleared for full-rate production until 2024 or later due to ongoing deficiencies including problems with its remote vision system. However, AMC has approved four "interim capability releases" since last July.
The releases allow KC-46s to refuel approximately 70 percent of all aircraft supported during Transportation Command taskings, according to Air Mobility Command. The remaining 30 percent, including fifth-generation fighters like the F-22 and F-35 and bombers like the B-1B and B-2, have not been certified for refueling by the Pegasus due to clarity and depth perception issues related to its vision systems. A "stiff boom" problem rules out refueling the A-10 and other smaller aircraft.
Asked how the KC-46 can close the service's capacity shortfall despite being only partially operational, AMC said the KC-10 and KC-135 will provide sufficient capability and capacity to fulfill aerial refueling requirements "not met by the KC-46A throughout the recapitalization and divestiture process."
In other words, the United States' most capable strike and air superiority aircraft will continue to be refueled by legacy tankers — with an average age of 52 years old — for the next few years, not the KC-46A.
Air Mobility Command says its KC-46 interim capability release plan, along with other measures including additional Air Reserve Component — Air National Guard/Air Force Reserve — tanker capacity support, allows the Air Force to meet Transportation Command air refueling capacity requirements "with an acceptable level of risk."
Part of that risk is embodied in the Air Force's current prohibition on combat deployments for the Pegasus. In a conflict scenario in the South China Sea or in Europe, for example, KC-46s could not be employed for aerial refueling. AMC says "a lack of confidence" in its new tanker and the threshold for an "acceptable level of risk in the current world environment" preclude the KC-46 from deploying to support combatant command operations.
According to a January 2022 Government Accountability Office report, "KC-46 Tanker — Air Force Needs to Mature Critical Technologies in New Aerial Refueling System Design," further risks include the Air Force's plans to go forward with Boeing's revised remote vision system, RVS 2.0, without doing prototype testing of the new system in an operational environment.
The report also questions whether Air Mobility Command can ensure enough available and trained aerial refueling crews for KC-46 operations, and notes the schedule and capacity challenges that will arise with as many as 118 KC-46s delivered to the Air Force prior to 2024 when remote vision systems and aerial refueling boom fixes are expected to be approved. Those tankers will have to be pulled from active duty at some point in order to retrofit the remote new video systems and boom fixes.
TRANSCOM spokesman Scott Ross said with the interim capability releases, the Air Force's current transition plan "maintains sufficient capacity for this command to meet global demand." But he adds, "the air refueling fleet remains one of the most stressed mission areas for USTRANSCOM."
While the Air Force maintains that it can meet aerial refueling capacity needs through 2029 when the last of the 175 production KC-46s are delivered, it is only now in "early discussions about future tanker aircraft like KC-Y," said Gen. Mike Minihan, Air Mobility Command commander.
In 2007, the service announced a 40-year plan that aimed to replace its force of legacy tankers in three tranches — KC-X, KC-Y and KC-Z.
The KC-X award was delayed when Boeing, competing against a Northrop Grumman-Airbus partnership that offered a tanker version of Airbus' A330 airliner known as the A330 Multi-Role Tanker Transport, protested the partnership's initial contract win. GAO upheld Boeing's protest and the company was awarded the KC-X contract for the KC-46.
Problems that emerged during flight testing and development delayed delivery of the first Pegasus from 2016 to 2019.
Last June, the Air Force's Life Cycle Management Center issued a request for information for KC-Y, a non-developmental, commercially derived tanker that "will bridge the gap to the Advanced Air Refueling Tanker (KC-Z) recapitalization phase." The RFI outlined a plan to buy 140 to 160 KC-Y aircraft with deliveries beginning in 2029.
Soon thereafter, Boeing and a new Lockheed Martin-Airbus partnership threw their hats in the ring for the KC-Y award. Boeing plans to offer an updated version of the KC-46 while the Lockheed-Airbus team is offering the "LMXT," a new version of the A330 MRTT that's currently in operation with 14 air forces worldwide.
Larry Gallogly, director of Lockheed Martin's LMXT campaign team, described the aircraft as a different but complementary capability to KC-46, a larger strategic tanker that has greater range and offload than Boeing's aerial refueler.
"Air Force leadership made it very clear that priority No. 1 for KC-Y is fuel offload at strategic ranges," Gallogly explained. "Everything about LMXT's configuration is about maximizing fuel offload."
To meet what Gallogly contended is the Air Force's top desire, LMXT prioritizes fuel over cargo, adding 25,000 pounds of gas over and above what the A330 MRTT carries. Stored in LMXT's lower cargo hold area, the extra fuel gives the new tanker a total fuel capacity of 271,700 pounds, according to Lockheed. That is roughly 60,000 pounds more fuel capacity than the KC-46A and 69,000 pounds more than the KC-135, but nearly 70,000 pounds less than the KC-10.
The Hudson Institute study considered the importance of offload capacity in multiple ways, including outlining conflict scenarios with China in the Indo-Pacific and Russia in Europe. In a conflict scenario with China, the U.S. tanker fleet would currently be limited to operating from 11 to 12 airfields, most of which would be vulnerable to conventional and hypersonic missiles and stealth fighters like China's long-range J-20, the study concluded.
Refueling fighters, bombers and transport aircraft beyond the range of Chinese weapons would require operating at 2,000 to 2,500 nautical miles from target areas. As one illustration of the difference in offload capacity between LMXT and a KC-46-based bridge tanker, Walton considered a hypothetical mission in which tankers are required to support B-1B bombers launching from Ellsworth Air Force Base, South Dakota, to strike targets in the Taiwan Strait, requiring tankers to refuel the bombers twice on the mission's outbound leg and once more on the return.
"You could support this mission with 23 LMXTs," Walton says. "It would take 32 KC-46s. It would require a little more ramp space for LMXTs but require a third less tankers. There are significant benefits in being able to operate with fewer tankers and it costs less."
Walton estimates the average per unit cost of LMXT at $225 million or less, a figure Gallogly doesn't disagree with.
Boeing's senior manager for KC-46 development, Mike Hafer, wouldn't comment on the average per unit cost of the KC-46 but Walton puts it at $191 million.
Hafer says KC-46 is "in the driver's seat" in the bridge tanker competition. While Lockheed Martin emphasizes offload capacity at range, Hafer says it's all about "booms in the sky." KC-46 bridge tankers could be purchased and operated more cheaply than LMXT, yielding a greater fleet size, able to operate from smaller, more numerous airfields than its larger competitor, he said.
Commonality with the already partially operational KC-46A fleet, which according to TRANSCOM delivered over 72 million gallons of fuel, refueled nearly 32,000 aircraft and directly supported 39 bomber task force missions in 2021, is another advantage. Existing military and Federal Aviation Administration certifications — which LMXT does not have — and an aerial refueling tanker built "from day one as a tanker, not a conversion" of an airliner are also in Boeing's favor, according to Hafer.
While the Air Force has not issued specific requirements for KC-Y yet, both competitors expect command, control and communications capabilities aligned with the Air Force's Advanced Battle Management System and agile combat employment concepts will be emphasized.
Hafer said the KC-46 is the first Air Mobility Command aircraft to host ABMS capability, integrating command, control and communications into an aerial refueling pod carried on a wing station that will be complemented by the Pegasus advanced communications suite.
Lockheed Martin will take command, control and communications a step further, using LMXT's upper deck to host a joint all-domain command and control suite with the ability "to accommodate air battle managers if the Air Force decides to go that way and manage the entire battlespace rather than just be a relay station in the sky," according to the company.
Whether ABMS capability paired with protection systems will allow KC-Ys to operate inside contested air space is an open question. Mike Acree, Lockheed Martin Skunk Works' director of air mobility, said bridge tankers should properly be thought of as having "temporal survivability."
"Based on current requirements, I don't think we're advertising that these tankers would be operating inside contested air space persistently," he said.
The Hudson Institute report concluded that bridge tankers "should focus on providing high-capacity fuel offload at range." Buying KC-46s as bridge tankers "would increase tanker fleet commonality" while the LMXT "would excel at long range, large offload missions such as those commonly found over long distances in the Pacific."
Queries to the secretary of the Air Force's acquisition team about when Boeing and Lockheed Martin could expect detailed requirements for KC-Y, a timely priority if either competitor is to deliver operational bridge tankers by 2029, were left unanswered. A spokesman said only that the Air Force is currently conducting "market research" for KC-Y and that requirements will be tailored and validated through the Joint Requirements Oversight Council.
Gallogly said Lockheed presented the Air Force with a notional schedule that includes a draft request for proposals by the end of this year and a formal one in February or March 2023. The service thinks that timeline may be "a little aggressive but that's what they're trying to accelerate to," he added.
It's unknown how the delays accompanying the 2022 and 2023 defense budgets might affect bridge tanker procurement. Minihan said he is encouraged by initial discussions about KC-Y but "in the meantime, we'll use what we have at our disposal to continue to support the joint mission and strengthen our alliances and partnerships."
Topics: Air Force News