ROBOTICS AND AUTONOMOUS SYSTEMS
JUST IN: Navy Minesweepers Look to AI to Boost Speed, Reduce Risk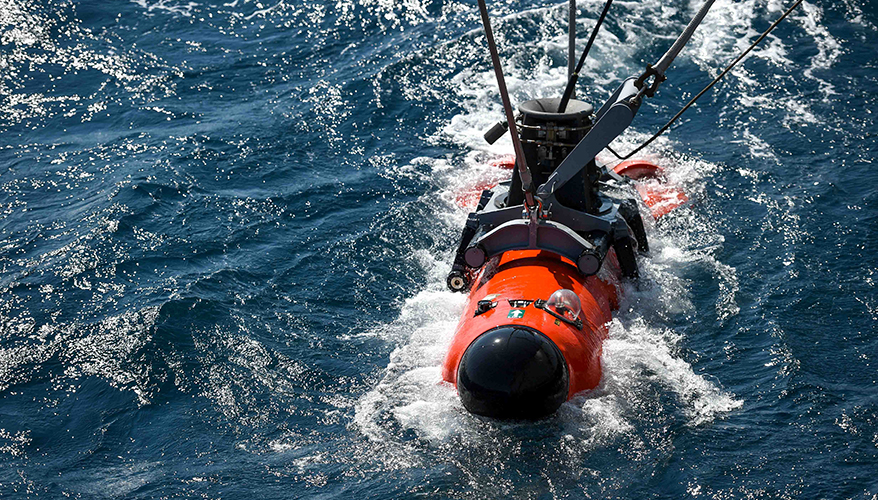 A mine-neutralizing vehicle is lowered into the water during a minesweeping operation aboard the Avenger-class minesweeper USS Patriot.
Navy photo
Naval Sea Systems Command is looking to apply artificial intelligence and machine learning to help it more quickly find, identify and neutralize underwater mines.

Many of the Navy's legacy systems are "a little long in the tooth," Lee Agin, program executive office for mine warfare at NAVSEA, said Feb. 9.

Samuel Taylor, program executive office for unmanned systems and small combatants' senior warfare leader, said, "We are always looking to reduce time and risk. So the question I pose to industry is: are we going to continue doing [mine countermeasures] in the same way or can we look at innovation and doing it ... somewhat different?" he asked at the National Defense Industrial Association's Virtual Expeditionary Warfare Conference.

As the military as a whole moves toward more autonomous and unmanned systems, the minesweeping community is no different. Taylor said AI and machine learning technologies will be key to detecting, characterizing and neutralizing mines "at the speed of the fleet."

Automatic target recognition technologies will be a key enabler for unmanned systems going forward, he said.

Another technology is "single sortie detect-to-engage" surface vehicles that find and identify a mine, then deploy a Barracuda expendable underwater semi-autonomous vehicle to deploy a charge and destroy the weapon.

That concept has been demonstrated but "we need to make that a more regular piece of equipment for the warfighter," Taylor said.

The minesweeping community is looking for industry's help to detect mines buried on the seafloor as well as mines placed at lower depths, Taylor said.

Another need is autonomous planning and evaluation, he said. "Not only do we need things that are able to go out and autonomously run tracks, or search and ID or neutralize, we've got to be able to get this to a point where the planning and evaluation is taken out of our hands and is actually done autonomously," he added.

Capt. Dan Malatesta, PMS 408 program manager at Naval Sea Systems Command, said his office has been working with the Defense Innovation Unit, an organization designed to reach out to nontraditional vendors, to add more AI and machine learning to minesweeping systems. Potential contractors should look to DIU over the coming year for opportunities, he said.

Capt. Godfrey Weekes, PMS 420, littoral combat ship mission modules program manager, said the Navy also needs help automating the launch and recovery of new autonomous systems. Most of the recovery systems are manpower intensive and were designed for legacy systems, he said.

Taylor said energy will play a key role. "As we continue to be more unmanned, the energy aspect of this continues to be even more important as we ... try to reduce that time and risk and go to places and do large areas that otherwise prove difficult to us," he added.

The Navy operates a small fleet of Avenger-class minesweeper ships built in the 1980s and 1990s that employ tethered remotely operated vehicles, sonars and other sensors. The littoral combat ship outfitted with a minesweeping mission module is tapped to replace those ships.

The MH-53E Sea Dragon helicopter also tows sensors to detect mines.

Agin said as legacy minesweeping systems age, the command is looking for industry's help to keep them running. There are obsolete parts issues and the older systems will be in use until at least the mid-2030s.

The community will need industry's help figuring out how the legacy systems can operate alongside the new generation of unmanned vehicles. They should complement each other to boost speed and reduce risk, he said.
Topics: Robotics and Autonomous Systems