Marine Corps Sees Initial Successes with Restructure Despite Critics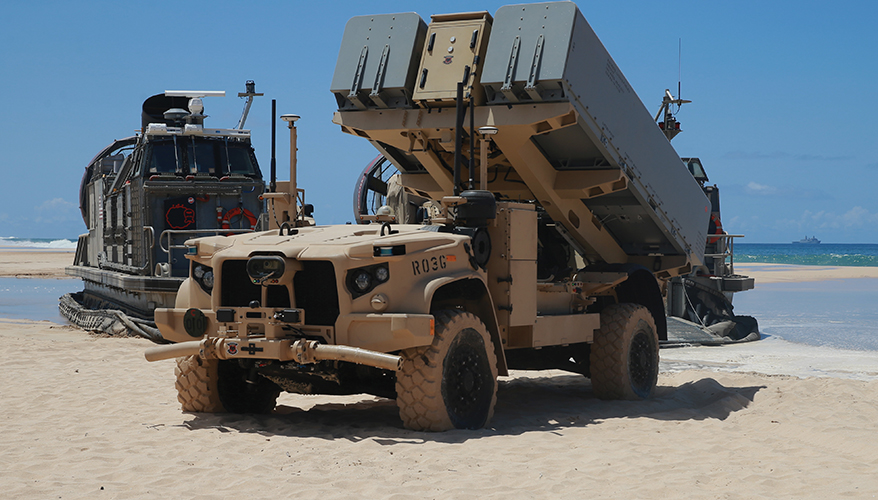 A Landing Craft Air Cushion delivers a Navy Marine Expeditionary Ship Interdiction System launcher.
Marine Corps photo
The Marine Corps is making strides toward achieving Commandant Gen. David Berger's controversial vision for transforming the force, as it prepares for great power competition and expeditionary warfare operations.
In 2020, Berger unveiled his Force Design 2030 blueprint as a way to ready the service to deter China and prepare for potential conflict in the Indo-Pacific region. The strategy laid out an ambitious plan to cut end strength, divest from legacy systems and procure new platforms needed for extra operational flexibility.
"We're two years into it, largely successful so far in the leadership here in Congress allowing us to keep those [freed up] resources and plow them back into the Marine Corps of the future," Berger said at an event sponsored by the Center for a New American Security.
Carrying out the objectives of the plan by 2030 will be difficult, but it is necessary so the service can be an asset in a future fight, he said.
Looking forward, Berger's top priorities for the upcoming fiscal year 2023 budget include the light amphibious warship, also known as LAW, he said. The new class of warships would enable greater flexibility for maritime operations.
"If you're a maritime naval force, and you don't have the mobility on the water to go places on sovereign ships that you need, then you're in trouble," Berger said.
While the vessel is a top priority, the planned fleet of 30 to 50 warships has faced criticism. Some observers say the ships as designed may not be survivable enough for Marine Corps operations, which could add costs to production down the road.
The Navy is targeting a per unit procurement cost of $100 million to $150 million, according to the Congressional Research Service.
"The trade-off is that, because of the LAW's small size, they will not be able to support the customary level of global forward deployments, which may decline as a result," according to a Center for Strategic and International Studies report titled "U.S. Military Forces in FY 2022," which was released in November.
Another critical Force Design 2030 technology that has made progress over the past year is the Navy Marine Expeditionary Ship Interdiction System, also known as NMESIS. The Marine Corps successfully demonstrated the system in early 2021.
The platform — which features a missile launcher attached to a ground vehicle — will target and kill ships, adding to the service's existing fleet of long-range precision fires that can threaten adversaries' ground or maritime systems.
"Now you've got a whole set of kill chains that you can use to complicate Chinese targeting, or to threaten Chinese freedom of action," Berger said.
But the Marine Corps is still facing acquisition challenges, even though Congress has granted the military special authorities such as other transaction authorities for rapid acquisition and testing, he said.
"Congress has given us some [authorities, but] we haven't used all of it," he said. "I'm convinced we haven't squeezed all we can out of it in terms of rapid acquisition, rapid testing."
Berger said the current bureaucracy rewards inertia such as continuing existing programs of record. By the time the technology is developed it is already obsolete.
But he noted some resistance can be helpful to ensure the Marine Corps is not chasing after "a shiny object" but pursuing game-changing innovation.
"Some degree of that is actually a good thing but too much will definitely bring you to your knees," he said.
Meanwhile, integration between the Marine Corps and the Navy — a key component of Force Design 2030 — is progressing on the operational level. However, while the sea services are practicing how to implement Force Design 2030 together, the current resource allocation system does not support collaboration, Berger said.
"Our system is built for a model that resources everybody the same, so we have to build in a whole lot more flexibility than we're accustomed to," he said.
The Navy and Marine Corps have learned from working together, but the Defense Department needs to figure out how to best distribute resources for joint warfighting, he said.
Two years after its release, not everyone is onboard with Berger's vision for Force Design 2030. Many retired Marines see the service as "the Swiss army knives of the military" and able to adapt to any crisis, said Bryan Clark, director of the Hudson Institute's Center for Defense Concepts and Technology.
"The new model that they're talking about is going to mean that the Marine Corps is not like a one-size-fits-all unit," he said.
The passing of the 2022 National Defense Authorization Act reflects how well Berger has worked to make the case for changes to the Marine Corps, Clark said. However, "as these cuts get deeper on the divest side, and the changes become more significant on the invest side, it will get harder and harder to continue to make that case," he said.
The effort is "controversial" and "a work in progress," according to the CSIS report. A major challenge to the Marine Corps' progress is critics who worry about conflicts outside the Indo-Pacific region.
"The focus on China downplays the possibility of conflicts elsewhere," according to the CSIS report. "Since World War II, the United States has fought many regional conflicts but never a great power conflict."
However, what some critics don't understand is that every generation of warfighters in the last century has had to adapt to the conflict of the times, said retired Marine Dakota Wood, a senior research fellow for defense programs at the Heritage Foundation.
"The Indo-Pacific is much different than the deserts of Iraq, and China is a much more capable competitor than the Iraqi military under Saddam Hussein," Wood said.
Meanwhile, the Marine Corps' divestments of legacy systems still run the risk of going to pay the bills for the Pentagon instead of being funneled into new technology, Clark said.
While the service has found ways to save money for its new strategy, it is getting harder to hold onto those investments because of inflation and growing operational costs, he said.
"Further divestments are going to be unattractive to [Defense] Department leaders, meaning they've started this transition and are now halfway through and unable to complete," he said.
This could be a big problem for the Marines Corps' restructure if sufficient resources aren't available, he said.
"It will be a mixture between the three paths: changing the strategy and then changing the budget and then changing the divestment approach," he said.
One area for divestment is the Marine Corps' rotary-wing inventory. Force Design 2030 already calls for a reduction across the fleet, but Clark said cuts may have to deepen on legacy platforms like the MV-22 Osprey or AH-1 Cobra if more resources are not found.
Berger said in his fiscal year 2022 posture statement that programs of record could be modified to "ensure affordability and viability."
Vertical lift technology will be key in achieving the flexibility that is the goal of Force Design 2030. Officials will look at specifications for range, speed, electronic signature and signature management, Berger said.
"Think of every flying helicopter in the Marine Corps being like a 5G tower that's on the move, like it's constantly moving information and data," he said.
One of the restructuring's first significant investments was unmanned aerial vehicle procurement in 2021. The service plans to acquire a fleet of six MQ-9 Reapers — accounted for in the fiscal year 2022 budget — but it still has ground to cover.
"Despite having led the way on UAVs in the 1980s, the Marine Corps now lags far behind the Army and Air Force," according to the CSIS report.
The Marine Corps is still learning how to best incorporate unmanned platforms, including as part of vertical lift, Berger said.
Meanwhile, Navy Secretary Carlos Del Toro has thrown his support behind the Force Design 2030 effort. He released a strategic document in October that builds on both the Corps' blueprint and the Navy's Navigation Plan 2021.
"I have taken a hard look at both those plans and, overall, I'm quite satisfied with them," Del Toro told reporters after a recent speech at the U.S. Naval Academy.
Because so many of the concepts that are the backbone of the restructure are unproven, wargaming and experimentation will continue to shape its structure into the future. Planning for adjustments will help hedge the force against the unknown, Berger said
"It's an ongoing process," he said. "We knew we didn't have perfect visibility of what 10 years out might look like, but we had a pretty good aim point."
Berger has supplemented Force Design 2030 with additional strategies to counter China. For example, he released "A Concept for Stand-in Forces" in December, which outlines how the Marines will conduct reconnaissance and counter-reconnaissance operations in the Pacific to prevent escalation.
Stand-in forces are "small but lethal" units that can be easily maintained in order to operate within a contested environment, according to the document.
"Their effort is to make sort of a bubble, a shield [and] push it way, way out," Berger said. "We have to be in there. We have to be close up [and] forward."
Upgrades to training and personnel management have to work in tandem with technology, Berger noted.
"Otherwise all the concepts and capabilities in the world aren't going to work with the current systems that we have," he said.
A Marine of the future will have to be able to juggle multiple skill sets and have the same flexibility as the force itself, he said.
The recruitment strategy for the 2030 plan aims to achieve "a better balance" of high school graduates and more mature recruits. The Marines will have to become more inventive with incentives for individuals to stay in the force, Berger said.
Bringing in more mature talent will enable Force Design 2030's smaller units and flexible warfare, Wood said.
Force Design 2030 foresees that the service will have to operate in smaller groups far away from each other, which means unit leaders must be able to make their own decisions, Wood said. Having leaders with experience that can make smart decisions will be critical, he said.
"They are going to shift the model from turning over three quarters of the Marine Corps every year to something that's less volatile," he said.
However, some ideas for attaining more experienced talent have generated pushback. For example, lateral entry, or bringing in a civilian to serve in an officer position commensurate with their civilian experience, was introduced in the service's Talent Management 2030 strategy document in November.
It is controversial to some Marines who feel everyone should have to go through the same training, Wood said.
It raises questions such as "is that a threat to the culture of the Corps … and the respect that would come along with somebody who has taken 15 years to become a staff sergeant or a gunnery sergeant?" Wood said.
Service leaders should "feel their way forward" with initiatives like this to assess how the culture is adapting, he said.
Meanwhile, whether Force Design 2030 comes to fruition or not could be determined in the near future, Berger suggested.
"This year and next year I think are really key," he told reporters in December at the Reagan National Defense Forum. "We've divested of things in order to move quickly. This year and next year are the keys. If the Department of Defense and the Congress sees this as the right approach, we'll know. If they see it as the wrong approach, I don't think anybody else is going to go down this path, because I wouldn't either.
If you got rid of half of your stuff in your house and somebody took all your money and you didn't get it [back to buy other things], … that's not cool."
Topics: Marine Corps News