TACTICAL WHEELED VEHICLES
U.S. Military Wants Its Vehicles to Go Electric — With Detroit's Help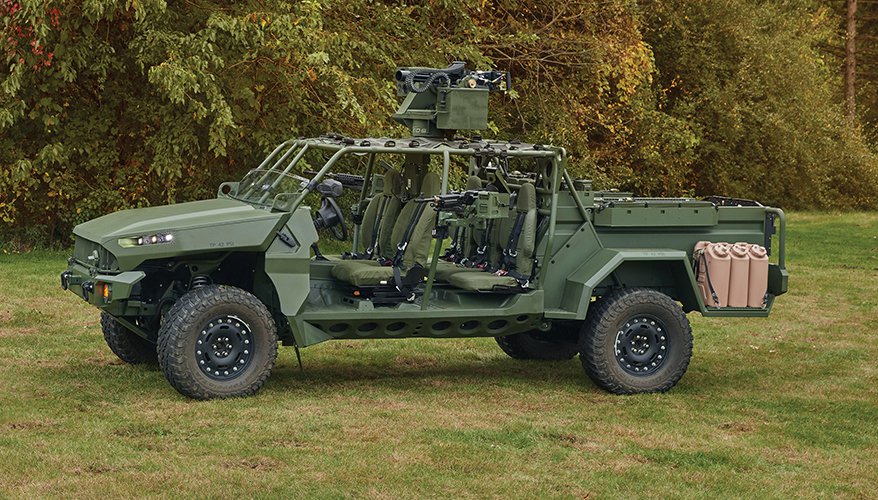 GM Defense's all-electric military concept vehicle
GM Defense photo
To combat climate change, boost U.S. industry and achieve operational advantages, the Defense Department has ambitious plans to transform its fleet of ground vehicles through the introduction of electric and hybrid-electric drive technologies. Automakers see major opportunities to help the military and win business.
Addressing what it calls the climate crisis is a top policy priority of the Biden administration.
"The department is committed to meeting the challenge by making significant changes in our use of energy and increasing our investments in clean energy technology," Deputy Secretary of Defense Kathleen Hicks said in November during remarks at Wayne State University in Detroit, Michigan.
The Pentagon is developing a "sustainability plan," part of which will be focused on developing a zero emissions non-tactical vehicle fleet.
"Currently the Department of Defense has about 170,000 non-tactical vehicles — the cars and trucks we use on our bases," Hicks noted.
"That's the largest fleet in the federal government, next to the U.S. Postal Service. Our success in transitioning this massive fleet to zero emissions, most of which will be electric, will depend on America's auto industry and autoworkers right here in Detroit."
General Motors has committed to investing $35 billion in advanced vehicle technologies, to include power and propulsion systems for electric vehicles, noted Steve DuMont, president of GM Defense. The parent company plans to have 30-plus EVs in its product offerings by 2035.
"All of that has relevance to what our defense customers are looking at," he told National Defense. "If you look at the non-tactical vehicles that are used in a [military] base or installation environment, to me that's just low hanging fruit."
DuMont has been talking with the brass across the services to discuss the way ahead.
"When I met with [Deputy] Secretary Hicks, she made it really clear. I mean, her vision is let's start with the things that are easiest to do. And I put [electrifying the non-tactical fleet] in that category," he said. "There are opportunities to work with the DoD in that first area."
There will be some challenges involved, he acknowledged.
"There is infrastructure that needs to be put on the bases, there's a whole rollover of acquisition of these vehicles. But it truly is what we're doing today on the commercial side" of the automotive business, DuMont said.
GM is looking at creating microgrids to facilitate the transformation.
Army Lt. Gen. Duane Gamble, deputy chief of staff, G-4, said electrification of non-tactical vehicles and their deployment on installations will help inform how the Defense Department leverages EV tech for other elements of the future force.
"Building trust in our soldiers, our civilians and our leaders in our non-tactical wheeled vehicle fleet and the infrastructure that goes along with that … will help us transition and fully understand not only the technology, but the challenges associated with incorporating it into our combat vehicles," he told members of the House Armed Services subcommittee on readiness during a December hearing on operational energy.
The bipartisan infrastructure deal that Congress passed last year includes large investments in electric vehicles, batteries and the creation of a national network of charging stations, Hicks noted.
"On the non-tactical [vehicle] side, it's going to be all about the money and whether or not the money is really there," said Sharon Burke, a fellow in the New America think tank's Future of War project, and former assistant secretary of defense for operational energy.
"It's looking like … the administration and Congress together are setting up a situation where that's going to be possible, where the investment is going to be there," she said.
The Pentagon also wants to electrify its tactical vehicles — not just to combat climate change, but to achieve operational benefits as well, Hicks noted.
Gamble said the Army is at an "inflection point" for the tactical wheeled vehicle and combat vehicle fleets, largely because of technologies that have emerged from the commercial industry.
The initial push will be for hybrid-electric drive, or HED, because "full electrification for our complex weapon systems at the forward edge of the battlefield is a goal that we don't believe that currently our technology will support," Gamble said.
The main roadblock to full electrification is recharging in austere environments.
"How are you actually going to power these vehicles if you're talking about a deployment far from home?" Burke asked. "You can't run them off a grid if you're on a battlefield, so … until you have an answer to that question, you're not ready yet."
Hybrid-electric architectures for tactical systems are expected to yield major operational benefits, officials and analysts say.
HED could reduce fuel consumption by as much as 35 percent, Gamble noted. Other advantages include: extended range and persistence; increased onboard power for capabilities such as directed-energy weapons, jammers and electrified armor; reduced maintenance costs and associated logistics footprint; silent watch and silent mobility; and reduced thermal and acoustic signature.
Marine Lt. Gen. Edward Banta, deputy commandant for installations and logistics, told lawmakers that the Marine Corps is also eyeing hybrid technologies for new platforms and as a possible retrofit on legacy fleets.
"There's no reason not to look at that step right now," Burke said of moving toward hybrid-electric platforms. It doesn't add much additional cost compared with buying systems with internal combustion engines, and it provides performance gains, she added. "It's a good thing."
Jim Miller, BAE Systems' director of business development for combat mission systems, said: "The time is now for hybrid-electric drive and … it's one of those things we need to move fast on."
BAE has been tapped by the Army Rapid Capabilities and Critical Technologies Office to integrate its HED tech into Bradley Fighting Vehicles for demonstrations.
The company has a long history of working on this type of technology, including for commercial buses, he noted.
"They've created this baseline of maturity that we've taken advantage of on the combat vehicle side and led us to this," Miller said, adding that he's "reasonably sure this is going to work out well."
The contractor is wrapping up the integration work, and the first two vehicles are slated to be delivered to the military by June for testing, which will help inform the way ahead for the combat vehicle fleet.
In fiscal year 2022, the Army will also test hybrid-electric versions of Humvees and Joint Light Tactical Vehicles, according to Gamble.
Miller said the HED for the Bradley was designed to be a scalable system that could be installed in all the vehicles that are part of armored brigade combat teams except for the M1 tank and the M88 recovery vehicle. "We're trying to make it as plug and play as we can."
Retrofitting a variety of legacy platforms could soon be "in the realm of the possible," he added, noting that the company recently held talks with the rapid capabilities office about potentially putting the system in the Armored Multi-Purpose Vehicle.
The contractor also plans to include HED in its offerings for new platforms including robotic combat vehicles and the Army's Optionally Manned Fighting Vehicle.
"We think that's the wave of the future and where it's going, and we're building that way," Miller said.
BAE has developed a robotic technology demonstrator with its own money that it has been showing off to military brass.
"We had all kinds of very positive feedback about moving in the right direction with hybrid-electric drive," Miller said.
Gamble said the "hybridization" of tactical wheeled vehicle and combat vehicle fleets is achievable between now and the end of the decade.
The Army aims to acquire "full electric" complex weapon systems in the light and medium categories in the 2030-2035 timeframe. Service officials believe the technology required will be mature enough by then, Gamble told lawmakers. Heavy platforms would likely come later.
But DuMont believes all-electric tactical vehicles could be ready for warfighters much sooner than some are predicting.
"I see the hybrid as maybe a transitional stage that likely will be very short lived, in my opinion, because I think we're going to be able to demonstrate the viability, the efficacy as well as the enhanced reliability … of having a single fuel source, a single power plant," he said.
Solving the recharging challenge for battlefield systems with fuel cells or other technologies is "the last piece of the puzzle" and a major focus of GM Defense, he said.
When that happens, "I think the adoption of these vehicles is going to come very quickly, just because the operator is going to be so impressed with the performance of them," he added.
GM has already proven it can create highly capable, fully electric tactical wheeled platforms, DuMont said.
The company built an all-electric military concept vehicle similar to the conventionally powered Infantry Squad Vehicle. Both systems are based on the Chevy Colorado ZR2, and the concept vehicle utilizes the same power plant as the Chevy Bolt.
"I've taken it out and demonstrated it with the Army. I've shown it to the Marine Corps. I've had Special Operations Command drive it," DuMont said. There's nothing the conventionally powered ISV can do that the concept vehicle can't do, according to DuMont.
Additionally, GM's Ultium technology, which is the foundation of the Silverado commercial EV truck that was announced in January, will be leveraged for GM Defense's offering for the Army's electric Light Reconnaissance Vehicle, which the service plans to pursue as its first fully electric tactical vehicle built from the ground up, he noted. Prototyping is slated for 2022.
Gamble said the Army is "thinking big but starting small" when it comes to these types of systems.
However, DuMont said the eLRV project could have outsized implications for industry teams that are eyeing future opportunities to electrify the military's fleets.
"It's tough to recover from a negative first impression," he said. "If we were to deliver an eLRV … and it didn't meet the expectations of the operator, that would be pretty tough and we would have to do a lot of work to overcome it. So, I am putting additional focus on making sure we get eLRV right."
To achieve its vision for electric and hybrid-electric platforms, the Pentagon needs to ensure that energy performance and electrification have "real value" attached to them when it develops strategy, concepts, doctrine and requirements, Burke said.
"Until the actual process by which the department decides what the future threat is and what they're going to build for it, until that includes a value for energy as a capability and a performance gain, then this won't be real," she said. "It has to get into the business of how the department builds for the future in order for this to actually happen."
She continued: "You need to see it incorporated in a program of record in an authentic way, not just a sort of boutique or showcase energy project."
Topics: Land Forces