Lawmakers Want to Shrink Army, Grow Navy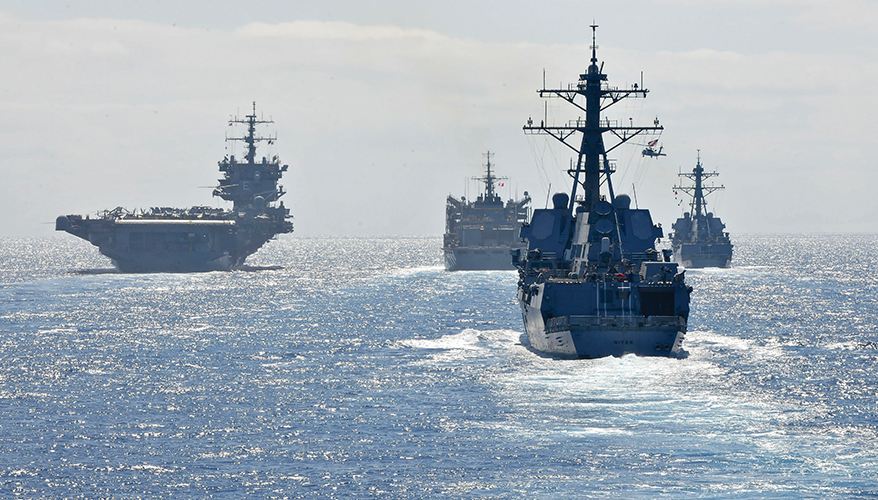 Navy photo
The Navy needs a bigger slice of the budget pie to grow its fleet. However, changing the traditional formula for resource allocation among the services will be difficult to pull off politically, according to members of the House Armed Services Committee.
Seapower advocates have been banging the drum about the need for more funding for shipbuilding.
"I want a bigger Navy, a larger surface fleet in particular," Rep. Mike Gallagher, R-Wisc., said during a panel at the Surface Navy Association's annual symposium. "Sign me up for as many ships as we can build."
For fiscal year 2022, the Biden administration requested approximately $164 billion for the Navy — including $18.1 billion for construction of new ships — roughly on par with the topline sought for the Army and Air Force. Those figures do not include requested funding for the Marine Corps and Space Force, which are separate branches of the military but fall under the Department of the Navy and Department of the Air Force, respectively. As of press time, Congress had yet to pass a full-year appropriations bill for 2022.
The Army shouldn't be receiving that large a share of the budget given the current strategic environment, said Rep. Elaine Luria, D-Va.
"Our No. 1 threat is China. If you look at essentially what a scenario in that [Indo-Pacific] theater could look like, … the preponderance of the resources needs to go to the Navy and the Air Force" to prepare for future battles, she said. "We don't need a standing Army of 485,000 [troops] right now. We really need our resources to go other places."
However, "it is really hard to break that … one-third, one-third, one-third paradigm amongst the services," she added, referring to how money is often divvied up among Defense Department components.
Gallagher expressed frustration that the Pentagon wasn't moving to cut Army end strength and the department's civilian workforce in line with what some officials have recommended.
"I don't think we're making any progress on either of those points, but [doing] that might free up resources that we could use to build up the size of the Navy," he said. "It's going to be a very difficult task."
However, Gallagher and Luria have an idea for how to build more congressional support for increasing the Navy's share of funding: the Defense Department should give lawmakers more insight and access to wargames.
That would improve their understanding of the capabilities the U.S. military and its adversaries have, and what investments are needed to prepare for a potential showdown, Luria said.
"I think it would help with that sort of racking and stacking of the limited resources that we have. Because ultimately, I think that we need to shift," she said. "We could allocate that more smartly. And I honestly think you could find broader support in that" by exposing more lawmakers to wargames.
Gallagher said the way Congress is currently being briefed by defense officials on the results of the exercises is "suboptimal," and the Pentagon should invite members of Congress into the wargaming process so they can better understand the strategic environment in which the Navy is operating.
However, it will require presidential leadership, not just support from Navy leaders and seapower advocates in Congress, to "break the service split" paradigm that exists today when it comes to resource allocation, he added.
As of press time, the Biden administration had yet to release its 2023 budget request and an updated 30-year shipbuilding plan.
Topics: Budget