Army Hypersonic Weapon on Fast-Track to Delivery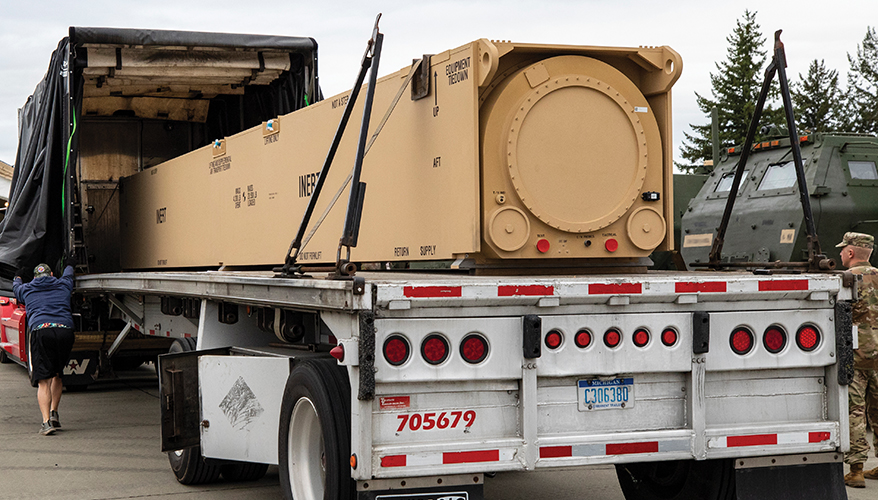 The delivery of the first prototype hypersonic hardware to soldiers
Army photo
As the Army's No. 1 modernization priority, excitement has swelled in recent years about the potential for long-range precision fires — especially hypersonic weapon technology — in great power conflict.
The Army is nearly finished with the development of its first hypersonic system — which can travel at speeds of Mach 5 or higher — and officials are weighing how to prepare for the next steps.
The Long-Range Hypersonic Weapon is on schedule to be in the hands of warfighters by fiscal year 2023, said Army Lt. Gen. Neil Thurgood, director for hypersonics, directed energy, space and rapid acquisition in the office of the assistant secretary of the Army for acquisition, logistics and technology.
There will be a series of additional test flights before the final certification test flight in 2023, he said. Soldiers received the first prototype hypersonic hardware last fall.
Thurgood noted keeping the technology on schedule has meant not chasing after every idea that could potentially make the system better.
"I'm not trying to get to perfect," he said during a recent Center for International and Strategic Studies event. "I'm trying to get to a solution that kills the target."
However, the service's rapid capabilities office is still gathering innovative ideas from industry even if they don't end up in the final product, he said.
The system has a reported range of 1,725 miles and consists of a ground-launched missile equipped with a hypersonic glide body as well as associated transport, support and fire control equipment, according to a report by the Congressional Research Service titled, "The U.S. Army's Long-Range Hypersonic Weapon."
The land-based, truck-launched system is armed with hypersonic missiles that can travel more than 3,800 miles per hour, according to the report.
The transition of the system from Thurgood's office to a program of record is going to be "seamless," he said. That should save much needed time for production.
"You can't build a prototype weapon system, spin up industry to do that and then say to industry, 'Sorry, we're going to wait two more years for the next [program objective memorandum] cycle,'" he said.
Collaboration across government agencies has also enabled quick technology development. For example, the Army rapid capabilities and critical technologies office is also developing a mid-range hypersonic capability that uses tech that was spearheaded by the Pentagon's Strategic Capabilities Office, Thurgood noted.
"We've now taken that technology and matured it into our prototype battery," he said. "Somebody had something that met the requirement. Let's go use that thing and move quickly."
Nontraditional technology development strategies for hypersonic weapons have enabled success so far, he said.
The Army's approach has been to forgo strict requirements which has allowed for more innovation, he added.
"We realized that we can start this without knowing the perfect answer," he said. "We can figure this out as we go, and we can move [at] that pace of technology. It's a really powerful construct."
Meanwhile, the Army is working alongside the Navy and Air Force as it develops its new weapon. Both services are working to develop their own hypersonic systems. The Navy's — known as Conventional Prompt Strike — uses the same glide body and missile stack as the Army's weapon, but they are fired through different canisters, Thurgood explained.
Similarly, the Air Force is working on the Air-Launched Rapid Response Weapon, also known as ARRW. The service plans to purchase 12 missiles in 2022 for more than $160 million despite more than one test failure last year.
Thurgood acknowledged concerns about failed hypersonics tests but suggested failures are inevitable when organizations are trying to speed innovation.
"We're going to have some failure that's going to happen," he said. "If you want to go at pace, there's some risk associated with it."
The role of hypersonics in the Air Force's defense strategy is still an "open question," Air Force Secretary Frank Kendall said.
While China is considered a pacing threat for the United States, the adversary has different targets than the U.S. military.
"We're working on programs that can deliver weapons hypersonically, but I think we have to be careful about not mirror imaging potential threats, particularly China in this case," he said during a recent Center for a New American Security event.
Hypersonics will play a role in the service's force posture, but how big that role will be depends on cost effectiveness and strategic usefulness, he said. "I don't think enough work has been done on that," he added.
Long-range strike capability is one of about seven "imperatives" for the Air Force, Kendall said. The service plans to acquire about 100 B-21 Raider stealth bombers to replace aging B-1s and B-2s. The bomber fleet is expected to be able to carry hypersonic missiles.
Kendall said he is focused on developing the program and its network of sensors, communications and battle management capabilities.
Collaboration between the services prevents them from "stepping on each other's toes" and wasting resources, Thurgood said.
"When you have the transparency, you can work at pace and when we have industry involved in that, it's very important," he said.
Despite program successes, the price tag of hypersonic missiles is a concern. The Pentagon must consider the cost of every component and system, said Undersecretary of Defense for Research and Engineering Heidi Shyu.
The department's fiscal year 2022 budget request for hypersonics was $3.8 billion, up about 19 percent from the $3.2 billion requested for 2021.
Industry has assured Shyu that prices will come down as more orders come in, she said. "They will develop a production line process to drive the cost down, as in every component in every product that we ever bought," she told the Defense Writers Group recently.
However, contractors should do more, she said, adding that her office will continue to engage with the companies involved to find out how they can approach the problem in a more critical way.
The directorate is exploring options for propulsion, materials and any other type of technology that will drive costs down, she noted.
Meanwhile, as the United States fleshes out its hypersonics technology, other countries are making progress as well. That includes China and Russia, which the U.S. military views as pacing threats.
Both nations have reportedly fielded systems already, beating Uncle Sam to the significant milestone.
Despite this, Shyu said she is not interested in engaging in a "horse race" with China or Russia. "You have 1,000 rockets therefore I need to have 1,000 rockets — that's a losing proposition," she said.
Hypersonics are meant to be one piece of a larger portfolio of precision strike weapons, said Eric Sayers, a defense analyst at the American Enterprise Institute think tank.
Deploying a variety of ground-based strike capabilities in the Indo-Pacific region would generate a more complex warfighting scenario for Chinese or Russian adversaries in great power competition, he said.
"That's complicating a People's Liberation Army desire to win a quick, sharp conflict, because we're kind of horizontally escalating by expanding the geographic scope of the problem they face," he said.
To complement hypersonics, the Army has other precision fires in the works. Lockheed Martin began production on the Army's Precision Strike Missile last year. The weapon will replace the service's MGM-140 Army Tactical Missile System. The British army recently signed a memorandum of understanding that signaled its intention to enter the program.
Leveraging a variety of systems puts the Army on the right side of the cost curve "so you can win and not shoot a really high-end missile at a really close target that doesn't really need that kind of technology," said Thurgood.
Mid-range capabilities — such as the Typhoon weapon system — will also open up additional offensive and defensive options for the Army, Thurgood said.
The system features ground-launched SM-6 and Tomahawk cruise missiles but has a greater missile capacity than previous platforms, he noted.
"The MRC program will be very much proliferated across our service, probably with our allied and partner nations because it can shoot so many weapons," he said.
Meanwhile, some technology experts are concerned about the United States' capacity for testing and building hypersonics technology. Not enough testing is being done, said Dr. Mark Lewis, director of the National Defense Industrial Association's Emerging Technologies Institute.
"I actually read an op-ed where someone was claiming that we're going too fast in hypersonics, and I wanted to scream and rip that up in pieces," he said during a recent Hudson Institute panel. "In fact, it's the opposite."
Years of decommissioning wind tunnels have limited the infrastructure available for hypersonics flight tests, and failures during the evaluations cause long delays, he said. But if the United States is going to compete with the Chinese hypersonics arsenal, more tests must occur.
Additionally, there needs to be a high production volume of hypersonic weapons, Lewis said. While some top defense officials are suggesting caution, he noted it might take hundreds of ultra-fast missiles to deter adversaries.
"We created our own vulnerabilities" by slowing down on hypersonics in the past, he said. "We stopped pursuing technologies as rapidly and as aggressively as we should have."
Meanwhile, Army Materiel Command is working to prepare for the production and sustainment of hypersonic weapons.
"We're building the capability so we don't have to wait for it and then be late … down the road," said Gen. Edward Daly, commanding general of the organization.
He meets regularly with Thurgood to ensure their priorities are in sync. "We're so well-synced that we are incorporating the requirements for sustainment early in the process," he said.
As the hypersonic program transitions into the next stages of manufacturing and production, Thurgood said the industrial base is ready for the challenge.
"I would characterize our industrial base as aggressive and mature in hypersonics," he said.
Topics: Army News, Emerging Technologies