ROBOTICS AND AUTONOMOUS SYSTEMS
Autonomous Helicopter Could Hunt Mines at Sea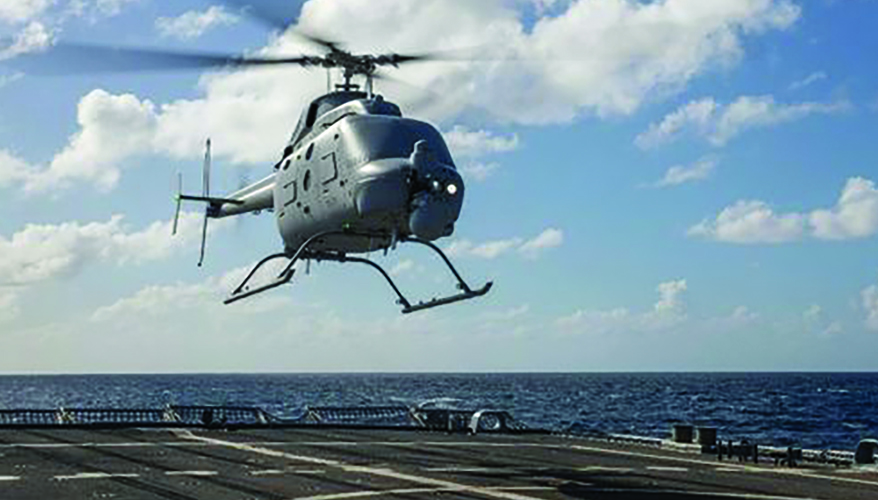 An MQ-8C Fire Scout takes off from the flight deck of the USS Milwaukee.
Navy photo
The Navy's newest variant of its unmanned helicopter may soon feature some additional capabilities, according to a service official.
The Navy is considering putting a more advanced mine locator on the Northrop Grumman-built Fire Scout MQ-8C — an upgrade of the MQ-8B — which has been flying counternarcotics missions since its deployment in December, said Capt. Eric Soderberg, program manager for multi-mission tactical unmanned aerial systems at Naval Air Systems Command.
While the older variant of the Fire Scout utilizes an airborne mine detector known as the coastal battlefield reconnaissance and analysis Block I, the Block II version would be able to detect mines in deeper waters, Soderberg said during a press conference.
"There's a well-defined need for an airborne sensor that can detect mines, not only in the surf zone, which we have sensors for, but also in slightly deeper water," he said.
The Navy plans to issue a request for proposals for the Block II variant in the second quarter of fiscal year 2022.
The Fire Scout's radar upgrade will elevate its ability to perform intelligence and reconnaissance missions, Soderberg noted. For example, operators will be able to combine multiple sensors to gather data.
"What it brings is improved software that allows the system to correlate amongst the multiple sensors that are on the platform," he explained.
For instance, the electrolyte-insulator semiconductor and electro-optical/infrared sensors alongside the radar system have "an automatic correlation that eases the workload for pilots," he noted.
Though adding the radar has caused some delays, Soderberg said it was clear that the system made the platform superior to the previous version.
Meanwhile, there is interest in using the Fire Scout to support the Naval Strike Missile, the Navy's long-range precision strike system, he added.
"As that system is deployed, that will lead to some modifications of how the Fire Scout is used and what the costs are," he said.
There are currently no funded efforts to add weapons to the Fire Scout, though a Northrop Grumman integration study has been completed, Soderberg added.
"We have a technical way forward," he said. "If we chose to add weapons to the platform, it would support that from the analysis that we completed."
Topics: Robotics and Autonomous Systems