JUST IN: Japan to Accelerate Integrated Deterrence with U.S. as Hedge Against China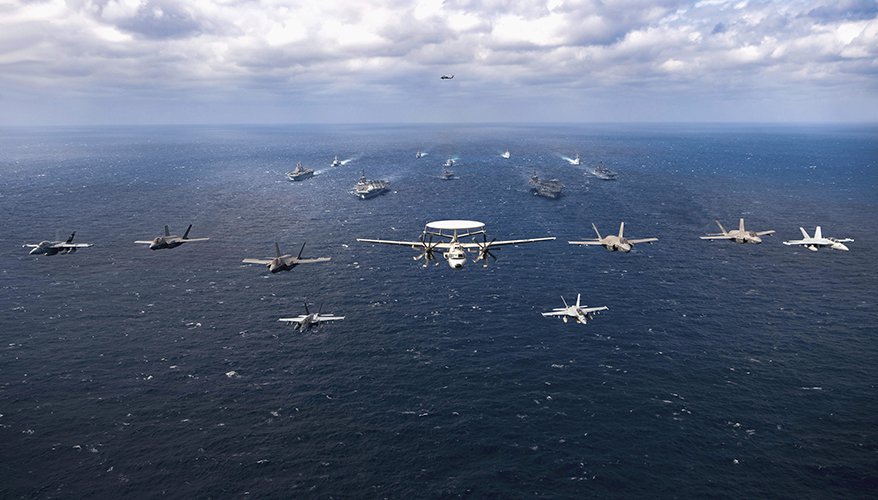 U.S. Indo-Pacific Command
Facing common adversaries and challenges in the Indo-Pacific region, Japan is looking to its alliance with the United States and collaboration in military technology to maintain a strategic edge and restore balance in the region.
"In the Indo-Pacific region and elsewhere, we are facing — in addition to military expansionism — unilateral attempts to change the status quo by force and enhanced cyber threats in so called 'gray zone' situations," Japan's Minister of Foreign Affairs Yoshimasa Hayashi said in a video recording Feb. 18 during an event hosted by the Center for Strategic and International Studies and the Japan Institute of International Affairs, a foreign policy and security think tank based in Japan.

"There are some countries that take advantage of their economic might to achieve their national interests. They are leveraging trade relations and supply chain vulnerabilities as tools of economic coercion," he added.

Both the United States and Japan view China's military assertiveness and rapid modernization as a threat to security in the Indo-Pacific region, prompting both countries to boost their own defense capabilities in fear of losing the technological edge over Beijing.

Hayashi noted that he met with U.S. Secretary of State Antony Blinken, U.S. Secretary of Defense Lloyd Austin III and Japan's Minister of Defense Nobuo Kishi in January to discuss how the United States and Japan can evolve its alliance and address shared concerns in the Indo-Pacific.

From the meeting, he highlighted a shared resolve to enhance the U.S-Japan alliance's deterrence and response capabilities in order to deal with future threats. Some focus areas included: asset protection; joint intelligence, surveillance, reconnaissance; realistic training; flexible deterrence options; strategic messaging; and joint shared use for both countries.

A key component will be ensuring that Japan's strategic defense documents align with those of the United States, he noted. Tokyo will be fortifying its defense strategy for the first time since 2013 as it reviews Japan's National Security Strategy and other key defense documents, he said.

JIIA President Kenichiro Sasae said the new defense policy will derive from both Chinese and North Korean actions since 2013. It will stress the rapid advancement Japan's defense capabilities, he noted.

For years, the United States has been the top international weapons seller to Japan, said Tetsuo Kotani, a senior fellow at JIIA. Strategies to shore up indigenous defense production is important to the Japanese government, which will like be reflected in the new documents, he said.

However, it has been difficult for Japan's defense industry to develop its own capabilities. "My personal guess is that they will seek more joint development and joint production of high-end technologies," Kotani said.

Hayashi said Japan will still aim to invest in emerging technology to maintain its edge and stay ahead of the curve technologically. To do so, Tokyo will need to increase its defense spending. The government is determined to boost spending over the next decade incrementally, he added.

"I think there is a consensus that without increasing defense spending, we cannot defend our country," he said.

Space, cyber technology, artificial intelligence, quantum computing and hypersonic weapons are a few key areas where the United States and Japan can collaborate to maintain regional security, Hayashi noted.

In particular, both China and North Korea have ramped up their hypersonic missile capabilities recently. In response, Japan and the United States announced a new agreement in January to increase research and development work on countering hypersonic missiles.

Kotani said updating Japan's self-defense system against hypersonic weapons — such as by upgrading sensors to detect incoming missiles and additional space capabilities — is on the agenda for the alliance.

To help develop emerging technologies, Hayashi said Japan must collaborate with industry to strengthen its economic security especially in the wake of global supply chain issues.
Other avenues of collaboration in the form of political alliances — such as the four-nation dialogue between the United States, Japan, Australia and India known as the Quad — will be essential for future security in the region, he said.

"I believe that when the balance of power is restored by these efforts, diplomacy will work even more effectively to reduce tensions and bring about enduring peace and stability in the region," Hayashi said.
Topics: International