JUST IN: Royal Navy Chief Calls for More Information Sharing Among Allies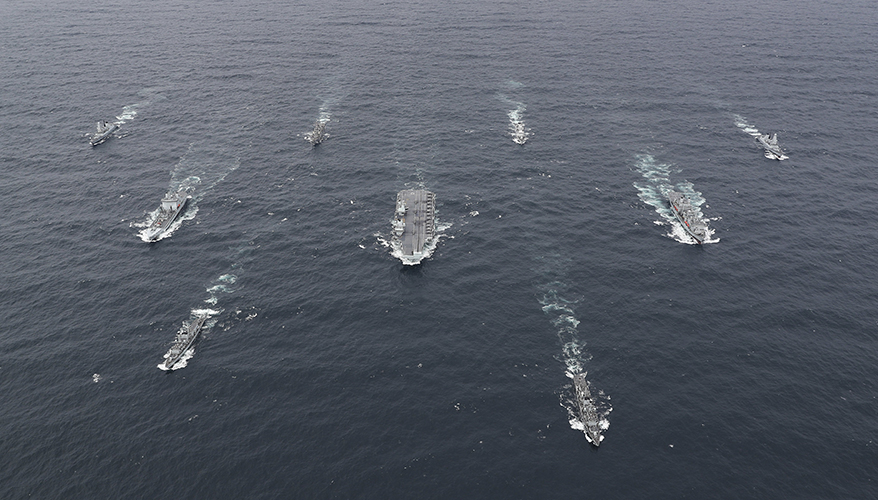 United Kingdom Carrier Strike Group
Royal Navy
The U.K. Royal Navy is focused on enhancing interoperability and "interchangeability" with international partners. To support that, likeminded nations need to be more willing and able to share information, the service's top officer said Feb. 16.
The Royal Navy-led Carrier Strike Group 21— which deployed last year to the Indo-Pacific region and included ships and aircraft from the United Kingdom, United States and other nations — is an example of how allies can integrate their platforms in the future, First Sea Lord Adm. Sir Ben Key said during an event hosted by the Center for Strategic and International Studies, a Washington, D.C.-based think tank. The deployment included U.S. fighter jets operating off the HMS Queen Elizabeth aircraft carrier.
However, information sharing is also critical and can confer an advantage to multinational forces contending with a lone adversary, such as China, that can make decisions quickly but might not have as much data that it can leverage, he noted.
"This is one of the big challenges we need to overcome: how are we able to share information and reach decisions at the speed of relevance?" Key said. "We're going to have to make investment in those things."
High-end militaries should help other likeminded countries improve their capabilities, he added.
"One of the risks for us in the sort of high-end technology areas is that we can accelerate away from where others are," he said. "We have an obligation … [to] those who are seeking to catch up that we give them a means to catch up, and that we don't find ourselves deeply classifying information."
Nations like the United Kingdom should be willing to "take a risk" in disclosing important data to other countries, Key said.
This would run counter to the Cold War paradigm where the focus was often on "locking stuff down," he added.
Given the prevalence of the internet and the way that information moves faster in today's world, "we need to think differently about how we secure that which we absolutely must secure and actually how we share as much as possible," he said.
He pointed to last year's trilateral security agreement between the United Kingdom, United States and Australia, known as AUKUS, as a good example of the benefits of closer collaboration.
The aspect of the pact that received the most press was an agreement between Washington and London to share sensitive nuclear propulsion technology for submarines with Canberra. However, the alliance is about more than technology transfer, Key noted.
"At its heart, AUKUS is about reducing the barriers to sharing information amongst likeminded people," he said.
"One of the real opportunities of that is in the underwater battle space challenge that we have at the moment," he added. "How can we take the richness of what the Royal Australian Navy understands about their waters, their challenges, their opportunities, and share that with U.K. and U.S. navies and allies? … That is about how do we create opportunities to better share intelligence and understanding and information in order to invest in capabilities that contribute to greater security."
Topics: Global Defense Market