TACTICAL WHEELED VEHICLES
Recompete for JLTV Offers Coveted Prize for Vehicle Makers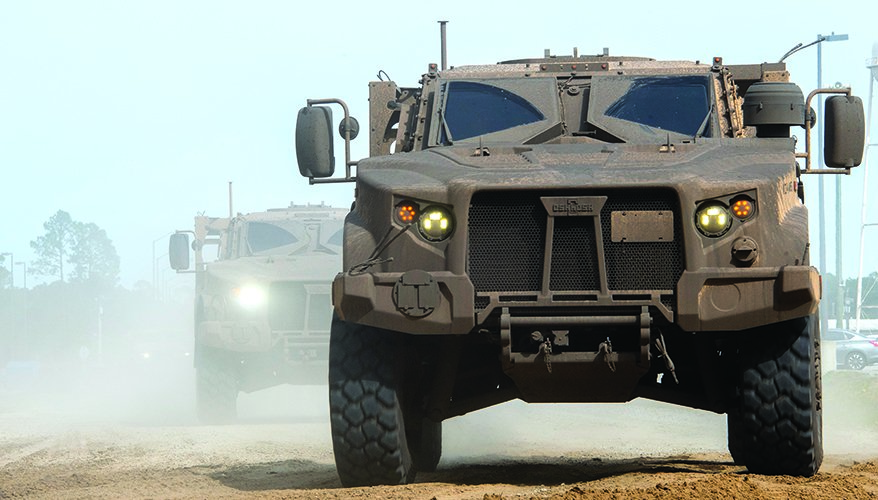 Oshkosh photo
More than six years after Oshkosh Defense was awarded a mega contract to build the Joint Light Tactical Vehicle for the Army and Marine Corps, and with few new military vehicle programs on the horizon, the Defense Department is poised to reignite a fierce industry competition for the next version of the JLTV.
When Oshkosh won the hotly contested and lucrative contract — which was initially worth some $6.7 billion — for the first iteration of the platform in 2015, it sent shockwaves across the military vehicle market. Oshkosh at the time was not the military vehicle juggernaut it is now, and the outcome had major ramifications for Humvee manufacturer AM General.
The JLTV — which is replacing portions of the Army and Marine Corps' Humvee fleet — was designed to balance mobility and protection, as well as achieve the "iron triangle" of payload, protection and performance.
It is expected that Oshkosh Defense, Navistar Defense, AM General and GM Defense will vie for the next phase of the program.
The JLTV joint program office — which is procuring platforms for both the Army and Marine Corps — was slated to release a request for proposals for a follow-up version of the vehicle by the end of January, said Michael Sprang, program manager for the JPO. A contract award is expected in September.
The RFP will be a culmination of years of work, Sprang told National Defense.
"When we first looked at the competitive market for JLTV, what we didn't want to do was just to [use] … lowest-price, technically acceptable" as the metric, he said. "We engaged with industry early and we've engaged with them often."
In August 2019, the JPO asked industry for information as it conducted market research and eight companies responded, he noted. Based on those responses, the office crafted an acquisition strategy for the follow-on vehicle and allowed industry to lease Joint Light Tactical Vehicles from Oshkosh.
"When you think about the JLTV, there's obviously an incumbent but we wanted the opportunity for other companies to be able to understand the JLTV," he said. Three companies leased vehicles.
According to George Mansfield, vice president and general manager of joint programs at Oshkosh Defense, those companies included GM Defense, Navistar and AM General.
The JPO has since released multiple draft requests for proposals and has hosted five industry days, Sprang said. The follow-on JLTV is known as the A2 version.
"We've really tried to shape and make sure that when the government identifies its best value, that industry understands what we mean by that," he said. "When we identify the requirements of the contract, [the military wants to ensure] that industry has a good comprehension of what that means so that they can create their best strategy for how to win the contract."
The joint program office also released the JLTV's technical data package, which it had purchased from Oshkosh, he said.
Since the first industry day in February 2020, industry has asked the JPO about 400 questions, Sprang said. That is "a pretty good amount so that we've been able to go back and forth with industry, just so that they have an awareness and they're an active participant in this competition."
Robust competition is the best way to control costs and bring new enhancements into the program, he said.
The joint program office is pleased with the JLTV's current capabilities and is not looking for massive changes as it pursues the A2, Sprang noted. However, it is interested in some key enhancements.
For example, the office plans to upgrade the platform's engine, he said. The current system is a Banks Power-modified GM Duramax engine, and the JPO is seeking the next-generation system from the same supplier.
"It's not a huge transition from the current engine," Sprang said.
The office is also incorporating changes the user community has requested. For example, soldiers and Marines have asked for more space be made available in the back of the platform.
"We've shrunk the space that's committed on every vehicle," he said. "It still has the ability to grow and expand if there is a lot of communication equipment that they need on specific JLTVs, but the vast majority will have space back so that they can put their own … rucksacks or additional payloads that they want in there."
The office has also identified some technologies that can help reduce the JLTV's signature profile. "The alternator, some gearing [and] insulation are key areas to reduce how loud it is both external to the vehicle and internal to the vehicle," Sprang said. "That was one of the concerns that we had from soldiers and Marines."
The government has also asked industry to look at technologies that are not part of the system's current configuration, and the joint program office would then give them an evaluated credit during source selection, he said. These include increased corrosion protection and fuel efficiency.
The office is pursuing two technologies relative to the latter, the first being for on-the-move operations, Sprang said. "There are different ways of doing this and we're leaving that up to industry to identify if they want to propose that or … how they would implement it."
The other is anti-idle technology using lithium-ion batteries.
"You have the ability to idle with just the batteries and so you can run your communication equipment, you can run your HVAC system," Sprang said. "The system will be smart enough to identify when the battery level is at a certain point [and] it will turn on the engine and it will charge the batteries back up. And if you're still idling, it will turn off the engine."
The office is also looking for new commercial driver enhancements that industry can offer such as lane departure warnings, backup alarms and 360-degree situational awareness.
"When you get into your vehicle today, … there are cameras all over the vehicle and you can see around the vehicle," Sprang said of commercial cars and trucks. "When you look at JLTV, there's transparent armor and there is opaque armor that you can't see through and that creates some blind spots. And so, a 360-degree situational awareness [system] gives more flexibility to see around the vehicle, and then also to project out when you're making turns."
After the contract is awarded, the winner will have 18 months to deliver the first vehicles and those platforms will go through about a year of testing, he said. According to slides from a November industry day, the projected value of the contract could be worth up to $6.5 billion.
The first fielded platforms will be ready around 2025, Sprang said. Oshkosh's current contract will continue to be leveraged until fiscal years 2023 and 2024 and then will be ramped down as the A2 comes into the fleet.
"That allows both the Army and the Marine Corps to have vehicles to field while we're ramping up under this new contract," Sprang said. "It creates this nice transition point."
The JPO is looking to procure about 15,400 vehicles and 7,600 associated trailers, though those numbers could still fluctuate based upon budgets, he said.
The office expects to see strong interest from industry for the program.
"Do I think it's going to be an effective competition or competitive? I absolutely do," he said. "I don't necessarily judge it by the number of companies [participating] but by the value of the companies and where they're going to put the proposals."
He continued: "Based upon the questions that we've gotten, based upon the discussions that have happened, we understand where industry may be, and it might not be the same number of interested companies today as it was maybe in 2019. But I think those that are still interested are going to be very competitive."
Mark Cancian, a senior advisor at the Center for Strategic and International Studies, anticipates that the program will be very competitive.
"This is the kind of vehicle that a lot of companies can make, and when you talk about an Abrams tank, there's really very few that can make a tank like that," he said. However, a "heavy truck is something that a lot of companies could make and as a result I think there will be a lot of interest."
As the incumbent, Oshkosh Defense is in a good position, he noted. AM General also has relevant experience given its history manufacturing the ubiquitous Humvee.
Oshkosh believes it is well positioned to win the follow-on contract, Mansfield said. "When we won back in 2015, … we always knew that we were going to have to recompete after eight years," he said.
To prepare, the company has been working with its supply base and making its assembly process as efficient as possible, Mansfield said.
"We believe we're in the best position," he said. "We designed the vehicle. We built over 14,600 vehicles to date. … We've got a talented workforce putting the vehicle together, and our supply base is second to none."
Meanwhile, GM Defense is continuing to evaluate how to best support the JLTV program.
"We are still actively engaged in a dialogue with the Army on this topic," a company spokesperson said in a statement. "Given our ability to leverage GM's commercial technology combined with our core capability in integrated vehicles, we think there is an opportunity for us to provide real value to this program and a great opportunity to enhance warfighter capability. We continue to assess what kind of a role we can play and will discuss that in more detail when the time is appropriate."
Representatives from Navistar Defense and AM General did not respond to requests for interviews.
Meanwhile, as the military shifts its focus to great power competition, both officials and experts say the JLTV program, which has been used in counterinsurgency operations in the wars in Iraq and Afghanistan, will still be relevant.
The platform has utility for a variety of operational environments, Sprang said.
"It has growth capabilities. It has the flexibility to expand both in power, in weight and space," he said. "It has that ability for the multi-domain operations that we [will] have in the future."
Cancian also sees a future for the vehicle. Historically, the military has employed unarmored vehicles in conflicts such as World War II, the Korean War and the Vietnam War, he noted.
"Armored vehicles were an exception, rather than the rule," he said. But more recently, due to the scourge of roadside bombs in Iraq and Afghanistan, the military quickly pivoted to armoring its platforms and developing systems such as mine-resistant, ambush-protected vehicles.
The carnage of improvised explosive devices and the military's response to rapidly develop new armored vehicles has "been burned into everybody's experience," he said. There is a "sensitivity to casualties and vehicles during conflicts."
Those concerns will secure the JLTV's role in future engagements, Cancian said. Additionally, there will still be a need for the platforms in great power competition even though the threat will come more from artillery and long-range munitions as opposed to IEDs, he added.
Joint light tactical vehicles "could give you some protection from Russian artillery. And the Russians are very heavily invested in artillery, they always have been," he said.
As for the Pacific, the vehicles could also be useful in an engagement with North Korea which possesses a robust artillery capability, he added.
Topics: Tactical Wheeled Vehicles