JUST IN: Mark VI Riverine Boats Remain in Limbo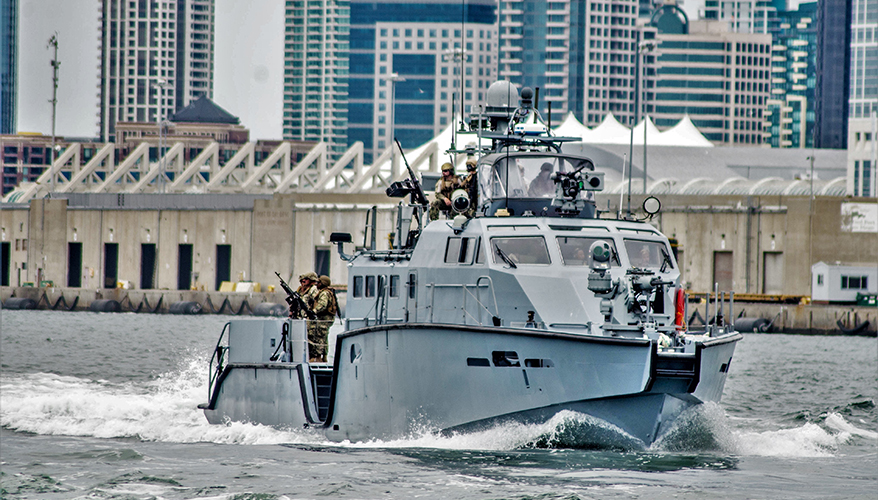 Navy photo
A small fleet of 12 sidelined patrol boats will remain in limbo as the Navy and Congress decide their ultimate fate, a senior service official said Feb. 10.
"The plan for the Mark VI patrol boat is continuing to be kind of worked through with our leadership and Capitol Hill," Rear Adm. Joseph DiGuardo Jr., Navy Expeditionary Combat Command commander, said at the National Defense Industrial Association's Virtual Expeditionary Warfare Conference.
The Mark VI is a nearly 85-foot long patrol boat intended for operations on rivers and close to shore. It is transportable on amphibious ship docks and can carry eight personnel along with 10 crew members.
While there were plans to acquire up to 48 patrol boats, only 12 were delivered, and the Navy in early 2021 announced plans to divest itself of the dozen Mark VI boats operated by Expeditionary Combat Command after only about six years of operations. Navy and Marine Corps leaders said at an industry conference last year that they were expensive to maintain and not being used widely. The Navy later rescinded its decision pending the outcome of the Biden administration's 2022 budget, the
Naval News
website reported last May.
DiGuardo said the boats and its crews are standing by pending a conclusion of the talks with lawmakers.
"Our role is to maintain it in the highest state of readiness so that we can ensure that it's prepared to execute operations when tasked do so. And that's what we're doing so our sailors remain ready," he said.
DiGuardo signaled that the Navy is ready to move on. The service is introducing a 40-foot force protection patrol boat, "which will allow us to ensure that we have more space, weight and power than we have on the boats that we have now," he said. "Certainly not as much as on the Mark VIs but we'll have them in greater and greater numbers that will allow us to execute some of those tasks that we did with the Mark VI."
However, "there's nothing to say we won't reintroduce them," DiGuardo said of the Mark VI. If that decision is made, the boats and crew will be ready, he added.
Meanwhile, the Mark VI has fans in the Ukrainian military, which has entered into a foreign military sales agreement with the U.S. government to acquire up to 16 of the boats.
Naval Sea Systems Command awarded the vessels' manufacturer SAFE Boats International a $25.6 million firm, fixed-price modification "for the exercise of options for construction, outfitting, reactivation and training of two Mark VI patrol boats," a Dec. 30 Defense Security Cooperation Agency announcement said.
The agency has approved the potential foreign military sale of up to 16 Mark VI patrol boats and related equipment to Ukraine for an estimated cost of $600 million.
Topics: Navy News