ROBOTICS AND AUTONOMOUS SYSTEMS
AI to Reduce Litter Swaying During Helicopter Rescues (Updated)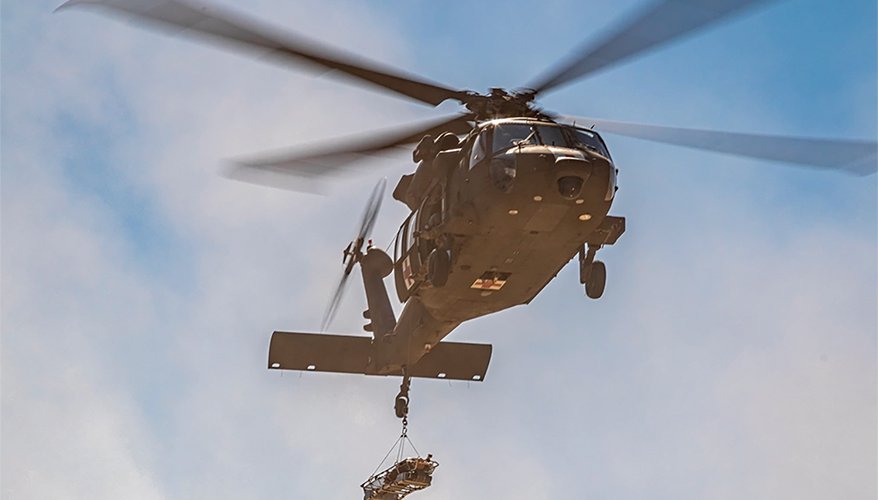 A helicopter carries a rescue kit from Vita Inclinata.
Vita Inclinata photo
Artificial intelligence may soon assist the Army with critical helicopter rescue missions.
Colorado-based company Vita Inclinata Technologies sold 15 rescue systems to the Army at the end of 2021 to undergo trials at the Aeromedical Research Lab in Fort Rucker, Alabama. The attachment will make emergency rescues safer and easier for soldiers, said Derek Sikora, chief technology officer and co-founder of Vita.
The system is made up of a rescue litter and a battery-powered hoist that attaches to rotary-wing aircraft. The hoist uses sensors and computers running algorithms to determine the best action to reduce the spin, swing and sway of items it is carrying.
Being lifted into the air by a helicopter is not easy, Sikora said. Rotary-wing platforms — which often weigh 15,000 to 20,000 pounds — hover off the ground and generate buffets of air that easily push and pull what is hanging below them.
Typically, "it's this complex situation that requires this person on the ground, coordinating with the person on the line and … also coordinating with the aircraft," Sikora said. "It's just complexity that doesn't need to be there."
With Vita's system, all a soldier has to do is flip a switch, Sikora said. This also means the device is relatively easy to train on for operators.
However, there is also a manual option for the system.
Air rescues can be dangerous. While hovering, helicopters are at their most exposed in contested environments, so speed and accuracy matter, Sikora explained.
"If you can reduce the time that an aircraft is hovering … that is just game changing for how we get our warfighters out of a combat situation," he said.
The Army has been working with Vita on the system for more than three years with a cooperative research and development agreement that allowed the company to garner feedback directly from war­fighters, Sikora said.
Now, the service wants to ensure the systems can withstand the harsh environments soldiers operate in through trials such as high-altitude and maritime testing, he said.
Army National Guard units and active duty combat aviation brigades will also evaluate the systems.
Editor's note: A previous version of this story disclosed a tidbit of information the source freely disclosed and on the record. The source for legal reasons has asked us to remove the information from the online version, which has been done as a courtesy.
Topics: Air Power, Robotics and Autonomous Systems