JUST IN: Austin Declares U.S. Will Prevail in 'Decisive Decade'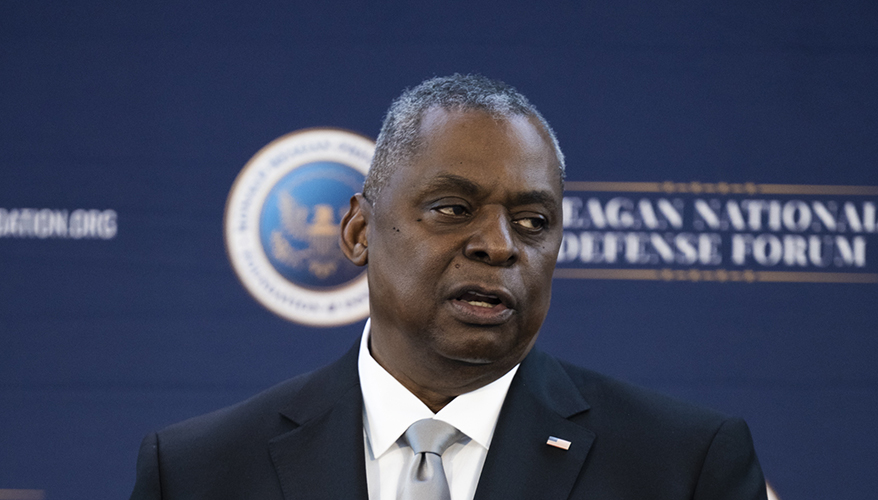 Defense Dept. photo
SIMI VALLEY, California — In a wide-ranging speech delivered Dec. 3 under the wings of former President Ronald Reagan's Air Force One, and one day after attending the rollout of the B-21 Raider, Secretary of Defense Lloyd Austin III called on Congress to pass crucial legislation and a new budget to help the military prevail in a "decisive decade."

"As President [Joe] Biden has said, we stand in a decisive decade, and these next few years will set the terms of our competition with the People's Republic of China, and they will shape the future of security [in] Europe, and they will determine the kind of world our children and grandchildren will inherit," Austin said at the Reagan National Defense Forum, held at the Ronald Reagan Presidential Library in Simi Valley, California.

The Defense Department has requested funding from Congress to bolster its air power capabilities, update its platforms to deliver nuclear weapons, boost the Marine Corps' ability to operate in the Indo-Pacific and provide the Army with better long-range fires, he said.

"When you add all that up, it's a lot, but we've got a lot to do," he said.

"Let me urge Congress to pass an on-time appropriation [bill] so we can get the capabilities to further strengthen our deterrence," he said.

As has become the norm, Congress has missed several deadlines to pass a fiscal year 2023 budget, as well as a National Defense Authorization Act. The continuing resolution, which allows the government to operate as Congress debates the new measures, hampers the Pentagon from starting new programs and restricts funding to 2022 levels. With high inflation, this year's delay has posed even more problems.

The Defense Department is also working closely with Congress to secure multi-year procurement authorities, he said. The change would help the armed forces develop the technologies needed for the future more quickly, he said.

Such contracting authorities would allow the Defense Department components to fund programs for multiple years instead of one year at a time, which currently puts weapon systems development at the mercy of Congress's yearly failure to pass budgets on time.

Meanwhile, Russia's unprovoked war in Ukraine has shown what the world could be if authoritarian regimes go unchecked, he said. Russian is using "deliberated cruelty" by putting citizens in harm's way, destroying schools and hospitals and killing children and civilians. Putin's Russia "is a preview of a world of tyranny and turmoil no one would want to live in," he said.

"Putin's war is not the result of NATO expansion," he said. "It is the cause of NATO expansion."

Austin reiterated Biden administration policy to stand with Ukraine however possible without putting U.S. forces in the country and ensuring that neighboring NATO allies are under U.S. protection. "We will defend every inch of NATO territory," he vowed.

The People's Republic of China continues to provide the United States with its "pacing challenge," he said.

"The PRC is the only country with both the will, and increasingly the power, to reshape its region and the international order to suit its authoritarian preferences. So let me be clear: we will not let that happen," Austin said.

In a recent meeting in Cambodia, Austin met his Chinese counterpart, Gen. Wei Fenghe, where he warned the nation's air force to cease provocative and dangerous flight maneuvers. "And I made clear that the United States will continue to fly, sail and operate wherever international law allows," he said.

"We are also deeply committed to responsibly managing our competition with the PRC even as we defend our interests and our allies' interests," he said.

The Pentagon has honed its ability to move warfighters quickly to the region and invested in logistics, infrastructure and military construction across the Indo-Pacific, he added. It has carried out dozens of military exercises with allies in the region such as Japan, Canada, India and Australia, he said.

The week of Dec. 4, Austin will host defense ministers from the United Kingdom and Australia to discuss the AUKUS agreement, which will assist Australia in acquiring nuclear-powered submarines.

"We're charting the best pathway for Australia to acquire a nuclear-powered, conventionally armed submarine as early as possible — all while upholding the highest nonproliferation standards," he said.

"We have requested billions to modernize the Marines into a highly mobile military force," he said.

The B-21 Raider strategic bomber, unveiled the previous evening in Northrop Grumman's nearby Palmdale, California, facility, serves as a symbol of American ingenuity that authoritarian regimes can never match, he said.

"It shows that we're clear-eyed about what it is going to take to keep America secure in the 21st Century," he said.

The seven-year effort to build the first Raider models was a combination of "free minds" and "free enterprise," he said. "There is only one country on Earth that consistently delivers that combination, and that's the United States of America," he said.
Topics: Defense Department, Budget, International