Air Force Laying Foundations for Its Version of JADC2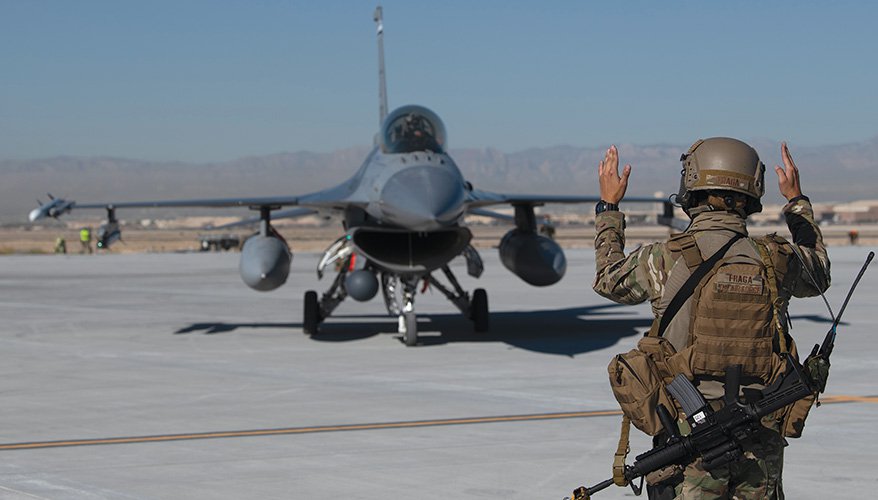 An F-16 Fighting Falcon at a simulated austere base during the Advanced Battle Management System exercise on Nellis Air Force Base, Nev.
Air Force photo
NATIONAL HARBOR, Maryland — After years of experimentation and planning, the Air Force and industry are taking the first concrete steps to turn the Defense Department's concept of connecting battlefield sensors and shooters from across all domains into a reality.

The service is honing in on efforts to take the Advanced Battle Management System beyond conceptual phases, from creating new leadership roles focused on technology integration to making investments in capabilities that will mature the system to operational success, said Secretary of the Air Force Frank Kendall during his keynote address at the Air and Space Forces Association's annual conference in National Harbor, Maryland.

The Advanced Battle Management System is the Air Force's version of joint all-domain command and control, or JADC2.

At the same time, industry is making key developments they believe could one day enable ABMS, company leaders said.

The Pentagon-wide goal is to employ advanced networking and communication capabilities that connect platforms across all domains under one battle management system. At the same time, artificial intelligence and machine learning will process information gathered from those platforms. The result will be quicker and more accurate decisions on the battlefield, according to the Air Force.

Each of the services is pursuing and funding its own JADC2 program. The Navy calls it Project Overmatch, while the Army's is Project Convergence. To connect previously stovepiped systems into one joint battle management network, a range of next-generation capabilities are under development, according to the services and industry executives.
Some of the JADC2 technologies both industry and the service leaders have expressed interest in are data handling and storage mechanisms, software that can create information out of that data, computer processors with high levels of security to process that information and methods to connect platforms so they can "talk" to one another and send information to the right users.

"This has got to be about balanced operational success out on the battlefield against our pacing adversary," said Brig. Gen. Jeffery D. Valenzia, Advance Battle Management System cross functional team lead at the Department of the Air Force.

"We need a disciplined, describable and defensible way that we're going to build combined arms in a data-centric world," he said during a panel discussion at the conference.

ABMS is one of Kendall's seven operational imperatives — a list of modernization efforts the service must invest in to prepare for potential combat with U.S. adversaries.

He said the service has made progress on ABMS, but it needs to match the large-scale effort required to mature the technology.

"Our efforts to date have not been adequately focused nor have they been adequately integrated," he said.

To keep ABMS and various technologies that enable it on track, the service has appointed Brig. Gen. Luke Cropsey as the new integrating program executive officer for Command, Control, Communications and Battle Management, or C3BM, the service announced in September.

The Air Force's JADC2 efforts will fall under Cropsey, Kendall said. He will also supervise architecture and system design, systems engineering, configuration management and interface control, he added.

The new program office should result in better integration across several programs that have elements that can enable JADC2, Valenzia said. It will help the service redefine acquisition strategies that in the past have focused on buying systems that aren't interconnected, he added.

In order to refine future capability requirements for ABMS, the Air Force is leveraging a model-based systems engineering approach that uses digital models, rather than physical models, to develop the technology.

During the conference, the cross functional team introduced a digital model to industry that depicted a future battle management scenario, Valenzia said. The service will be sending the model to industry to explore.

Lanny Merkel, director of JADC2 capabilities and proprietary programs at Collins Aerospace, said using model-based systems allows industry to experience the nuances of battle management that otherwise would be lost in traditional requirements documents.

The method will help companies with different types of technologies understand what they can bring to the JADC2 effort by breaking down its different layers and components, he said at the conference.

"Then we can see that decomposition, so then I can have a more direct line of sight to capabilities that I have that can support individual pieces and how those capabilities need to be developed and integrated in order to support the larger enterprise," he added.

The model allows both the service and industry to go from broad, conceptual ideas about ABMS to more disciplined, connected conversations about the system where everyone is speaking the same language, said Ron Fehlen, vice president and general manager for Air Force programs at L3Harris.

"What are the ground rules that we're going to use behind that model? What are the assumptions that we're making within that model? And what are the boundaries associated not only with the model in totality, but with the different elements in that functional architecture?" Fehlan asked. "This is a … necessary ingredient that's going to be a recipe for making JADC2."

Another component to getting the system off the ground is building its digital infrastructure, Fehlan said.

The Air Force recently awarded five companies — SAIC, L3Harris, Leidos, Raytheon and Northrop Grumman — a contract to be a part of the ABMS Digital Infrastructure Consortium, which will be overseen by the service's Rapid Capabilities Office. The consortium's goal is to work together to design, develop and field the "JADC2 backbone" that integrates several data-centric capabilities, said Jenna Paukstis, vice president of communications solutions at Northrop Grumman.

"It's working with industry to figure out what are the right technical and business roadmaps to make sure we can field that capability much faster," she said on the sidelines of the conference. The consortium will focus on four areas of development: secure processing, connectivity, data management and open architecture, she added.

The value of the industry consortium is that it will let members work closely with each other to take readily available technology from the commercial sector and apply it to the Air Force's needs, Paukstis said.

"The technology exists. So, we need to figure out how to make it work in that warfighting ecosystem, get through the multiple levels of security [and] make sure we can trust the data and where it's coming from," she said.

One of the commercial technologies Northrop Grumman is trying to make more applicable for the Pentagon's JADC2 goals is 5G networks. The company announced in April it will partner with AT&T to prototype, demonstrate and test an open architecture solution called the "digital battle network" that takes the company's commercial 5G capabilities and adapts them for military environments with "high throughput, low latency, resilience [and] scalability — all of which are really critical in a net-centric fight," she said.

Northrop Grumman is conducting a series of technology demonstrations that showcase the power of 5G networks in the battlespace, such as integrating tactical radios with commercial hardware and networking capabilities to demonstrate a tactical radio access network, Paukstis said. Northrop is also working on a satellite launch partnership that will bridge the company's networking capabilities and 5G in proliferated low orbit, she added.

At the same time, Lockheed Martin is also making investments in key space-based architecture that could enable the Advanced Battle Management System.

The company is preparing for three self-funded launches of small satellite constellations in 2023 and 2024 that are aimed to demonstrate how space will bolster battlespace awareness and connectivity, said Paul Koether, program management director for mission solutions at Lockheed Martin Space.

The launches will establish the company's first space-based joint all-domain operations test bed, according to the company.

The first of those launches will be two Pony Express 2 small satellites, a follow-on to Lockheed Martin's Pony Express 1 mission launched in 2019. The two satellites will demonstrate tactical communications and mesh networking, a type of network in which devices are linked together and branch off other devices or nodes. The satellites are scheduled to launch in the first three months of 2023, Koether said.

The satellites will also demonstrate the company's software-defined satellite computing technology called SmartSat, "which allows us to upload different applications or change applications on orbit," he said in an interview.

Koether compared the technology to applications on a smartphone: "You can download new apps, you can update your apps, you can cyber-protect them as updates come — we're doing the same things with our satellites."

In summer 2023, Lockheed will launch its Tactical ISR Satellite to demonstrate on-orbit processing, communications and intelligence, surveillance and reconnaissance sensing capabilities. The satellite is based on the Space Development Agency's Transport Layer Tranche 0 design that will take sensor data from platforms and then transmit them to users, Koether said.

To test onboard processing capabilities, the satellite will feature an infrared sensor provided by Lockheed Martin's missiles and fire control partners, he added.

The mission will also host the company's first 5G.mil on orbit, Koether said. The technology is its solution to provide reliable 5G networks for military missions in austere environments using space-based architectures.

"This is our ability to actually demonstrate true 5G, non-terrestrial networks in space direct to 5G users," he said.

Lockheed Martin will also launch a fourth satellite in 2024 called the Active RF that will serve as a technology demonstrator, he added.

Because the launches are company investments, it's a way to show the Air Force and Pentagon the realm of possibilities for joint all-domain command and control capabilities to determine requirements instead of traditional acquisition pathways, Koether said.

"This is what we think space would have done, but this is what space is actually going to do," he said. "The satellite will talk to the F-35 — we want to actually demonstrate that. Yes, you can close that commlink, and this is the type of data that you can pass … so that we have real information to make informed decisions on what those requirements and acquisitions need to be."

While Valenzia noted the progress on the modeling and technology side, he emphasized that the Advanced Battle Management System will need a clear concept of operations informed by both warfighters and industry. JADC2 critics have highlighted this lack of clarity.

Valenzia said it is needed for cross-domain command and control to be successful. The service needs to consider the assumptions and assertions of the pacing threat to develop an informed, contextualized CONOPS, he added.

"A model is just a model, and a model alone isn't going to solve this. A model becomes the disciplined foundation that we can enter the conversation with, but a model then has to be informed by a CONOPS," he said.
Topics: Air Force News, Command and Control, Defense Department