I/ITSEC NEWS: Time 'Running Out' to Create Joint Training Environment, Official Says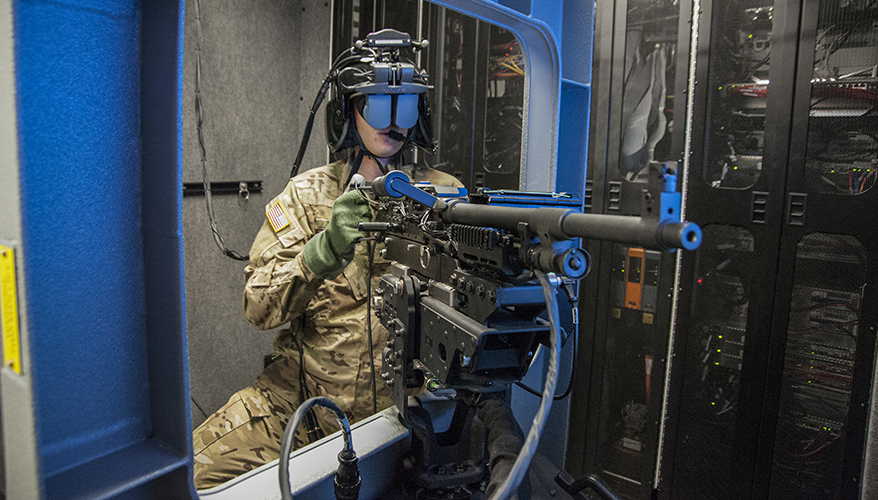 Defense Dept. photo
ORLANDO, Florida — The Defense Department and military services have no shortage of deliverables for 2030. There's Army modernization, Marine Corps Force Design 2030 and the Joint Operational Training Infrastructure, or JOTI.
According to Deputy Assistant Secretary of Defense for Force Education and Training Caroline Baxter, the department launched JOTI in 2020 with the intent of fielding by 2030 "a realistic, DoD-wide training capability providing realistic, high-end, interoperable, multidomain training against a peer adversary in a contested environment."
She issued a stark warning to the audience at the National Training and Simulation Association's annual Interservice/Industry Training, Simulation and Education Conference in Orlando. NTSA is an affiliate of the National Defense Industrial Association.
"We are running out of time to rethink, to refresh and to transform military training," she said.
"It's not enough to have the right equipment if we don't have the people trained to know how to use it, when to use it and why," she said. And the questions of "when," "how" and "why" to use equipment are only getting more complicated, she added.
"Everything that we're seeing that's happening right now in Ukraine, in the Indo-Pacific, proves that to be true," she said. "So, it's not just enough to have the stuff. We have to have the people that know how to do it, when and why and have the ethical code, the training, the education to back all of that up action for action."
A walk through the hall at the conference highlights the magnitude of the task. There are hundreds of companies producing simulators and virtual training tools, many addressing the same functions. Each service has its own needs, and the Office of Force Education and Training has to sort through the individual and joint needs to arrive at a common training infrastructure, she said on the sidelines of the conference.
"A lot of the time when we're trying to nail down what the requirement is, there is that tension between a service-specific Title 10 requirement and their requirements normatively and within the building to create a force that can understand how to talk to each other," she said. "Industry has to come with us on that too."
The fact that the National Defense Strategy, National Military Strategy and other strategic documents came out at the same time helps provide focus, she said.
"Using that as a guiding light that's going to guide us to where exactly we need all these disparate things to take us is a good way to kind of use it as a sieve," she said. "How much is this individual capability going to help the warfighter — not just the sailor, the soldier, but the Joint Force — that's a useful way for us to sift through getting to the 'how' of joint."
Baxter's team has several ongoing efforts to realize JOTI goals, she said.
"We're continuing to support initiatives like the Pacific Multi-Domain Training and Experimentation Capability, or PMTEC. We're accelerating training initiatives within the synthetic environment to close that gap.
"For joint and coalition all-domain pacing threat challenges, the joint simulation environment and facilities like the joint, integrated training center in Alaska" provide a clear path for how the Defense Department can achieve JOTI goals, she said.
Another initiative is at the governance level — creating a three-star level military training executive steering group, "focused on designing and critically solving joint, tactical training challenges," she said.
Through that governance model, the objective "is to work with the services and the consumers of the kit to figure what exists now, what are your requirements, where's the Venn diagram overlap, and what exists that can plug that hole," she said. "And if there isn't anything, then let's nail down what they need industry to make."
The emphasis on governance "is going to help the training community continue focusing on great power competition without losing sight of those potential black swan events, as well as innovate, ensuring … requirements in the field feed into planning and acquisition pipelines," she said.
And allies need to be able to participate in the training environment as well, as the war in Ukraine highlights, she added.
"It's really striking example of why we as the training community need to improve our interoperability and fast," she said. "Combined and joint training enhances our ability to plan and execute responses, improves our capabilities and fosters security cooperation.
"So, that's one of the many reasons why we are working to include allies and partners in the next iteration of the JOTI strategy going forward," she said.
Of concern is the international focus on reshoring and reinvigorating defense industrial bases, she noted. If each allied nation is focused on domestic interests and needs, there is the risk that systems will not be complementary and interoperable, she added.
"We need to start having those conversations very early on," she said. "We need our allies and partners to build systems that work for them and with us too. That is unbelievably complex."
Topics: Training and Simulation