I/ITSEC NEWS: Red 6, BAE Introduce Augmented Reality for Hawk Aircraft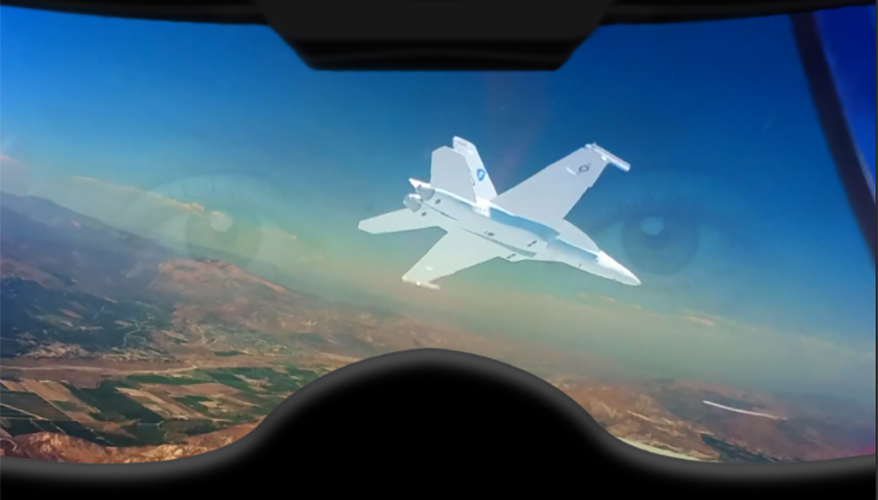 Red 6 illustration
ORLANDO, Florida — Pilots training on BAE Systems' Hawk Advanced Jet Trainer aircraft will now be able to see things that aren't there.

BAE and Red 6 announced a new collaboration to integrate the latter's Advanced Tactical Augmented Reality Systems, or ATARS, onto the Hawk platform. It will allow pilots to see virtual adversaries and threats during live training flights. The two companies made the announcement at the National Training and Simulation Association's annual Interservice/Industry Training, Simulation and Education Conference in Orlando. NTSA is an affiliate of the National Defense Industrial Association.

The Red Hawk has been flying in the United Kingdom for nearly 50 years, said Lucy Walton, head of training for BAE Systems' air sector. "We've really gone from analog cockpits to digital, and it's the technology that Red 6 brings that we can start to look at how do you continue to evolve what that platform is capable of doing, which is exactly why we are collaborating with Red 6."

BAE trains more than 450 pilots a year, and time, cost and performance are the most critical metrics, she said.

"I don't think there's any air force in the world that you could speak to at the moment that wouldn't tell you they want to push their pilots through faster, or more pilots that they want pushing through the system," she said. "So, with the AR capability in the platform, instead of having to launch three live assets, I can now launch one live asset and have two augmented reality wingmen and do that training."

That cuts down on logistics and the costs of launching additional red forces and allows for training more pilots with the same amount of time and funding, she said.

ATARS can reproduce friendly and enemy aircraft and even incoming missiles, said Red 6 CEO Daniel Thompson, who flew Raptors in the United Kingdom and then flew F-22s with the U.S. Air Force.

"When I was flying Raptors, the thing that I always lamented was that if I wasn't teaching on that airplane … I would say 60 to 70 percent of my time was pretending to be a bad guy," he said. "To the lay person on the ground that looks like two people getting training. The reality is only one person is getting training because we're doing something that we would never do for real, so that's actually negative training."

When he came to the United States and flew F-22s, he saw that there were similar challenges with getting enough training. The limiting factors were the same, not enough aircraft, not enough pilots and not enough money, he said.

"Critically, the problem I wanted to solve was the ability to train to relevancy against peer adversaries, and even with the F-22 it is becoming increasingly difficult to do that," he said.

Bringing virtual reality into live flight was the logical solution and one the market hadn't solved yet, he said. "Augmented reality is really difficult to produce the level of brightness and resolution with a field of view that's wide enough to make it work," Robinson said on the sidelines of the conference.

"We've produced the most capable AR headset in the world," he said. "And by virtue of doing that we're able to do augmented reality on the visor in the helmet, but oh by the way, a secondary effect of that is we to do all the helmet-mounted cuing stuff as well … so it really is custom optics and tracking solutions that enable the technology to work."
Orlando-based Red 6 has also collaborated with Boeing and the Air Force to integrate ATARS onto the T-7, F-15EX and T-38, he said.
"In essence the fundamental architecture for the technology from day one was built and designed to be platform agnostic," he said, noting that ATARS is an optical system that can work with any helmet. "There's then a degree of customization to work it in terms of mission systems, space available, power systems, so we do that customization on a case-by-case basis."

And the system allows for customization of training based on the capabilities, or deficiencies, of individual pilots, he added.

"So augmented reality mitigates a lot of opportunity cost and loss of resource across the production of pilots because we're able to customize training to the individual," he said.
Topics: Training and Simulation