EXCLUSIVE: Q&A with Coast Guard Commandant Adm. Linda L. Fagan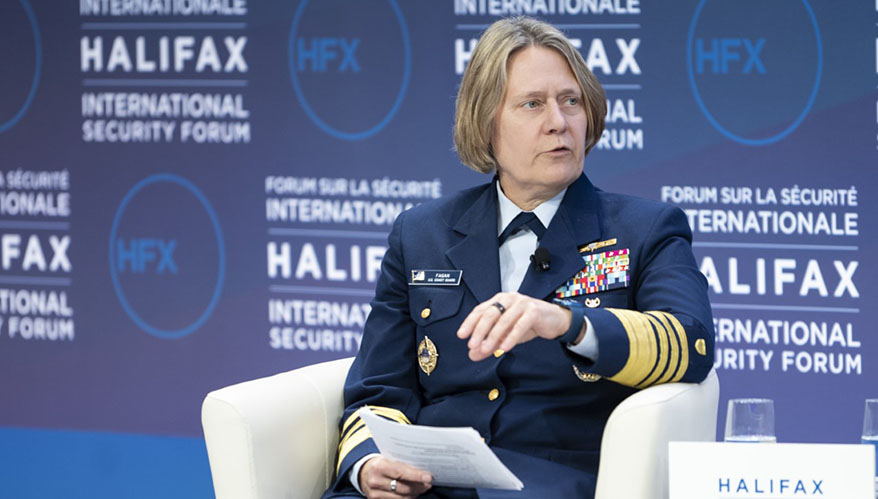 Coast Guard photo
HALIFAX, Nova Scotia — Adm. Linda L. Fagan, the 27th commandant of the Coast Guard, is serving the first year of a four-year term. She sat down for an interview with National Defense Magazine's Editor in Chief Stew Magnuson Nov. 19 on the sidelines of the Halifax Security Forum. The transcript has been edited for clarity and brevity.

Q. Unfortunately, every time I've done this interview with the Coast Guard commandant at the conference, the first question is always the same. How is the failure of Congress to pass a budget and the continuing resolution (CR) affecting the Coast Guard?

A. Obviously, this CR impacts all the federal agencies in the government and a CR is not the most helpful place for us to be organizationally. A CR, as you know, limits new-starts and a number of other areas. That said, the good news is that the Coast Guard enjoys wide bipartisan support [in Congress], and some of that translates into budget support. So, it's an exciting time to be in the Coast Guard.

Q. Are there any new starts that the CR affects right now?

A. Right now, I can't give you a specific example, but CRs have become almost the norm. We're still executing the largest acquisition programs that we've had since World War II. I remain committed to the path that my predecessors put the organization on with regard to those major ship investments. So that's all good news there. I'm particularly focused on our workforce — onboarding the talent that we need to operate those state-of-the-art ships and aircraft. But having a reliable budget is important to have.

Q. Another hot topic is inflation. Two parts to that: how is that affecting the Coast Guard and its acquisitions of those new technologies? And then the people part: how do you help Coast Guard personnel deal with higher prices and cost of living?

A. Inflation is obviously real. It's here for all of us as citizens. Probably the biggest impact on the organization has been fuel costs. We are working with our [Defense Department] counterparts in regard to expenses that the workforce may be experiencing. All the services have service members that have experienced it, particularly around housing and housing expenses. There was a mid-year increase in some of the travel rates that are in the line with our DoD forces and we're very conscious of the fact that we need to ensure our members are able to secure adequate housing and have resources to support themselves and their families.

It's obviously been a pretty dynamic situation throughout the summer and I suspect will be for some time to come, but we can continue to operate the Coast Guard. The frontline operations are not impacted by any of that, and the contracts are long-term contracts for acquisitions. They can continue without impact. There are time schedules and the supply chain where you also get a little bit of disruption there, but nothing that has been super substantial from time or a cost standpoint,

Q. Are there any vendors on these long-term contracts who have been complaining about inflation, saying, "We signed this contract back then and now our raw materials are costing so much more."

A. Not that I'm aware of at my level. I mentioned workforce, recruiting, and the shipbuilding industry and the defense base. They need access to labor as well. We're all focused on onboarding the labor needed to actually build the ships or operate the Coast Guard, in my case.

Q. With the change of administration there's a renewed focus on climate change and its impact. Is the Coast Guard doing anything differently as far as operations in the Arctic?

A. I always start with that we are an Arctic nation, right? As you know, the United States has a large Arctic coastline where we need to ensure our own national sovereignty. The Coast Guard operates both the heavy icebreaker Polar Star the medium ice breaker Healy. We are on budget to begin building and fielding Polar Security Cutters, which will be new state-of-the-art heavy ice breakers. VT Halter Marine has the contract for those icebreakers. We're working toward a detailed design. They are going to be great, capable ships. As a nation, we've not built [an icebreaker] since the mid-70s. I would say it's going to be a complicated ship to build, but it's going to be an impressive ship. We're excited to be able to operate them on behalf of the nation.

Q. The last I heard the Polar Security Cutter will set sail Spring 2025.

A. We are continuing to work with urgency to get to the detailed design level that allows us to begin cutting steel and constructing the shipyard to begin constructing the Polar Security Cutter. Until the detailed design is finalized, we will know better what the actual schedule is. Then once we begin, it will be several years to actually field the ship.

Q. Do you think as a nation, we're prepared for great power competition in the Arctic? As we stand now, we kind of have a single point of failure, there is the medium ice breaker Healy, but as far as the big one, we've got this very old ship.

A. So, with the changing environment in the Arctic — where there's more water and less ice — there are free portions of the year we are able to operate other Coast Guard ships like National Security Cutters, and we have to do that. We've obviously got national security interests in the shared maritime boundary line between ourselves and the Russians and then just ensuring that we're providing presence and the kind of life saving work that we do. There's increased human activity around the more open Arctic and so while the icebreakers are critical, this is not an ice-free region, and we need to be able to operate year-round and other parts of the year. We've got other ship types that we're able to operate up there, and we do.

Q. And moving south, what are you seeing now in the border areas as far as interdiction of drug smugglers and migrants. There's a lot of pressure on the land border, but what are you seeing in the Caribbean?

A. Obviously, we have a role in maritime migration. It's a life-saving role. It's an incredibly perilous journey for people who take to the sea and in conveyances that are not seaworthy. We have assets in the Caribbean and elsewhere to ensure that that people don't lose their lives and those dangerous journeys are attempted and we remain committed to that that life-saving work.

Q. Are you seeing an increase in numbers, people trying an alternative route to the sea?

A. They're sort of always there and we continue to ensure that we don't have a tragic loss of life. In the recent months, it has primarily been folks from Cuba attempting those migration patterns. The best way to prevent those big tragic loss of lives is to not allow large numbers of folks to take to the sea. We work with our other federal agencies to help keep that stable, again so that people don't tragically lose their lives.

Q. As for the new Offshore Patrol Cutter, there are recent reports in the press about the main drive shafts not being up to standards, or not working correctly, which possibly puts that schedule at risk. What's the latest update on that?

A. We're really excited about the Offshore Patrol Cutter. Eastern Shipbuilding will deliver four of them for us and then there was a phase II re-compete. The subsequent hulls will be built elsewhere. I am aware of some of the shaft challenges that they've experienced with their subcontractor. At this point, I am not aware of any sort of delivery schedule risk. Obviously, we're not on the timeline I thought we were on six months ago and we're still not. Again, I'm confident we're going to get that ship in the water before too much longer. ... They're going to be great, great ships.

Q And that was about June 2023?

A. One should go in the water sometime next spring and then we'll start working all the post-delivery issues. I don't recall whether it's June or August, but it will be next year.

Q. What is next for Coast Guard acquisitions?

A. Waterway Commerce Cutters. … Those are the inland cutters that do all the aids to navigation and maintenance on the inland river systems. … I'm excited about those. We're talking and working with the congressional delegations around the Great Lakes about the potential for an additional Great Lakes icebreaker.

And then as I look across the fleet, there are some just broader conversations that we've not yet stepped into [like] how we maintain the marine transportation system, assurance, resiliency and security. We've got small 65-foot harbor tugs with icebreaking capacity in New England primarily, but they play a key role in that system and some of them are 50-plus years old.

Q. And aircraft. Is there anything happening in that realm from unmanned aerial vehicles all the way up to fixed wing?

A. We've got the ScanEagle [small UAV] on the National Security Cutter. We've got a team at headquarters looking at what type of unmanned capability and sensors we need to be onboarding. It is really about sensors, about creating information. And then using that information for a decision advantage. We've stood up a data office two months ago to work through our data, infrastructure and governance systems so that we can begin this foundational work that then will allow us to begin to use machine learning, AI in those types of initiatives. We've got a little bit of groundwork to do there, but I'm excited about that.

We're on record to move toward a single fleet of helicopters, to move toward a tail-fold, blade-fold H-60 fleet and we're on a path that will take us forward. You're well aware of the age of the H-65s. I'm excited about that opportunity to [upgrade those].

Q. Are you casting an eye toward the Army's future vertical lift program?

A. We're obviously watching that closely. Right now, the H-60 is going to be our vertical lift for the foreseeable future. … There are many ways to create information and situational awareness and using unmanned systems is a cost-effective way to do that. But at the end of the day, we are in the people business, and we will always need a human being and a piece of steel to either come out of the sky or reach over the edge and save someone's life. But there's a lot of space in the operations part before you get there.
Topics: Maritime Security