JUST IN: Autonomous Army Helicopter Proves Ready for Action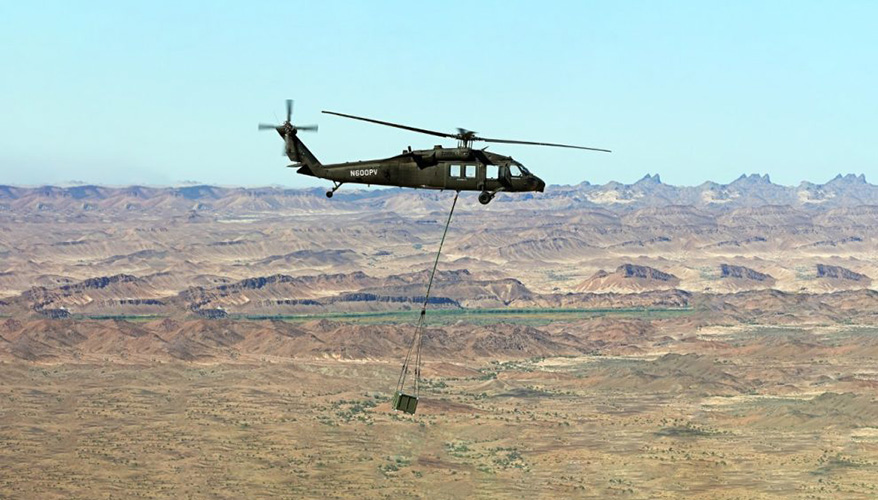 Lockheed Martin photo
A Black Hawk helicopter conducted multiple operations with no pilots or crew aboard during the technology tests and demonstrations at the Army's annual Project Convergence exercise, officials announced Nov. 2.

Sikorsky and the Defense Advanced Research Projects Agency revealed that an uninhabited Black Hawk performed a rescue operation as well as internal and external cargo resupply missions at Yuma Proving Ground, Arizona, in October. The helicopter flew using Sikorsky's MATRIX autonomy system as the core of DARPA's Aircrew Labor In-cockpit Automation System, or ALIAS, program.

"The ALIAS program, the goal of it, was to focus on developing and flight demonstrating a flexible, extensible automation architecture for existing manned aircraft that enables safe reduced-crew operations," said Stuart Young, DARPA program manager for ALIAS, on a conference call with reporters.

ALIAS is designed to increase safety, in particular, "reduction of … controlled flight into terrain type of situations or degraded visual environments," he said.

"We also recognize that the cognitive burden of the pilots as we continue to grow into a more complex world with against peer adversaries, that the pilots' workload needed to be reduced," he said.

ALIAS allows for a range of options including flying with the standard two-pilot configuration with additional safety provided by the sensing technology of the system, flying with a single pilot or flying the aircraft with no crew, he said.

"You also have the opportunity to fly missions with pilots, and then when you are maxed out on hours for the pilots, the aircraft can still be used for other functions such as contested logistics," he said.

"If you have use cases where you really don't want the human beings in harm's way, or you really want to extend the service hours of the aircraft, you can now operate the aircraft in an uncrewed fashion where you don't have anybody on board," said Igor Cherepinsky, director of Sikorsky Innovations.

"We developed a concept we call 'eight, eight and eight,' where you have eight hours of manned operation of the aircraft with crews," he continued. "Then as those crews are resting you have eight hours of uninhabited, uncrewed operation where the aircraft pulling loads doing whatever needs to be done. And then you have [the] remaining eight hours for maintenance that needs to happen."

One of the demonstrations at Project Convergence included an 83-mile round trip flight carrying an internal cargo of blood and medical products. Another mission delivered a 3,200-pound sling load.

"And then we also did casualty evacuation of a mannequin. That was with a simulated injury to show that the aircraft could be diverted and change missions during the day," Young said.

The demonstrations showed to Army senior leaders that the autonomous capability is mature and can be deployed today on existing platforms, he said.

"We have demonstrated that it's now possible and really have them thinking about what do they want to do with this capability that we have demonstrated," he said.

Young noted that in Afghanistan and Iraq, there was a risk equation to sustaining troops on the battlefield that kept commanders up at night — there might not be available pilots or flight conditions might be too dangerous to send needed supplies.

"And with the option of turning this aircraft into a completely uninhabited aircraft, it completely changes how they think about this problem," he said. "They really wanted to get away from having to make that decision about logistics and the associated cost in human life for that."

The autonomous system employs GPS, LiDAR, RADAR and visual perception to navigate and avoid stationary and moving obstacles, Cherepinsky said. The conversion takes two weeks to two months to complete depending on the condition of the helicopter, and it costs "a fairly small fraction of the aircraft cost" to retrofit the technology.

Some parts of the software system are owned by DARPA and the Defense Department, while MATRIX — which is an open system — is owned by Sikorsky, said Cherepinsky.

"So, even though a particular algorithm might be proprietary to Sikorsky, the interfaces and how it runs aren't," he said. "We are making those available to anybody who wants to work with us because, again, we understand that we can't and won't solve the entire autonomous problem alone. So, we are more than happy to team with people."

Young said he is confident the services will adopt the autonomous technology, but the form or fashion of adoption is a matter of the acquisition process.

"The overwhelming response from the services is that this has opened their eyes to what is truly possible now and is causing them to rethink the capabilities that they can imagine with this technology," he said. "There's lots of ways in which transition can happen, and we're pursuing a lot of them."

While the system flew on a Black Hawk, the technology is platform agnostic, he said. It has been tested on other platforms and is designed to work on Sikorsky's Defiant X and Raider X helicopters, which are in competition for the Army's Future Vertical Lift programs. Sikorsky flew its S-70 Optionally Piloted Vehicle Black Hawk during Project Convergence 2021.

The Army is expected to announce the winner of the Future Long Range Assault Aircraft program by the end of the year. Sikorsky's twin-rotor Defiant X is competing against Bell Textron's V-280 tiltrotor aircraft Valor.
Topics: Army News, Robotics and Autonomous Systems, DARPA