NDIA POLICY POINTS ARMAMENTS
The Precarious State of U.S. Defense Stockpiles (UPDATED)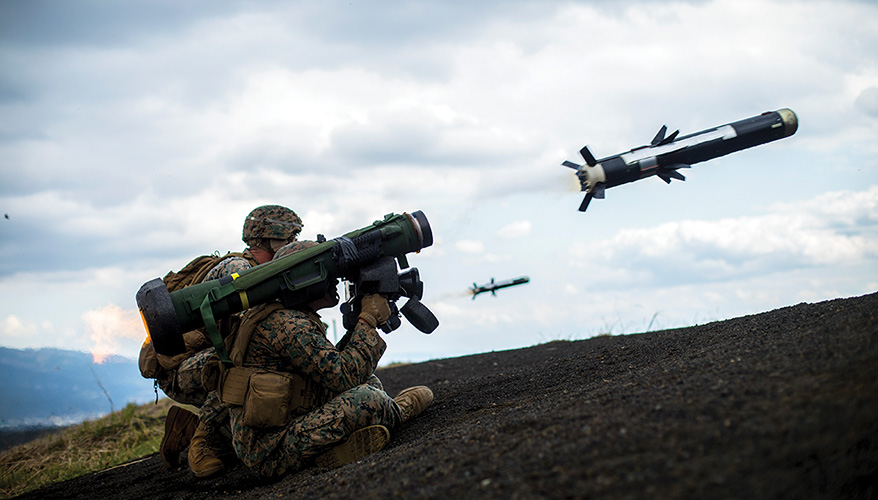 Defense Dept. photo
The United States has provided a staggering volume of military aid to Ukraine since Russia's invasion began Feb. 24. The Stingers, Javelins, HIMARS, and 155mm howitzer have upended Russia's invasion, and Ukraine has successfully regained territory in the east.

Behind this operational success lies an uncomfortable reality: the war in Ukraine has left U.S. defense stockpiles significantly depleted. Current inventories do not undergird a national security strategy that continues to support Ukraine while retaining the ability to assist Taiwan in the event of a Chinese invasion.

According to the Defense Department, in the six months from March to September, the United States supplied Ukraine with more than 800,000 155mm artillery rounds. From Sept. 28 to Oct. 28, it donated another 100,000 rounds. The September production capacity, meanwhile, was only 14,400 rounds per month. While the exact number of 155mm artillery rounds the United States possesses is unknown, this gap between utilization and production will significantly deplete its reserves over time.

The current plan to increase production capacity would incrementally bring the total number of 155mm rounds produced per month to 36,000 over the next three years. While this represents an improvement, even this will not address and backfill a depletion rate of more than 100,000 per month.

Other weapon systems face even more dire production challenges. The United States has delivered more than 1,400 Stinger anti-aircraft systems to Ukraine, helping prevent Russian domination of contested airspace. Having been focused on counterinsurgency operations over the past 20 years, the Pentagon has not procured Stingers in more than a decade. Raytheon Technologies — the manufacturer of the Stinger — reported earlier this year that several materials used in the production of the Stinger are no longer available. As such, Raytheon will not be able to resume Stinger production until 2023.

As for the Javelin, the Pentagon has continued to procure the anti-armor system over the years. Ramping up production of both the system and missiles will be less challenging than the Stinger. In an interview with CBS News, Lockheed Martin's CEO Jim Taiclet stated the production of Javelin missiles could be upgraded from approximately 2,000 missiles per year to 4,000 over the span of several years. The required multi-year window to upgrade production capabilities is an evident issue across the defense industrial base. Furthermore, it is also not clear that 4,000 missiles per year will be sufficient, given the need to replenish depleted supplies, the strong potential for the war in Ukraine to continue and Taiwan's need for similar systems.

The weapons used to devastating effect in Ukraine are already in high demand in Taiwan. The Biden administration has signaled support for turning Taiwan into a "porcupine" that would be costly to invade, thus deterring the People's Republic of China from attacking. This strategy would take the form of asymmetric warfare — placing an emphasis on the use of systems such as Stingers and Javelins as opposed to tanks and helicopters.

The war in Ukraine has already strained defense procurements for Taiwan. In August, the island abandoned a contract to purchase 155mm M109 self-propelled howitzers after a 2023 delivery date was pushed back to 2026 due to supply chain stress.

The replacement for the M109 will hardly relieve strains on the defense industry. Taiwan now plans to increase its purchase of HIMARS systems from 11 to 29 by 2027.

The U.S. defense industrial base is operating in a distinctly different environment than it was five years ago — great power competition is again paramount, and there is an unexpected need to replenish U.S. military stockpiles.

To properly support Ukraine, enhance Taiwan's ability to defend itself against attack and maintain its own readiness, the U.S. government must work to enhance the production capacity of critical weapons systems in the short and long term.

A bipartisan group of senators recently introduced the Securing American ARMS Act, legislation that would allow the Defense Department to replenish depleted stockpiles through the award of noncompetitive contracts to defense industry members. Although noncompetitive procurement practices should not become the norm, this will allow for the backfilling of stockpiles without a lengthy procurement process.

Multi-year procurement contracts will provide a more long-term solution to replenish defense stockpiles. Many contracts of now-stressed critical weapons systems are renewed yearly. Longer contracts that span 24 to 36 months will allow defense industry partners to confidently ramp up production processes of critical systems — such as the Stinger — over several years at low financial risk.

The fiscal year 2023 National Defense Authorization Act calls for a study into the production surge capacity of several critical weapons systems, including Stingers, Javelins, Patriot surface-to-air missiles and Harpoon anti-ship missiles. Passage of the act will allow for this study to commence, and for the department to identify future procurement challenges.

While the war in Ukraine shocked U.S. defense stockpiles, a future conflict over Taiwan should not. Understanding future defense production vulnerabilities and temporarily changing procurement contracts will allow for the replenishment of current supplies while enhancing U.S. readiness for a potential future conflict.

Chris Laudati is an NDIA junior fellow.
Correction: A previous version of this story misidentified the M109 self-propelled howitzer.
Topics: Armaments, Defense Department, Procurement