Army Piloting Pentagon's Counter-UAS Efforts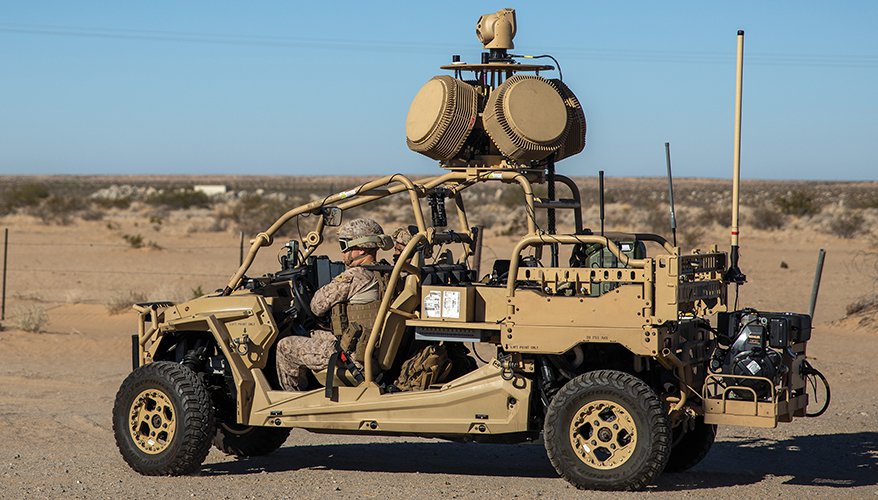 The Marine Corps' Light Marine Air Defense Integrated System
Marine Corps photo
Once considered an everyday, low-risk hobby, small unmanned aircraft systems have become a key capability for militaries on modern battlefields. While the availability and technology of these systems advance at a rapid pace, the Pentagon wants to take an enterprise approach to defeat the growing threat.

The Army's Joint Counter-small Unmanned Aircraft Systems Office, or the JCO, is leading a department-wide effort to address how the U.S. military will combat adversaries' use of small drones both now and in the future.

Established in 2020, the office is collaborating with the services to develop and deploy multi-domain solutions through capability demonstrations, joint training plans and global partnerships.

Congress directed the Pentagon in the 2021 National Defense Authorization Act to create a plan to develop and field a counter-small UAS system. The budget request for fiscal year 2023 shows the department plans to spend at least $668 million for counter-drone research and development and $78 million for procurement.

Examples of how drones are being used in real-world conflicts today, such as the Russian invasion of Ukraine, have reinforced the Pentagon's decision to establish a joint strategy for counter-UAS, said the office's director, Maj. Gen. Sean Gainey.

"I think it's bringing more to light of what we already know — that when you scale this capability from a small quadcopter all the way up to a larger group 3 and are able to leverage [intelligence, surveillance and reconnaissance] to put other effects of other systems to bear, it really shows the importance of having counter-UAS at scale," he said.

To create a more cohesive counter-drone effort in the department, the joint office first conducted an operational assessment of all the capabilities already fielded by each of the services.

"The services were already working on this problem set. Every service had a different capability fielded out there, mainly focused on joint, operational, urgent needs for [combatant commands]," he said during an Association of the United States Army event in August.

While it was important to quickly field capabilities to warfighters at the time in order to combat adversary drones in places like Iraq, Syria and Afghanistan, the varying systems were customized for each service rather than the entire joint force, he said.

The office's assessment found that when counter-UAS systems were employed as standalone capabilities, they weren't as impactful against adversaries as they could be.

"What we've quickly realized is that you need a system-of-systems approach," Gainey said. "Not one effector would be the be-all-end-all within the counter-UAS portfolio, but you had to have a common command-and-control system — same as we do in air defense — and then you needed to integrate the systems into that common command-and-control system."

After the assessment, the counter-drone office created a joint requirements document to serve as its foundation for evolving counter-drone technologies for the future. The office is working closely with combatant commands, the Army Rapid Capabilities and Critical Technologies Office, also known as RCCTO, and each of the services to bring capabilities currently in use to full maturation, he said.

The office has since evaluated more than 40 fielded counter-UAS systems that were rapidly procured for conflicts in the Middle East, according to a May report from the Congressional Research Service, "Department of Defense Counter-Unmanned Aircraft Systems." Ten of those systems have been selected for further development — including mounted, fixed and handheld technologies as well as both kinetic and electronic warfare options, the report said.

To demonstrate capabilities and inform future joint requirements, the JCO and RCCTO have been conducting exercises twice a year with the services and industry. Three multi-week exercises have been held so far and focused on a range of technology areas, including low-collateral interceptors that can neutralize small UAS, inexpensive ground-launched and hand-held capabilities and high-powered microwave technology.

"Once we narrowed down our systems, we funded the services and said 'Hey, take this as far as you can to get after this expanded joint requirements document and see — from a technology standpoint — how far you can push the envelope with this current system,'" Gainey said.

A fourth demonstration at Yuma Proving Ground, Arizona, in September looked at both systems evaluated in past exercises and other fielded counter-UAS capabilities to reevaluate how the updated technology has improved, he said.

Once capability gaps have been identified, the office will work with industry technology available while also leveraging the services to build prototypes, he said. This will "eventually open up a vehicle for the services to procure those systems and make it part of their system-of-systems approach," he added.

One of the technologies the military has decided to invest in and develop further is the Army's Coyote drone which is part of the Howler counter-UAS system, he noted. Made by Raytheon Missiles and Defense, the system combines Raytheon's Coyote small-UAS with the company's Ku-band radio frequency multi-mission radar.

Coyote is a tube-launched drone that is deployable from the ground, air or on ships, according to Raytheon. It features a seeker and a warhead, making it able to identify and eliminate adversary drones in the Defense Department's group 3 classification — which includes large systems designed as one-way explosive attack vehicles or others used for intelligence, surveillance and reconnaissance missions, Gainey said.

He noted the initial interceptor wasn't as successful as the office expected for a first evaluation, but it is a promising technology. With investment from the office and continued tests, the Coyote is now in its third iteration and is "performing quite well in the air," he said.

Another mounted system the joint office selected is the Marine Corps' Marine Air Defense Integrated System, which uses both kinetic and electronic warfare "jamming" methods to block radio frequencies and neutralize enemy drones, according to the CRS report. The system can be attached to platforms like the MRZR all-terrain vehicle and Joint Light Tactical Vehicle.

The office is also interested in advancing emerging technologies coming from industry for counter-UAS efforts, Gainey noted. When drones first became a threat to warfighters, the department initially turned to electronic warfare-based solutions because it kept the cost of the system low, he added.

Now, the JCO is looking to incorporate directed energy lasers — which the office is seeing success with now — and high-powered microwave systems that disable drones by burning the electronics inside them, Gainey said.

The demonstrations are also helping the services understand how drone technology is evolving and how to match it as their speed, size and autonomy increase.

In particular, enemy drones have used autonomy to avoid many of the counter-UAS systems that employ electronic warfare attacks. These platforms are able to autonomously disrupt the connection between drone and operator or the satellite systems they are using, he said.

But with the office's system-of-systems approach to counter-drone efforts, an operator will have a range of tools — such as kinetic effectors and radars — to compensate for variations in drone types.

"I'm always going to look to integrate that EW capability into our system-of-systems approach, but I want to have the ability to have a kinetic solution in case … as they move to autonomy and find creative ways to mask themselves against our EW capability, our soldiers have a capability in the kit bag they can leverage," Gainey said.

In addition, the office has selected Forward Area Air Defense Command and Control system — or FAAD C2 — as its battlefield management system for the Pentagon's joint counter-drone effort. The platform, designed by Northrop Grumman, was the Army's system for short-range air defense and counter-rocket, artillery and mortar missions, according to the service.

Gainey noted that prior to the JCO's efforts, other services were also in the process of integrating their own short-range capabilities with their counter-UAS systems under a common command and control system.

Rather than adopting FAAD C2, some of those services are instead working to integrate their respective command-and-control systems with the Army's chosen platform, he said. For example, the Air Force is working to make its Multi-Domain Control Station for Unmanned Systems interoperable with FAAD C2 for joint counter-drone operations.

"If you can leverage any C2 system to get that operational sight picture and be able to leverage the different systems, that's how we want to move forward in the future where we're not designating systems but designating how we want capability to integrate moving forward," he explained.

Warfighters also must be trained on the systems. When seeking feedback from the services on current counter-UAS solutions, training was a resounding problem as warfighters were receiving on-the-job instructions, Gainey said.

"As you can imagine, a soldier at a location having 15 or 16 different systems and trying to be trained and proficient on all of these systems — it's quite challenging," he said.

In response, the office is standing up a Joint Counter-small Unmanned Aircraft System academy at the Fires Center of Excellence at Fort Sill, Oklahoma, by fiscal year 2024 to create more holistic training across the services. The plan is to create common training guidelines and qualification standards that are direct responses to emerging drone threats and evolving counter capabilities for the entire joint force, according to the Pentagon's counter-small unmanned aircraft system strategy document.

Eventually, each service will use its own expertise to increase individualized training for specific units.

Until the academy is up and running, the JCO is hosting classes to train warfighters on counter-drone systems at Yuma Proving Ground, Gainey said. Units that are about to deploy can also train using mobile training teams organized by the office, he added.

Moving forward, the office will continue hosting demonstrations and working closely with industry and agencies across the department to synchronize counter-UAS solutions, Gainey said.

"At the end of the day, the technology that best delivers the best effect is what we're going to put out there," he said.
Topics: Army News, Defense Department, Unmanned Air Vehicles