ROBOTICS AND AUTONOMOUS SYSTEMS
Army Looks to Auto Racing for Ground Vehicle Edge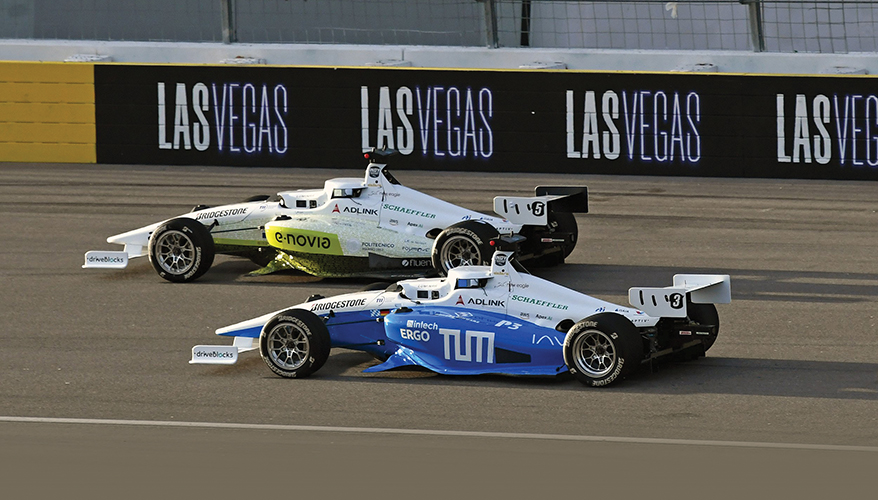 Indy Autonomous Challenge
Indy Autonomous Challenge photo
NOVI, Michigan — The auto racing industry and the Army have more than a few things in common. The mission is to win, the quest for cutting-edge technology never ends and the tech workforce is critical to success. That's why some in the Army's ground vehicles community are taking a closer look at what they can learn from the racing community.

There is precedent for that collaboration, said Matt Carroll, chief executive officer of Pratt Miller during the Ground Vehicle Systems Engineering and Technology Symposium, organized by the Michigan chapter of the National Defense Industrial Association.

His company began in 1989 as an auto racing venture. Then, in 2008, the Army's predecessor of Combat Capabilities Development Command's Ground Vehicle Systems Center, or GVSC, approached Pratt Miller. Troops were being injured and killed by improvised explosive devices in Iraq and Afghanistan. The Army wanted to see if the company could help.

"They said, 'How the heck can these cars be crashing into walls and these cars and drivers are walking away?'" he said.

The company looked at how they could apply what they learned at the track every weekend to help the Army modify its vehicles to better protect troops from blasts, he said.

David Gorsich, chief scientist for GVSC, said the racing and off-roading industries are natural places for the Army to look to for ideas and solutions for things like surviving roadside bomb blasts.

"I was very engaged in coming up with those techniques and bringing in auto industry folks who did crash to understand" how to address the problem of blasts coming from below a vehicle rather than crashing into something or side impacts of a typical collision, he said.

The Army looked at how to redesign crew compartments and armor plating based on some of the feedback from the auto racing industry, he said. The Army also looked to see what it could learn from racing pit stops.

That led to thinking about how to redesign vehicles to make components more modular and easier to swap out on vehicles to "increase the readiness level and speed up the maintenance," Gorsich said.

"One of the things we looked at is, how do you swap out the engine real fast? So, quick disconnects, architecting a different way so we can quickly start doing stuff like that," he said.

However, the engagement and collaboration with industry waned, he said. It has picked up again in recent years with the growth of off-road and extreme racing, which correlate directly to Army modernization efforts.

"We need to go off road, we need to go fast, we need to deal with all kinds of obstacles and challenges," he said.

That's led to attending racing and off-roading events to do recon on how hobbyists to professional teams are solving the challenges of operating vehicles — particularly autonomous ones — at high speed over extreme terrain, he said.

"We're collaborating with them, trying to understand, how do you develop your autonomous systems, how do you test them and trying to basically share ideas and also co-invest in some of the gaps and problems," Gorsich added.

One example of GVSC investment is its sponsorship of Clemson's Deep Orange 13 program. That evolved from GVSC collaborating on Deep Orange 12, which was a project to develop a vehicle for the Indy Autonomous Challenge.

For that challenge, master's students in Clemson's International Center for Automotive Research worked with industry partners to develop a suite of sensors and hardware to replace the driver of an Indy car.

"This vehicle was ultimately designed and engineered at Clemson, and it was then duplicated 10 times and given to teams from around the world," said Rob Prucka, professor of automotive engineering at Clemson.

Those teams took the initial platform and then made their own modifications to the systems and algorithms, he said.

The cars debuted at Indianapolis Motor Speedway in October 2021 running solo laps to prove the technology. In January, they went head-to-head at Las Vegas Motor Speedway, passing each other at speeds up to 160 mph.

"Those are actually record-breaking passes," Prucka said. "Those are the fastest autonomous vehicles that ever passed each other." There were plenty of spins and crashes too, as teams were still experimenting with new technology.

"The U.S. Army, what they're trying to work on is, obviously, to speed up these driverless vehicles," he said. "So, we think that there are a lot of learnings that we can utilize from programs like Indy Autonomous Challenge to help maybe speed up the vehicles that they work on."

And GVSC is learning lessons from Deep Orange 12, Gorsich said. "The most recent stuff is just learning about the latency on the platform."

Latency is one of the most critical aspects of the autonomy challenge, he said. The longer it takes from sensor or controller input to vehicle response — braking, turning, accelerating — the slower the vehicle can drive safely.

"The off-road problem is a little bit more complicated, but speed is an issue," he said. "It's not just about the autonomy stack, but all the electronics controls, and tracking those latencies that go down to the smaller controls, to the higher-level controls."

Students working on the Indy Autonomous Challenge made "really precious" discoveries about latency and speed, Gorsich said.

"Maybe they don't have all the constraints we have," he said. "But they're figuring out little intricacies about the vehicle electronics architecture, the autonomy stack, the interplay between those and how they can get certain things done."

Another challenge for autonomous technology is getting a vehicle to constantly assess and adapt to the terrain and the vehicle's own physics.

"The autonomy solution — like a race car driver — has to actually learn as it is driving," he said. "So, a race car driver doesn't go around the track in some optimal mathematical algorithm … they are learning about how the friction is changing as the wheels heat up."

GVSC has been working with the racing and academic communities on how to teach a vehicle to learn mobility limits and make constant adjustments, he said.

"Those are new things that we've been learning from on-road, but it is also an off-road problem," he continued. "If you really want to go off road, you need to be able to skid steer and head out the wheels, let the back end slide out to make those turns at faster rates, and we're doing some of that now."

While the racing industry might have specific pieces of technology that could inform or transfer over to military vehicles, it is the way racing is going about innovating — model-based systems engineering and virtual prototyping tools — that might be the most useful to the Army right now.

"Digital engineering and open system architectures are what's going to be transformational across the board," said Kevin McEnery, deputy director of the Next Generation Combat Vehicle Cross Functional Team at Army Futures Command. They are responsible for four of the Army's major modernization programs: the Optionally Manned Fighting Vehicle, Robotic Combat Vehicle, Mobile Protected Firepower Platform and the Armored Multi-Purpose Platform.

Digital engineering "changes a lot in the Army," he said. "It also changes the way industry does their business practices to work with us."

An essential part of the digital approach is bringing in soldiers to experiment with simulations and virtual prototypes to refine the designs before spending money on building physical prototypes, he said.

"It helps us inform our requirements — what the art of the possible is," he said. "And it means that when we do communicate our requirements to industry, we have a much higher level of confidence that our requirements are feasible, and industry has a much higher level of confidence that our requirements are not going to just continually change."

While the Army is looking to learn all it can from racing, there are practical limitations, he said. The biggest barrier to bringing racing innovations to Army vehicles is scale.

"Everything has to translate to doing it in the thousands, not only in terms of performance but in terms of production [and] our ability to translate potential into actual combat power," McEnery said.

So, a racing technology might exist and solve an Army need in theory but might be too expensive to produce at volume. The Army has to make tradeoffs, McEnery said.
"There's an art that has to go into analyzing, how do we learn lessons that are relevant to what we're trying to do now?" he added.

The second challenge is visible in the pits — legions of engineers, technicians and analysts glued to computer screens monitoring reams of real-time vehicle data and making constant adjustments throughout a race.

"Increasingly, our combat systems, our weapons systems are software-defined capabilities more so than they are hardware-defined," he said. "We are competing with commercial industry for the high-end talent that can help us understand how to develop those software capabilities within our systems."

And there are challenges on the operational side of the personnel equation when the Army introduces highly technical, software-defined systems, he said. "We know from history that any time we insert a very complex new system into a hierarchical organization, it can cause lots of chaos, and there's challenges organizationally to be able to deal with that," he added.

"Soldiers have to have simple and reliable pieces of equipment," McEnery said. "We don't have the time to develop expertise in individuals who may have only been in the Army for two or three years, and we're expecting them to operate the fight to survive with new technologies."

At the same time, for the Army to keep pace with innovation, it needs to change how it recruits, hires and trains, he added.

"We need new skill sets in the mechanics that we put in our organization," he said. "We need new abilities to predict what sort of parts we're going to need, so we don't have cumbersome, high-targeted supply chains."

The Army needs to adapt its personnel policies to recruit the right people, he said. The service has to find ways to attract tech-savvy college graduates who see the potential for more money and more career satisfaction in industry positions, he said.
"All those sound like negatives, but they're all things that the Department of Army is working on," he said. "Army Futures Command in particular is driving a lot of how we change the way we collaborate with industry, the way we attract and maintain and retain talent.

"Those things are changing," he said. "But it's a slow process."
Topics: Robotics and Autonomous Systems, Army News, Combat Vehicles