Army Making Big Push to Update Small Arms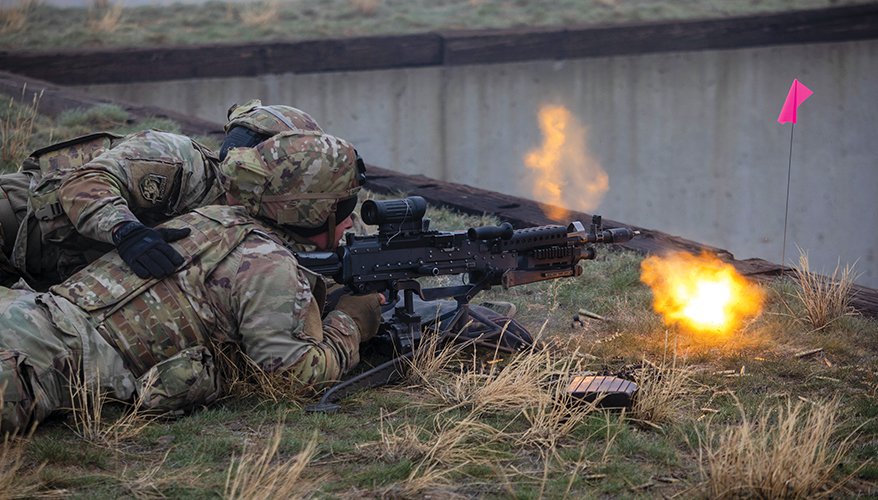 M240
Army photo
AUSTIN, Texas — Ukraine has centered attention on drones, artillery, armored tactical vehicles and other heavy platforms and systems. But small arms are a big part of the fight, and the Army is quietly in the process of evaluating and fielding a range of new small arms weapons and related technologies.
The service has several small arms priorities, said Col. Scott Madore, the Army's product director for soldier lethality. These include developing a weapon to engage targets in defilade, ensuring communication across enablers and weapons, producing effective suppressors that do not require extensive field maintenance, reducing size and weight of weapons and addressing toxic fumes, he said.

"A lot of the products are in production and deployment," he said at the National Defense Industrial Association's Future Force Capabilities Conference. Others are in earlier stages of development.

For example, the Army is conducting a 36-month Platoon Arms and Ammunition Configuration Study to assess future medium machine gun needs and options.

"This examines the full trade space of feasible combinations of fire control, ammunition and weapons capable of performing in a dismounted and platform-mounted configuration," said Maj. Marcus Farmer, lethality branch chief for Soldier Requirements Division.

The study will determine options such as improving the existing M240, transitioning to a new caliber or developing an entirely new weapon to replace the M240, he said. The study will run through the end of fiscal year 2023, with preliminary results expected in the second quarter of 2023.

One of the high-profile weapons in the early stages of fielding is the Next-Generation Squad Weapon. Earlier this year, the Army selected the Sig Sauer XM5 Rifle and XM250 Automatic Rifle, along with the Vortex Optics XM157 Fire Control system, for the Close Combat Force.

Testing of the weapons — and the new 6.8mm ammunition — is focusing on "dispersion, reliability and toxic fumes," and assessing technical performance improvements based on the data received from the prototype, Farmer said.

The weapons will be put through their paces during a Nov. 20-22 soldier excursion, he said.

This excursion will use close combat force soldiers to execute live-fire tables to inform the product manager and Soldier Lethality Cross-Functional Team on the operational effectiveness of the weapon system, he added.

Fielding of the new squad weapons is expected to begin about a year from now, according to Sig Sauer. In the meantime, the Army is looking for ways to improve the M4, more than 500,000 of which will remain in service for years, said Barbara Muldowney, the Army's deputy product manager for individual weapons.

"Anything that we can improve as far as capabilities, we're always looking to evaluate if there is something already out there, or if there isn't anything commercially available, we can always do unsolicited proposals," she said. "We can always evaluate that and see what the benefit would be — not only from the increased capability for the soldier, but also from the cost and sustainability."

Her shop has had a busy 2022, with the delivery of the Sig Sauer M17 and M18 service pistols across the services and the fielding of the first Mark 22 Precision Sniper Rifle, which can fire 7.62mm, .300 Norma Magnum and .338 Norma Magnum Ball rounds, she said.

"Right now, we're waiting on the ammo for some of that, but we're fielding with the 7.62," she said. "We also completed deliveries of the M110A1 Squad Designated Marksman Rifle."

In addition, they optimized more than 1,500 of those systems, which increased reliability tenfold, she added. It was achieved by changing the vent hole within the system. "It was a huge effort between the vendor and the government … but it proved out to be a good investment."

Fielding of the M110A1 should be completed early next year, while the fielding of the Precision Sniper Rifle will continue through fiscal year 2024, Farmer said. Fielding of the three varieties of ammunition will take until 2027, he added.

One of the top priorities in small arms is developing a precision grenadier system: a man-portable, counter-defilade weapon to strike enemy forces hiding behind walls, vehicles or buildings, he said.

It is envisioned as "a flat trajectory, high-velocity, semi-automatic, multi-shot weapon system with firefight-ending lethality and precision compared to the legacy M320 grenade launchers," he added. It would conserve ammunition, reduce the need to maneuver, and thereby reduce exposure to enemy fire or risk of fratricide, he said.

"Over the years we have tried a number of different efforts to fill that capability," Muldowney said. "We were not successful."

Army Futures Command has given her "a thumbs up to write a requirements document and as soon as we have a draft, we will be going out with industry days to share that with industry and get some feedback on what's doable, what's not doable," she said. "Hopefully that will help us to narrow down to the final requirement, and we're anticipating a program of record to be initiated in 2025."

The expectation is that the requirements will be caliber agnostic, she said. "This is your set of targets; this is the time frame and this is the effects on target that we want. Design a system for it."

The initial intent is to have a complete system of weapon, ammo and fire control, she said.

Another weapon in the works is a single-use, multi-target shoulder-launched munition.

"Our current soldier-launched munitions are niche capabilities designed for specific target sets and do not address the multidomain operational environment," Farmer said. "We don't have one shoulder-launched munition system that can be fired from enclosure and defeat all target sets and that's what we're trying to get after here."

The solution in the works is the XM919 Individual Assault Munition, which is intended to be a lightweight, multi-target weapon that can be fired from within an enclosure and pack enough punch to take out a concrete bunker or an armored vehicle. The XM919 is expected to replace the M72, M136 AT4, M136A1 AT4 and M141 munitions.

The fielding anticipates an Army Requirements Oversight Council approval in the fourth quarter of 2023 and a Milestone C decision in third quarter 2024, he said.

Mortar modernization is also proceeding with a goal of providing heavy firepower at the start of air assault and airborne operations, he said. "The current 120-millimeter mortar provides range and lethality but not the mobility and survivability against adversaries' three-minute counter-battery capability."

The modernization program is focused on improving lethality through increased range and accuracy and better mobility by integrating the system onto a vehicle platform, he said.

The mortars team recently collaborated with the Maneuver Battle Lab at Fort Benning, Georgia, to conduct a constructive simulation discovery experiment, he said. The purpose was to assess the effectiveness of a mobile brigade combat team equipped with an enhanced 81mm cannon and ammunition.

"Preliminary results show that the E81 was extremely effective and advantageous against the enemy counter-battery," he said, adding that a final report was expected in October.
In the field of crew-served weapons, there is a mix of old and new.

"A lot of times there's an impression that we're just buying new old stuff," said David Oatley, product director for crew served weapons. "But the truth of the matter is that we're continuously evolving these systems, and so the weapons that we are procuring now are not necessarily the same weapons that we had 20 years ago."

"We have been producing these systems for a long time, and we have a lot of technical expertise within our organization to be able to modify these systems and add improvements over time," he added.

Oatley's office has a large customer base across the Army, Defense Department and foreign military sales, he said. "So, when you put it all together, what it really does is allow crew served weapons to not just procure items, that allows us to be able to develop solutions to whatever application is required. … There's a lot of potential for future development."

Guns like the M249, M240, Mark 19 and M2A1 will continue to be fielded along with newer developments like the Saab-produced 84mm M3A1 Multi-role Anti-armor Anti-personnel Weapon System, he said.

"We're also developing a suite of ammunition that leverages that capability for a significant increase in lethality," he said. "We are currently qualifying the HE441E air-bursting munition for that system, which when coupled with the integrated fire control is a significant increase in lethality at extended ranges."

And while platforms might not change much, accessories are constantly evolving, he said. "We have the improved MK93 mount for the M2 and the MK19 and that's heading into production now. We also have the mounted machine gun optic for the MK19, the M240 and the M2A1."

One of the largest items in the portfolio is the Common Remotely Operated Weapon Station, or CROWS.

"Several years ago, we initiated an effort to really address obsolescence issues on the CROWS system, because that has been continuously fielded for many years," he said. "In that effort, we overhauled the CROWS system architecture in a way that allows us to more easily upgrade the system in the future and also allows us to maintain a single software baseline for the system."

The office recently released the CROWS technology refresh variant, "which is a significant increase in capability," he said. "We've got CROWS Javelin, so that's really a big success for us. … We finally began fielding and successfully handed off the first [Stryker Brigade Combat Team] out of Fort Carson."

"One of the most visible changes on the tech refresh configuration is that now you have a high-definition screen and also you have improved sensing within a situational awareness strip across the top," he said. That "allows you to have a wide field of view while you are also zooming in on a target."

The next development for CROWS will be capabilities to counter Group 1-2 drones — small platforms less than 55 pounds. The capability is being developed by Army Combat Capabilities Development Command's Armaments Center in coordination with Oatley's office, he said.

"Probably the most exciting aspect of this is when we talk about counter-UAS, we hear about sometimes standalone equipment that is used for it," which can require additional manpower or vehicles to employ, he said.

"However, what's been demonstrated here is the ability to use the organic armament system that is already proliferated with CROWS, and to add on to this capability to allow any CROWS that's out in the field to be able to engage [UAS] targets," he said.

Using the organic capability of the CROWS platform makes it easier to deploy counter-UAS capabilities and lowers the cost per kill by using existing weapons, he said.
"It's shown a high degree of maturity, and we're looking forward to seeing where we could take that in the future," he said.
Topics: Army News, Armaments, Munitions Technology