Startup Finding Special Ops Customers for Jetpack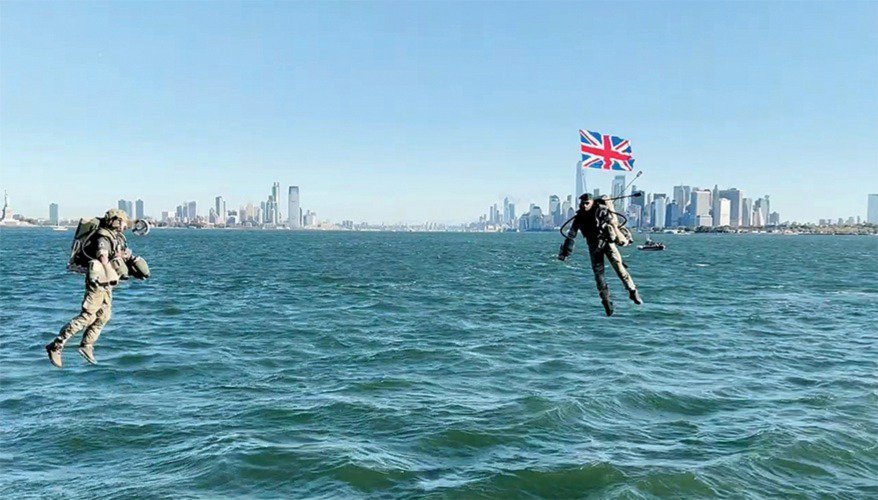 Stew Magnuson photo
ABOARD THE HMS QUEEN ELIZABETH — Attendees being ferried to a security conference held aboard one of the United Kingdom's two aircraft carriers in September were greeted by two men dressed in fatigues flying jetpacks.

One was Gravity Industries Founder and Chief Test Pilot Richard Browning, who took off from the HMS Queen Elizabeth's temporary loading dock and flew around the starboard side of the ferry. A specialist with a pistol mounted on his shoulder took the port side. Hundreds of smartphones recorded the surprise demonstration.

There is a fun side of the jetpack business and a serious side, Browning said in an interview after the demonstration, on the sidelines of the Atlantic Future Forum.

"The serious side is maritime assault, search and rescue and special operations mobility," he said.

The company has collaborated with six special operations customers for the suits so far, although he declined to name them. It also supplements its income flying the machines for entertainment purposes. He recently appeared in Monaco at a yacht show where he flew around in a dinner jacket.

"It's not an everyday occurrence to be flying off an aircraft carrier in the shadow of New York and the Statue of Liberty."

The jetpack concept is not new. NASA developed one for astronauts and the first to fly was in 1961. Browning started tinkering on a modern version in his garage in Surrey, United Kingdom, in 2016 and a year later, had a working prototype and funding from a venture capitalist.

Gravity is applying advanced technologies such as 3D printing to shave pounds off the system. The suit is currently 75 pounds and provides about 1,000 horsepower.

It runs on jet aviation fuel, diesel or kerosene, which gives a 170-pound pilot about five minutes in the air. That's enough time to make a surprise boarding on a ship, or go ship-to-shore depending on the distance, Browning said.

It could be constructed larger for longer flying times, but for the military market, the company wants to make the whole system fit into one case, he said.

The mock pistol mounted on the shoulder could be fired as a special operator is boarding to provide cover, although the accuracy wouldn't be great, Browning said. When flying, both hands are needed to steer.

Gravity recently tested its suits for ship-to-ship fast boarding with Royal Marine commandos off the shores of England to see it if could replace fast-roping on to ships from helicopters, according to the Guardian newspaper.

While some have likened the jet suit to a "real life Iron Man," Browning said it would be foolish to hover over a position strafing it with gunfire. It's better to land behind some cover, put the engine on idle, then start shooting from a more protected position.

If the operators want to fly to a more advantageous positions, they can do that. Or take the suit completely off so they can be free to fight.

"It's not trying to compete with a helicopter … It's sort of minimalist equipment to make you mobile within a couple of miles radius," he said.

The company is looking beyond the military market and offers custom-made suits to the general public for 380,000 pounds, plus tax or the opportunity to come to its facility south of Heathrow Airport to experience the flights for a little less than 3,000 pounds.

Browning also envisions a day when there is an international jetpack racing circuit.
Topics: Special Operations, Small Business