Navy Destroyer Adds HELIOS Laser to Arsenal (UPDATED)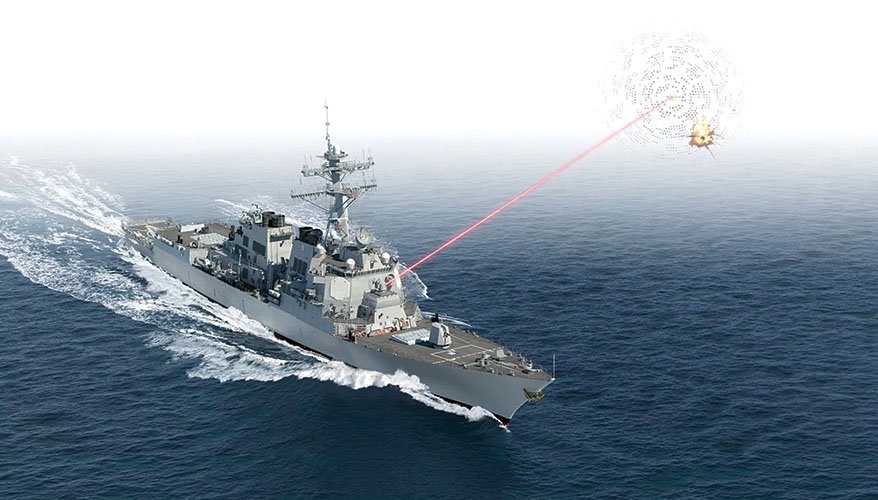 A photo illustration of HELIOS destroying a target
Lockheed Martin illustration
Threats to Navy vessels continue to grow in the form of drone swarms and anti-ship missiles. Now, after decades of experimentation, the Navy is closing in on a low-cost solution that can deter and defend against aerial threats at sea.

The Navy received its first high-energy laser with integrated optical-dazzler and surveillance, or HELIOS, system in the third quarter of fiscal year 2022 from manufacturer Lockheed Martin, according to the company. The system — which can blast more than 60 kilowatts of directed energy at targets up to five miles away — is currently being installed on a Flight IIA Arleigh Burke-class destroyer that is undergoing upgrades, a company spokesperson told National Defense in an email.

"HELIOS enhances the overall combat system effectiveness of the ship to deter future threats and provide additional protection for sailors, and we understand we must provide scalable solutions customized to the Navy's priorities," said Rick Cordaro, vice president for Lockheed Martin advanced product solutions in a press release. "HELIOS represents a solid foundation for incremental delivery of robust and powerful laser weapon system capabilities."

HELIOS is part of the Navy Laser Family of Systems, a collection of platforms that the service envisions as "the foundation of an incremental strategy for increased laser weapon capability," according to Navy budget documents.

The service requested about $35 million for the family of systems for its 2023 budget, during which the first system is expected to be operational at-sea.

The weapon system "addresses anti-surface warfare and counter-intelligence, surveillance and reconnaissance gaps with the ability to dazzle and destroy unmanned aerial systems and defeat fast inshore attack craft," the documents stated.

The technology represents significant advances over current systems and options for countering UAVs and anti-ship missiles. Surface-to-air missiles and Gatling guns require magazine depth on ships and have poor cost-exchange ratios when deployed against inexpensive drones, the Congressional Research Service said in an August report.

Plus, reloading Navy surface ship magazines requires the vessels to travel potentially hundreds of miles over a period of hours to get to a safe zone, said the report, "Navy Shipboard Lasers: Background and Issues for Congress."

An adversary such as China has access to multiple UAVs and anti-ship missiles, and Beijing has a "high capacity" for producing more. This could price out the Navy's ability to defend itself affordably, the report said.

"The biggest concern right now in the emerging threats envelope is, how do you target, how do you track and how do you disable potential swarms or saturation attacks by small unmanned vessels like micro UAVs, or even small surface vessels since the Navy has concerns about that," said Tristan Sauer, land domain analyst at data analytics and consulting firm GlobalData.

As manned-unmanned teaming — collaboration between a crewed platform and one or more drones — becomes a more feasible technology, it is proliferating throughout the battlefield, even in countries with fewer resources, he noted.

"That's where laser weapons systems come in because they have this extremely low cost per shot, there's this whole deep magazine," Sauer said.

The Russian invasion of Ukraine has highlighted how debilitating a lack of munitions stockpiles can be, he noted. Some defense companies have expressed their struggle to keep up with production demand while simultaneously dealing with supply chain issues related to the COVID-19 pandemic.

"The fact that these weapons require so little energy just to deliver such significant effects, either lethal or nonlethal — this makes them just key and critical to ensuring sustainability of operations, particularly in the case of high-intensity conflict," Sauer said.

The previous iteration of the solid-state laser quick reaction capability Laser Weapon System, or LaWs, was a temporary installation on the USS Ponce. The system struggled to identify tiny targets, such as the smallest class of drones, he said.

That's one of the problems HELIOS is meant to address. The system is designed for continuous operations using available ship power instead of adding another energy magazine, according to Lockheed Martin.

Similarly, the new system has advantages over past laser weapons in terms of power and positioning, a company spokesperson said. LaWs could only go up to 30 kilowatts of power and wasn't intended as a long-term installation, they noted.

The HELIOS installation is taking place at the same time as an ongoing Aegis modernization effort in San Diego, California, the spokesperson said. The Aegis Weapon System, or AWS, is the Navy's command-and-control system that has been operational since the 1980s. Lockheed Martin also has a contract to modernize the system across destroyers and other vessels.

HELIOS is being integrated into its vessel and the Aegis combat system, allowing permanent installation. The weapon uses spectral beam combined fiber lasers, giving it a higher beam quality than the "incoherently combined" six high quality fiber lasers of LaWs, the spokesperson said.

Because the laser has the option to dazzle UAS in addition to destroying capabilities, it has "game-changing" warfighting capabilities, they added.

The system has demonstrated that it can repeatedly hit a high-speed target at tactically extended ranges, according to a white paper Lockheed Martin published last year. It closed the fire control loop on a track provided by the Surface Combat System Center's Aegis Combat Sensor after achieving coarse and fine optical tracking, the paper said.

The Optical Dazzling Interdictor Navy, or ODIN, enables the system's dazzling technology by disrupting the electro-optical and infrared sensors on enemy platforms. It's a capability that exists on other vessels, but the HELIOS program is the first time a ship has the system fully integrated into its command-and-control architecture.

The laser weapon also has a surveillance mission in addition to its laser destroying and dazzling capabilities. The spokesperson declined to comment on how its surveillance capabilities are being tested.

"HELIOS is a multi-mission laser weapon system and all of its missions, including surveillance, will evolve over time as the Navy conducts at-sea operations and develops tactics, training and procedures for this new warfighting capability," they said.

How the weapon will be used in the maritime domain is still up for debate. When asked if the Navy is considering other vessels for installation of the laser weapon, Lockheed Martin's spokesperson declined to say.

"HELIOS is scalable and adaptable to other ship classes and combat systems," they said in an email.

The Navy has shown interest in laser weapons across different vessels. Last year, it tested another system — the Solid State Laser - Technology Maturation Laser Weapons System Demonstrator — on the San Antonio-class ship USS Portland. The service used the LWSD to disable a drone during an at-sea test in 2020.

The Navy's 2023 funding request would support de-installation and hardware disposition of the 100 kilowatt system, according to the service.

The next step for the HELIOS program is taking the system through its paces after its installation. At-sea testing will begin in 2023, according to the budget request.

"The Navy will learn a lot about the employment of this game-changing multi-mission capability once war­fighters begin using HELIOS in operational maritime environments beginning in [2023], and the lessons learned will inform future development efforts," the spokesperson said.

The laser completed land-based testing earlier this year in Wallops Island, Virginia, they added.

The biggest challenge coming up for the program is continued incorporation into the Navy's layered defense.

"Integration, into both the ship and combat system, and marinization are critical to providing directed energy warfighting capability in a stressing maritime environment," they said. "The system must operate as an integral part of a layered defense architecture such as the Aegis Combat System on DDG 51 class destroyers, and be able to fit within the space, weight and power constraints of the ship."

While the laser is designed to meet the space, weight and power requirements for the Arleigh Burke-class ships, they noted it would need to be redesigned for integration with different ship types or ships that have a combat system other than Aegis. Its "inherently scalable and modular design architecture" enables that process, they added.

The system could scale to 120 kilowatts and higher depending on the space and power restrictions of the vessel, according to the white paper. This could even include ships in the Navy's future fleet such as the Constellation class of guided-missile frigates and the Next-Generation Guided-Missile Destroyer, the DDG(X).

"The Navy I see as being the natural first step for laser weapons system deployment in the U.S. military, because Naval Surface Warfare vessels have large energy supply," Sauer said.

However, when it comes to installing the laser on smaller ships, space and power constraints are critical design hurdles that the Navy still has to overcome, he said.

As the United States works on developing laser technology, its adversaries are not far behind. While neither China nor Russia has the kind of advanced laser systems available in the United States, lasers could be more proliferated across domains in a few years, said Mick Ryan, a Center for Strategic and International Studies fellow.

"Putting them on a ship … is one thing, but I think that when you see them in the land environment, that might be a little way off," he said.

In particular, Russia has boasted of its use of an experimental laser system Zadira during its invasion of Ukraine, he noted. It's not likely that the system has had much impact given the nation's propensity to exaggerate its technological capabilities, but the use of UAS in the conflict will push the technology to advance, he added.

The Navy's laser weapon — and other Pentagon directed energy technologies such as the Army's Directed Energy Maneuver-Short Range Air Defense system — can send a strong message to adversaries, he added.

"You're seeking to deter a potential adversary through your possession of these advanced technologies, but you're also wanting to ensure that if the deterrence and influence doesn't work and you have to fight, that it's effective," he said.
A previous version of this story described HELIOS as being able to dazzle satellites. It has been updated to reflect that the laser does not dazzle satellites but can dazzle unmanned aircraft.