Army Air and Missile Defense Programs Gliding to Finish Line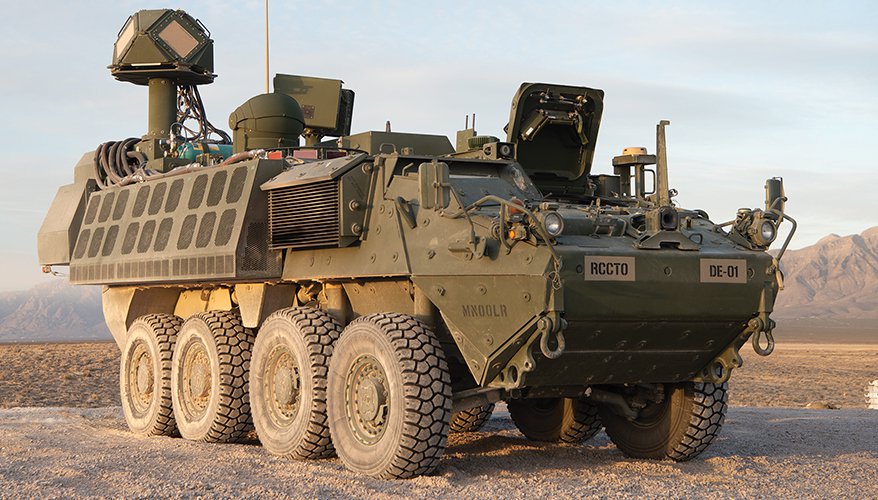 A 50-kilowatt laser mounted on an Army Stryker vehicle
Army photo
Reports of advanced and evolving threats from U.S. adversaries have put pressure on the Army to develop a range of new air-and-missile defense capabilities. After just a few years of development and rapid prototyping efforts, the fielding of several new systems is on the horizon, according to service officials and industry.

The Army began efforts to shore up its layered air-and-missile defense forces with the release of a strategic document in 2019 that outlined how the service would prepare for changes in the operational environment and the systems it planned to field through 2028. It highlighted several risks to national security, including China and Russia's military modernization efforts and the proliferation of tactical ballistic missiles, unmanned aerial vehicles and indirect fires in the Middle East.

In particular, the document noted there is "no one silver bullet to counter the rapidly changing and complex threat set; rather, we must have an assortment of capabilities available to counter the threat in any weather and in a denied, degraded, or contested environment."

The air-and-missile defense systems are some of the service's top modernization priorities that Army Chief of Staff Gen. James McConville promised would be in the hands of soldiers by fiscal year 2023. The platforms are a complement to the Army's separate modernization program focused on threats that travel at hypersonic speeds of Mach 5 or higher: the Long-Range Hypersonic Weapon.

Now, a mix of coordinated technologies — from directed energy weapons to advanced radars — are on track for fielding in the coming months.

Raytheon Intelligence and Space is set to deliver all the subsystems for the Directed Energy-Maneuver Short-Range Air Defense, or DE M-SHORAD, to the Army by the end of October, said Evan Hunt, the company's director of business development.

The systems will be integrated onto four Stryker fighting vehicles by Kord Technologies — which was selected as the prime contractor for the program by the Army's Rapid Capabilities and Critical Technologies Office in 2019 — and then sent for further training with soldiers, Hunt said.

The first DE M-SHORAD system completed operational assessments at White Sands Missile Range in New Mexico earlier this year. Once the newly finished subsystems are integrated, there is a possibility that the laser-equipped Strykers could be sent overseas for real operations in 2023, he added.

"It's pretty unheard of for a new weapon system of any type to go through this rapid production and fielding effort that was designed in collaboration with soldiers," Hunt said. "We know the soldiers are getting what they want — they've trained and operated this thing already and provided feedback."

The technology consists of a 50-kilowatt laser that is designed to engage with and defeat various aerial threats, including drones, rotary-wing aircraft, rockets, artillery and mortars. Along with the high-energy laser module, Raytheon is providing a specialized radar acquisition system, beam control system and targeting sensor, Hunt said.

The initial objective of the directed energy program was to have one-third of the Army's Stryker vehicles be equipped with laser weapons as opposed to kinetic variants, he noted. The service's vision is to have vehicles mounted with lasers work in tandem with those outfitted with the Maneuver-Short Range Air Defense, or M-SHORAD.

Instead of high-energy lasers, M-SHORAD Strykers are equipped with a weapons platform designed by Leonardo DRS with sensors, direct fires, missiles and two gun variants. Raytheon's Stinger missile launcher is also included in the package.

The service plans to field 144 systems, with the first having already been sent to a battalion stationed in Europe in 2021, according to the Army. General Dynamics Land Systems received $1.2 billion in 2020 to serve as the lead integrator of the program.

The system is designed to defend against unmanned, rotary-wing and fixed-wing aircraft. While it would have been possible to include a directed energy option into the M-SHORAD system, there are benefits to having two vehicles specially designed for different threats, Hunt said.

"Your missile systems will be all-weather and longer range, and your laser weapons are really fantastic for final protective fires — so, a little shorter range, but really great for the drone threat and for rocket, artillery and mortar," he explained. "Missiles don't even do counter-rocket, artillery and mortar, so you're adding a whole new capability set."

"Operationally, from a layered defense standpoint, you would limit yourself by packing them all onto one vehicle," he added.

Adding to the value of DE M-SHORAD is the ability to take down swarming drones, Hunt said. If the number of incoming unmanned aerial vehicles is more than the number of missiles mounted on a Stryker, or if they are flying toward soldiers faster than they can reload a launcher, "then you have a real problem," he said.

Raytheon is also overcoming production delays to deliver another capability for the Army's air-and-missile defense portfolio: the Lower Tier Air and Missile Defense Sensor, or LTAMDS.

Intended as a replacement for the Raytheon-made Patriot system, the 360-degree radar is designed to detect evolving aerial threats such as ballistic and cruise missiles, fixed-wing aircraft and unmanned aerial systems, Bob Kelly, Raytheon Missiles and Defense's director for U.S. requirements and capabilities, said in an email.

Kelly touted the radar as "a leap ahead in technology" when compared to currently fielded systems.

"The battlefield is no longer linear. As these evolving threats increase in velocity and agility, extending a sensor's detection range becomes absolutely critical, which underscores the importance of LTAMDS' advanced capabilities," Kelly said.

The radar is powered by gallium nitride, a semiconductor technology that strengthens its signal and heightens its sensitivity for increased detection range and resolution, he said. This allows the system to detect threats traveling at higher velocities at longer distances, he added.

The company received a $384 million contract in 2019 to build six radars for the Army. The first was delivered to White Sands Missile Range in May for a series of tests, which includes operational, environmental, mobility, electromagnetic effects and more, Kelly said.

However, the program's first prototypes faced production delays caused by "supply chain limitations, restrictions and first-time hardware and software integration challenges common to many development programs," an Army Program Executive Office Missiles and Space spokesperson said in an email.

"LTAMDS is a story of rapid prototyping and getting an exceptional capability to the field as quickly as possible," Kelly noted. "There have been slips, but we are talking weeks to a few months, not years — and all of this amidst the challenges and disruptions posed by COVID-19. We are acutely focused on schedule, mitigating challenges as they arise and always looking for ways to shorten timelines and bring things to the left."

Despite the delays, Raytheon is on track to deliver four prototypes to the Army mandated by Congress no later than December 2023, the spokesperson said in an email.

In the meantime, the remaining five radars are moving through various stages of development, Kelly said. All six radars are expected to be delivered and execute simultaneous integration and tests by January of next year, he added.

At the center of the service's future missile missions will be the Army Integrated Air and Missile Defense, or AIAMD, system. The platform links current and upcoming sensors, weapons and mission command technologies into a common integrated fire control capability across all echelons, according to the PEO M&S spokesperson.

"This architecture enables previously stove-piped systems to function together, allowing a single integrated air picture using the same command-and-control system," the spokesperson said in an email. As a result, Army air-and-missile defense units can expand their battlespace, protect assets more efficiently and tailor force structures to the requirements of specific missions.

The backbone of the platform is the Integrated Battle Command System, or IBCS, which serves as its fire control and operational center. Northrop Grumman received a five-year, $1.4 billion contract in December 2021 from the Army for low-rate initial production and full-rate production of the system.

The command-and-control system is what enables AIAMD to combine legacy air-and-missile defense systems with new sensors and effectors onto an integrated fire control network, said William Lamb, senior director of multi-domain command, control and communications at Northrop Grumman.

"You have this integrated sensor-effector network, and then you have a battle management system that's running in the background that essentially provides operators and warfighters what the best effect is against a particular threat that is inbound," Lamb said.

Not only is the consolidation of the Army's multiple air-and-missile defense systems crucial for affordability and modernization reasons, it is particularly beneficial from a training perspective, he added.

Operators today are required to learn completely new interfaces as they move between the various platforms, but once IBCS is fielded in the future "an air-defense operator — wherever he or she may be assigned — will already be trained on that C2 system when they arrive," he said.

Initial operational test and evaluation on the system using both simulated and live threats began at White Sands Missile Range in March and is being conducted in several stages. The service is now in the second phase of operational testing, with plans to wrap up in October and conduct an analysis that will inform an eventual full-rate production decision by the Army, Lamb said.

IBCS will also be part of the Army's upcoming Project Convergence 2022. The demonstration will aim to link the system with the service's Advanced Field Artillery Tactical Data System and integrate both defensive and offensive fires, he said.

Though it was initially thought of as the centerpiece to the service's air-and-missile defense modernization effort, IBCS has become a key enabler for the Pentagon-wide mission of connecting sensors and shooters across all domains known as joint all-domain command and control.

During a developmental flight test in 2021, Northrop Grumman successfully connected IBCS with the Navy's Cooperative Engagement Capability, a sensor network and integrated fire control capability for air-and-missile defense. This allowed data from both a Marine Corps AN/TPS-80 Ground/Air Task-Oriented Radar, or G/ATOR, system and two F-35 joint strike fighters to be shared on the command and control system's network, Lamb said.

The Army was able to leverage the data from another service's equipment to engage with a cruise missile in a highly contested electronic attack environment, he added. Northrop Grumman is calling this bridge the Joint Track Manager Capability.

"When you think in terms of that architecture and its ability to integrate sensors from across the services … what's really powerful about that is, that bridge into a Navy [Cooperative Engagement Capability] network essentially affords that kind of level of integration that the department is looking to achieve with its JADC2 vision," Lamb explained.
Topics: Missile Defense, Army News