EDITOR'S NOTES COMBAT VEHICLES
Robotic Combat Vehicles - 'Are We There Yet?'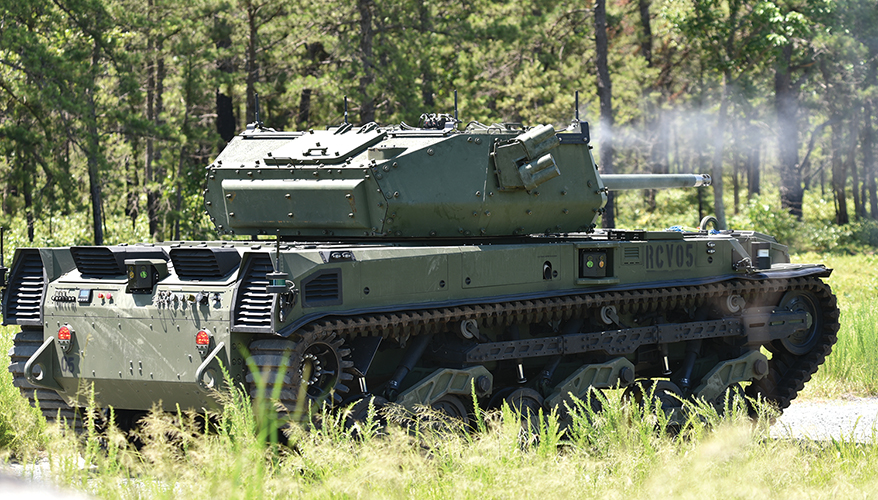 Defense Dept. photo
A panel discussion on the status on robotic ground combat vehicles provided a sobering assessment of the technology's readiness to perform on battlefields.

"We're not there yet," was the oft-repeated sentence at the recent DARPA Forward conference.

In fact, the assessment was repeated so often one would have thought there were a pair of toddlers in the backseat of a minivan on a cross country trip to Disneyland chirping, "Are we there yet? Are we there yet? Are we there yet?"

Just how close are autonomous or partially autonomous combat vehicles to fighting alongside crewed platforms?

It's an important question as the Army has two major programs in the works: the Optionally Manned Fighting Vehicle to replace the Bradley and the Robotic Combat Vehicle.

As for the latter, it is No. 6 on Army Chief of Staff Gen. James McConville's list of 24 key technologies he has vowed "to put in soldier's hands by 2023" — a deadline that is just 14 months away if taken to mean calendar year 2023.

Marine Corps Commandant Gen. David Berger called for more robotic systems to fight alongside Marines.

Stuart Young, a program manager in DARPA's Tactical Technology Office, said, "Currently, robots are too slow to be operationally relevant on the modern battlefield, and they're too brittle."

By "brittle," he didn't mean they fall apart easily, he meant that they cease moving entirely because they are not autonomous enough to move on their own, he said at the conference, which was held at Colorado State University in Fort Collins.

"Autonomous maneuver is not mature enough for the services to consider [robotic combat vehicles] as part of their operational concept," he said.

They don't adapt well to scenarios outside of highly controlled experiments, he added.

Obstacle avoidance is a major problem in the off-road conditions where the military needs to operate.

Commercial car and truck manufacturers are making great strides and offer vehicles that can drive on streets and highways, but taking a fighting vehicle off a paved road and into "the bush" is a different kind of challenge, panelists noted.

Aside from the rugged terrain, "We operate in a tactical environment against an adversary as well. We like to say that the adversary gets a vote. So, we have to be able to not only go from point A to point B, but we have to do it mindful of what the adversary might not want us to do," Young said.

Lt. Col. Chris Orlowski, Robotic Combat Vehicle product manager at Program Executive Office Ground Combat Systems, will be responsible for delivering the platform to soldiers by the end of 2023. Yet at the conference, he spelled out several obstacles he witnessed at an experiment this summer held at Fort Hood, Texas, where the vehicles did some "limited waypoint and navigation" tasks.

First, range personnel followed the vehicles every step of the way to render them "safe" if something went awry, he said.

Trust in robotic systems to perform as intended has been a long-time issue in the military, especially when weapons are mounted on the platforms.

Proving these systems are safe is a big challenge, Orlowski said.

"We're not there yet," said Eric Krotkov, president of EK Consulting AI, and until this summer, chief science officer of the Toyota Research Institute, speaking about all the data needed to make robotic combat vehicles more autonomous through simulations.

"There's so many things that go on on the roadways and off," he said.

There are urban and suburban scenarios — rural, night, day, rain, dust storms. "Use your imagination," he said. Robotic vehicles will have to contend with all these conditions.

"We need to have reliability to handle all of those design domains. We can't possibly drive all of those miles. It's just going to take way too long [to collect data]. So, we have to do it in simulation instead," he added.

And then there are sensors. Commercial vehicles use lidars, an active sensor easily detectable by enemies on the battlefield, panelists noted.

Whitney Mason, deputy director of DARPA's Tactical Technology office, said: "There have been lots of programs in sensors and algorithms and platforms. But from our perspective — we're not quite there yet."

Orlowski said the active sensor problem won't be a big issue at first because the first iterations of the Robotic Combat Vehicles will be teleoperated and use "passive sensors."

Taking the family on a trip to California analogy one step farther, if "we're not there yet," then how far are we? Has the robotics community made it to Arizona, or is it still on Interstate 80 in Des Moines?

Orlowski gave some insight.

"I don't think — at least in the next 10 to 20 years — robotic combat vehicles will fight as a unit by themselves," he said.

Instead of the robotic wingman concept, where they operate alongside other fighting vehicles, he described the first iterations more like robotic mules — load carriers.

"I think where they offer promise is the ability to bring payloads that we can't put on a main platform today because we don't have the size, weight, power capacity," he said.

They could carry electronic warfare or counter-unmanned aerial systems payloads, he said.

"That's where we think we're going, but we're going to need a lot of work to get there," he added.
Topics: Combat Vehicles, Robotics, Robotics and Autonomous Systems