AUSA NEWS: NATO Allies Tout Benefits of Interoperability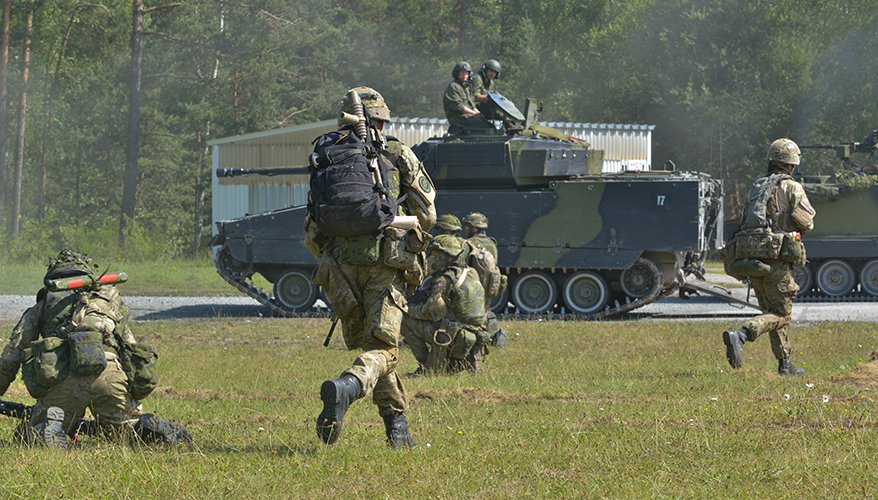 Army photo
The conflict in Ukraine has shifted the national security environment on the European continent. The war has ushered in a resurgence of high-level collaboration with NATO land forces and its allies, according to international army officials.
The U.S. Army has bolstered its presence in Europe in the wake of Russia's invasion of Ukraine since February, with additional troops and capabilities positioned on the continent to support its allies in NATO. This includes the establishment of the first permanent U.S. forces on NATO's Eastern Flank — the V Corps Headquarters Forward Command Post in Poland — and other force rotations throughout the continent, said Lt. Gen. John Kolasheski, commanding general of V Corps.
The action is part of an era of increased interoperability among all of NATO's members and its allies, he said Oct. 12 during a panel discussion at the annual Association of the United States Army conference in Washington, D.C.
"There really is a historic opportunity that we are seeing in Europe. NATO cohesion, unity and energy has never been higher, at least than in my 30 years," Kolasheski said. Militaries in Europe are more willing to invest in their armed forces by modernizing equipment, replenishing stocks and improving training methods, he added.
Such interoperability between international military partners is needed for NATO to succeed, as it enhances combined-arms power while sending a strong message to adversaries like Russia, said Maj. Gen. Lars Lervik, chief of the Norwegian Army.
"The work NATO and key allies have been doing and are doing to establish a set of realistic combined arms at the strategic, operational and tactical level are essential," he said. "This has significantly increased both Norway's and the alliance's interoperability."
Increased collaboration has also paved the way for more cohesive multinational joint training exercises in Europe. The 7th Army Training Command is the U.S. Army's largest overseas training center. It conducts training for all U.S. forces stationed in and deployed in Europe and Africa alongside the United States allies and partners, boosting overall capacity and interoperability, said Brig. Gen. Joseph Hilbert, commander of the 7th Army Training Command.
While training together helps allied nations come up with overall objectives and integrate capabilities, Hilbert emphasized it is also a key element of deterrence against adversaries.
"Not only is training operationalized but, candidly, it is an operation, and it becomes part of our deterrence and assurance activities inside the theater," he said.
Lervik agreed, noting that multinational training exercises "are maybe even more important because they have a significant signal effect — and make no mistake, our eastern neighbor notices these exercises."
These exercises have given NATO countries the ability to train their combat credible forces while also informing capability requirements and ways to leverage new technologies, Kolasheshki said. It also serves as a platform to test, improve and integrate their respective military capabilities, he said.
The war in Ukraine has shed light on some of the technologies that will likely shape warfare in the future — including the decisive nature of unmanned aerial systems, air-and-missile defenses, precision fire and armored capabilities.
When developing and investing in new technologies, Hilbert cautioned against searching for a "silver bullet" solution when, in reality, the war in Ukraine has demonstrated the need for a combined arms approach to fighting.
Despite the boost in collaboration efforts, there are still challenges facing NATO in the event of escalated conflict, said Jack Watling, senior research fellow for land warfare at the Royal United Services Institute.
Ukraine has given NATO allies insight into the significant challenges of logistics and sustainment, the defense industrial base capacity and command and control, Watling said.
"These are all solvable problems. They are solvable if we collaborate, work together as allies, are a bit more open about some of our own shortcomings with each other, and if we make a dedicated effort to resolve these things." he said. "If we can do that, then I hope that in a few years time, we can have a panel in which Europe is no longer contested."
Topics: International