AUSA NEWS: Army Not Idling on Vehicle Tech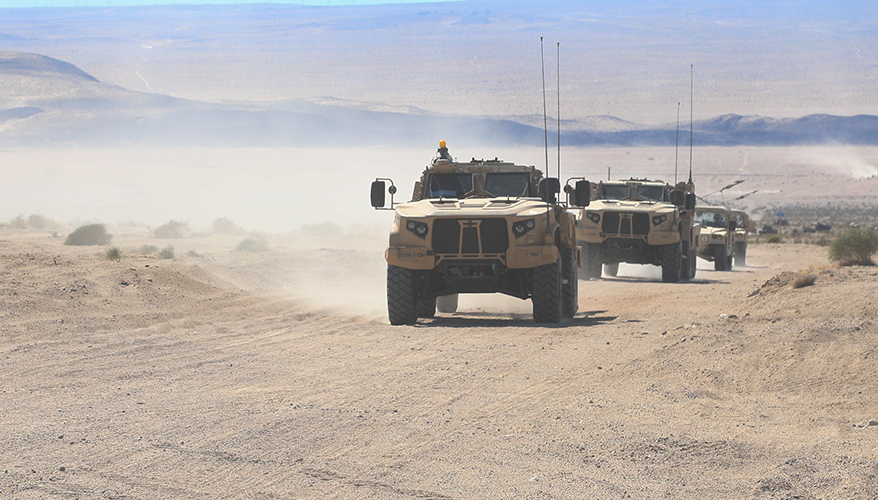 Army photo
WASHINGTON, D.C. —Between the Army's new climate implementation strategy and the requirement to reduce logistics burdens to fight in contested environments, the Army has all the motivation it needs to transform its vehicle fleet to use less fuel and require fewer spare parts, senior officials said Oct. 12.
Brig. Gen. Samuel "Luke" Peterson, program executive officer for Combat Support and Combat Service Support, detailed initiatives to hybridize and electrify Army vehicles, during a panel discussion at the annual Association of the United States Army conference in Washington, D.C. Anti-idle technology will play a major role in reducing energy consumption, officials said.
"As we focus on contested logistics and prolonged combat operations, how we sustain those forces is central to what this program office is tasked to deliver," he said.
The first objective is to reduce dependence on fossil fuels using commercial technology, he said. The office is partnered with the Army Rapid Capability and Critical Technology office to prototype ways to hybridize both the Humvee and Joint Light Tactical Vehicle, he said.
That process is a continuum, said Steve Roberts, project lead for integration. It starts with adding battery-powered, anti-idle technology to vehicles so they can operate on silent watch.
There are two anti-idle kits in production through the Defense Innovation Unit and one in development through the Army's Ground Vehicle Systems Center. The goal is to get the technology into the field in 2025, he said.
By deploying that technology onto the Joint Light Tactical Vehicle, a brigade with 325 vehicles could save up to $1.5 million in fuel costs per year.
"We build off of that get to hybrid electric, and then eventually do electrified vehicles, fully electric," he said. "The challenge will be building the recharge capability in theater, he added.
As part of the JLTV recompete for the next version of the vehicle, the PEO received proposals in August and is working on source selection. The new vehicle incorporates the latest generation GM Duramax engine and includes more stowage, based on soldier and Marine feedback, said Michael Sprang, program manager of the Joint Program Office – Joint Light Tactical Vehicle.
"We're starting to address the signature management, reducing the sound both outside the vehicle and inside the vehicle," he said.
While the JLTV RFP did not include a hybrid requirement, it did include a requirement for two elements for "improving our liquid logistics dependency.
"We asked for technology enhancements from industry, we didn't require them," he said. "We're trying to incentivize them."
The two requests were anti-idle technology and improved fuel efficiency on the move, he noted.
To hedge bets, the PEO has been working with Army GVSC on hybrid technologies so if no one from industry proposes it, "we still have a solution that we can implement moving forward."
The goal is to find the right balance of electric capability needed to provide silent watch and maneuver without adding too much battery, he said.
"And so, getting that mix correct, ensures that we're not going to add too much weight to the system but just give the soldiers the capability that they need above and beyond what they have today," he said.
There are about 100,000 light tactical vehicles in the Army fleet, and JLTV, both the current and next iteration, are intended to replace about half the fleet and all 12,500 vehicles in the Marine Corps' fleet.
The anti-idle technology being developed is designed to be a retrofit solution so that legacy vehicles can be upgraded, he said. Currently, the acid batteries in the first version of the JLTV are being swapped out with three lithium-ion batteries that can power vehicle and soldier systems without the engine running.
Another vehicle in the early stages of development is the Electric Light Reconnaissance Vehicle. The office issued an award to two contractors — GM Defense and Canoo — this year, he said.
"That was primarily just to obtain commercial capability, commercial trucks," he said. "There wasn't an agreement for any additional services. We just wanted to get an understanding of what is the best that industry has to offer today."
One more award is pending, while the Army plans to run tests to understand how commercial technologies can military operations, he said. For example, the service will evaluate off-road range for battery-powered vehicles.
In addition, the Army is working aggressively to reduce the size and scale of convoys and resupply missions by not just reducing fuel demand, but by reducing maintenance needs and deploying additive-manufacturing technologies to fabricate replacement parts in the field.
"Our vehicles, especially our newer variants in our fleet incorporate a lot of technology that we can harvest data from to help us get ahead of the maintenance requirements that our soldiers are required to perform to sustain our combat vehicles and tactical wheeled vehicles in combat," said Peterson.
And the Army recently validated an abbreviated capabilities-development document for an autonomous transport vehicle system, he added.
"What that's getting after is autonomous resupply on our battlefield right in line with … supporting contested logistics and prolonged combat," he said.
Topics: Army News