AUSA NEWS: AbramsX Demonstrates Capabilities For Future Army Tanks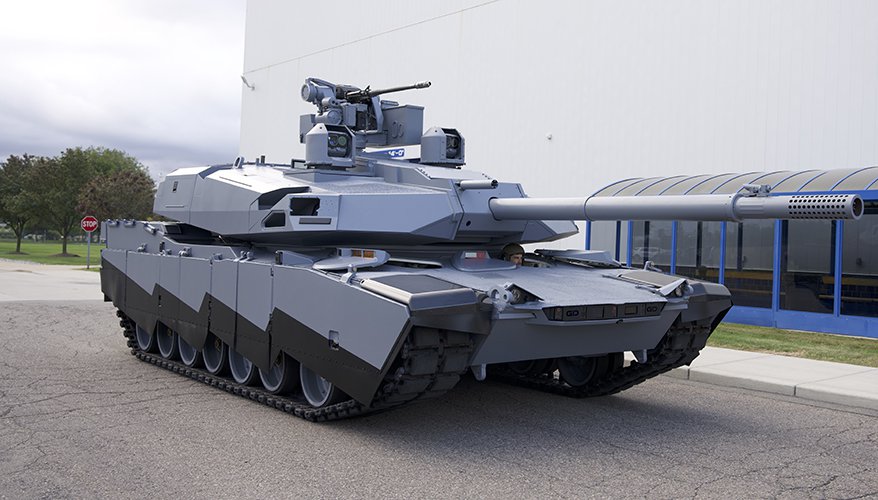 General Dynamics photo
WASHINGTON, D.C. — One of the major talking points heading into the 2022 Association of the United States Army annual conference in Washington, D.C. was General Dynamics' AbramsX, the company's new tank demonstrator featuring several next-generation technologies.

General Dynamics had teased the unveiling of AbramsX in the months leading up to the conference before releasing a video of the tank online Oct. 8. Getting people talking was certainly the intention, said General Dynamics Land Systems' director of business development for U.S. operations Timothy Reese.

"We wanted to get people to look at it and give us feedback," Reese said during an interview at the conference Oct. 12. "We knew … it was going to elicit strong reactions. People are either going to love it or hate it, or love some parts of it and hate other parts of it. And that's the reaction we were looking for."

Feedback on AbramsX from the Army and other experts will inform the capabilities General Dynamics decides to continue developing or "let go to the side," he said.

The Army is currently producing version 3 of the Abrams M1A2 System Enhancement Package, or SEP, with version 4 scheduled to begin fielding in fiscal year 2025. The AbramsX is not meant to replace or bridge the gap between those platforms but rather demonstrate capabilities for the future, as there is no "defined program" for Army tanks beyond M1A2 SEP 4, Reese noted.

"Some of the capabilities on here could see themselves on the next iteration, whatever the Army might call it," he said. "That's kind of why we brought these here to the show this year was to say, [here are] things we know we can do — or that our partners with us know we can do — which ones are good enough or important enough to continue development on so they're ready when something comes after [version 4]."

One of the features receiving praise at the conference was the demonstrator's hybrid electric engine, Reese said. As part of its climate strategy, the Army has set a goal to achieve 50 percent reduction in Army net greenhouse pollution by 2030, compared to 2005 levels. The AbramsX cuts fuel consumption in half, Reese said.

"Our design philosophy was let's keep the range of the tank what it is today, which is around 300 miles, and it allows us to shrink some of the components in the back of the engine compartment and replace some of them with this electric generator and battery packs," he said.

The hybrid electric engine also "enhances silent watch capability and even allows for some silent mobility," a General Dynamics press release said.

However, the AbramsX's uncrewed turret has caused some debate, Reese said.
"U.S. tanks have always had crews on the turret since [the] beginning of time basically," he said. "So, that's quite a culture change and a technological challenge. And so some people believe it can be mastered, and other people don't think it can."

Other unique features on the AbramsX include an autoloader for the platform's 120mm cannon and an active protection system which can defend the tank from attacks from above, Reese said. General Dynamics adapted the approach from conflict in Ukraine and the 2020 war in the European region of Nagorno-Karabakh.

"Most systems don't look up into the sky for a top attack yet, and that's kind of been one of the lessons from Ukraine — and before that, Nagorno-Karabakh — is that top attack is a major new threat for anything on the ground today," he said. "We have adopted a system that allows us to use a … launcher looking upward on top of the vehicle, in addition to the ones that look out on the traditional axis of attack, and we're pretty intrigued by that."

While the AbramsX and the other technology demonstrators General Dynamics brought to the conference are not "in pursuit of a particular program," the capabilities within those systems can offer plenty to the Army going forward, Reese said.

"All the vehicles out here were done on our internal research and development funds," he said. "We are … demonstrating technologies to show our customers, 'Here's what we can do, right now today or in the very near term. Which ones of them do you want us to pursue?'"
Topics: Combat Vehicles, Emerging Technologies