AUSA NEWS: Lightweight Javelin Launcher Enters Low-Rate Production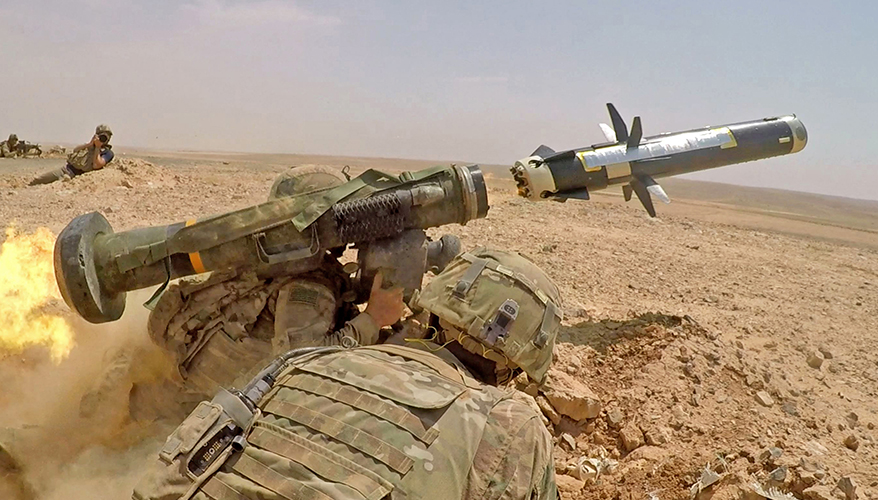 Army photo
WASHINGTON, D.C. — The industry team producing Javelin missiles for the Army has received its first low-rate production contract for its lightweight command launch unit, company executives said Oct. 11.

The Javelin Joint Venture — comprised of Raytheon and Lockheed Martin — was awarded a $311 million production contract from the Army for Javelin missiles and associated equipment and services, Raytheon announced in September.

The venture is striving to increase production of Javelin missiles from the current rate of 2,100 per year to "just under 4,000" per year by 2026, Lockheed Martin vice president of close combat systems for missiles and fire control Jerry Brode, said during a media briefing at the Association of the United States Army annual conference in Washington, D.C.
The anti-tank weapon has proven its utility in Ukraine, where forces there have used them effectively to destroy Russian armored vehicles. More than 5,000 units have been pledged as part of U.S. aid packages to the war-torn nation. The conflict has boosted demand for the Javelin as stock have been depleted.

As the venture ramps up missile delivery, they are also starting production of the lightweight command launch units, or LWCLU, for the service, said Raytheon's executive director of precision fires and maneuver Brad Barnard.

The lightweight version offers increased capabilities in a smaller package, Barnard said. "Volume has been reduced by 30 percent, weight by 25 percent," he said. "This makes it obviously much easier for the gunner to carry — in fact, it can fit into a standard-issue backpack."

The LWCLU features "an improved sensor display and digital processing capability," he said. This allows for increased range and resolution, faster acquisition of targets and the ability to operate effectively in adverse weather conditions, he added.

Additionally, it can "connect to the Army's network," Barnard said.

"This enables the handoff of targets from the [lightweight command launch unit] to other platforms on the battlefield for those targets to be addressed, and facilitates dismounted and mounted ops [in] real-time," he said.

The team conducted its first test launch of a Javelin missile from the LWCLU on Oct. 5, which proved the unit was "safe for use by soldiers," Barnard said.

The Army awarded the low-rate production contract for the lightweight Javelin in June, with first delivery slated for 2025, Barnard said. The initial low-rate production order is for 200 lightweight command launch units, with full-rate production expected to initiate next year, he added.

"We're ramping up to 600 a year from a capacity standpoint when we're [in] full-rate production," he said.