AUSA NEWS: Army Rolls Ahead with Ground Vehicle Modernization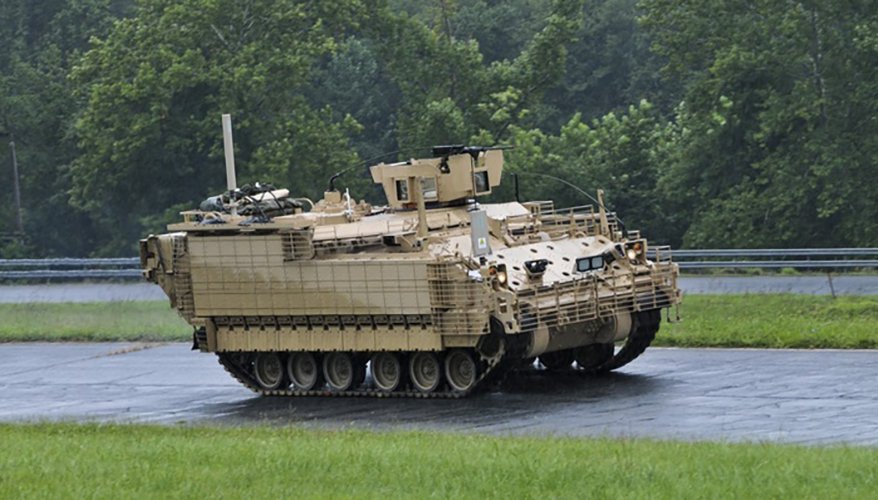 BAE Systems
WASHINGTON, D.C. — Four of the Army's major ground vehicle modernization programs are rolling forward in fiscal year 2023 despite budgetary uncertainty resulting from the continuing resolution, senior military officials said.
The Armored Multi-Purpose Vehicle, Optionally Manned Fighting Vehicle, Mobile Protected Firepower and the Robotic Combat Vehicle are all entering new stages of development or fielding.
Armored Multi-Purpose Vehicle, or AMPV, is the replacement to the M113 family of armored personnel carriers that has been in service since 1959. The first unit to be fielded will receive their vehicles and begin training in January, said Maj. Gen. Glenn Dean, program executive officer, Ground Combat Systems, during a panel discussion at the Association of the United States Army annual conference in Washington, D.C.
The final testing of the AMPV was delayed due to the war in Ukraine and was just completed in August, he said. The results are still being processed, but initial feedback has been "very, very positive in terms of an effective, suitable and survivable platform and very much outperforms the M113 family of vehicles that it replaces," he added.
Manufacturer BAE has been hitting production targets for the last 18 months, and the Army has 130 units on hand, he added.
The war in Ukraine added a new variable to the equation, he said. The United States provided 200 M113s to Ukraine, mostly from National Guard stocks.
"Congress has graciously said you can replace that capability, but not by buying back more 113s, but by buying more AMPVs," he said. "So, as we're about to transition into full-rate production for AMPV, we're going to increase the production rate for AMPV with dollars we have received to buy back that tranche."
That will result in completing the replacement of M113s faster than originally planned, although it is subject to BAE's ability to ramp up production. The current target is 197 units in 2023, Dean said.
The Optionally Manned Fighting Vehicle, or OMPV, which is intended to replace the Bradley, will enter the design, prototype and test phase, or phases 3 and 4 of its 5-phase development, Dean said.
The vehicle has gone through three cycles of operating feedback and vendor refinement, which has resulted in a reduced vehicle size, he said.
"We've seen all five current participants go to hybrid electric designs, which that's a major shift for us," he said. "Each one of them has taken a different approach to how they achieve the hybrid electric, so that's really exciting that we have a wide range of kind of risk-based approaches."
Responses to the request for proposals are due Nov. 1, with an award expected in the third quarter of fiscal year 2023. Dean said the hope is that all five vendors will submit proposals along with some other manufacturers who are not currently in the program.
The vendors have each provided different armor packages, track configurations and accessory packages, said Brig. Gen. Brig. Geoff Norman, director of the Next-Generation Combat Vehicles Cross Functional Team.
"The digital engineering approach, virtual prototyping enabling soldier touchpoints and refinement of requirements is enabling us to work very closely with industry and for them to innovate in ways that I think is going to result in a very transformational capability to replace the Bradley," he said.
The Robotic Combat Vehicle is still in an earlier stage of development. Both light and medium prototypes completed five-weeks of soldier operational experimentation at Fort Hood, Texas, this summer, said Norman.
"Some of the solider feedback indicated that there are certain aspects of autonomy that soldiers find more helpful than others," he said. "In particular, soldiers are very excited about capabilities that RCV provides to help detect enemy vehicles, and RCVs have great capabilities to detect adversaries and anomalies in the environment."
However, soldiers still want to be in the loop for deciding and assessing the identification of targets and anomalies, "so we were really interested the feedback from the soldiers on target detection versus target identification."
"Soldiers really like the idea of a robot making contact with the enemy first," said Norman on the sidelines of the conference. "Having a system that can take that first shot … is really powerful."
However, soldiers need the robot to be reliable, he said. "They need to be able to trust that where they tell it to go it can go there without them having to intervene. They need it to be reliable in executing its mission once it gets there.
"So, that's what we're learning from these experiments, is that what do we need to ask the robots to do so we don't overburden the robot by having it try to do all things for all people?" he said.
Furthermore, soldiers liked to rely on the vehicle's autonomy for basic movement — navigating from point A to point B, he said. But when it comes to maneuver — "leveraging terrain and considering the enemy and adding fire into that movement" — soldiers were less interested in relying on autonomy.
Autonomy is rapidly maturing, he said. "What we have to do is prioritize which autonomous capabilities we need to put at the top of the list and then which ones can be lower down, either because they are more complicated or because they're not a function that soldiers need right away."
Other feedback included the types of controllers soldiers prefer and the orientation inside command vehicles. Another topic that came out of the testing is what audio capabilities are needed so operators can hear what the robot is hearing.
"What we've done is taken all of that feedback and over the course of this year we will continue to integrate new capabilities or change behaviors, change different components on the autonomy software and some of the hardware as well," said Mike Cadieux, director of the Ground Vehicle Systems Center.
His center will be continuing experimentation with surrogate robotic platforms through Project Origin, he said. They will continue cycles of testing, feedback and refinement to support requirements generation.
"The program manager for RCV is taking hand-off of requirements and technical specifications, and software is really waiting for the outcome of [Project Convergence] because we think that's going to give us enough of a requirements definition to go into a rapid prototyping execution," Dean said. "So, we're going go out and compete for a platform that will be the initial sort of planned fielded prototype that will be the baseline for capability for the things we build in the future."
The Army plans to issue a draft request for proposals in 2023 and hopes to have the rapid prototype selection in the hands of soldiers in 2025, Dean added.
Although the Pentagon is dealing with a continuing resolution for 2023, the impact should be manageable, Dean said. There are no new starts in 2023, and the increase in OMFV spending comes later in the fiscal year.
"As long at the continuing resolution doesn't go through about mid-April, we don't have any risk to program execution from that effect of the CR," he said.
Topics: Army News