AUSA NEWS: Army Publishes New Doctrine for Multi-Domain Operations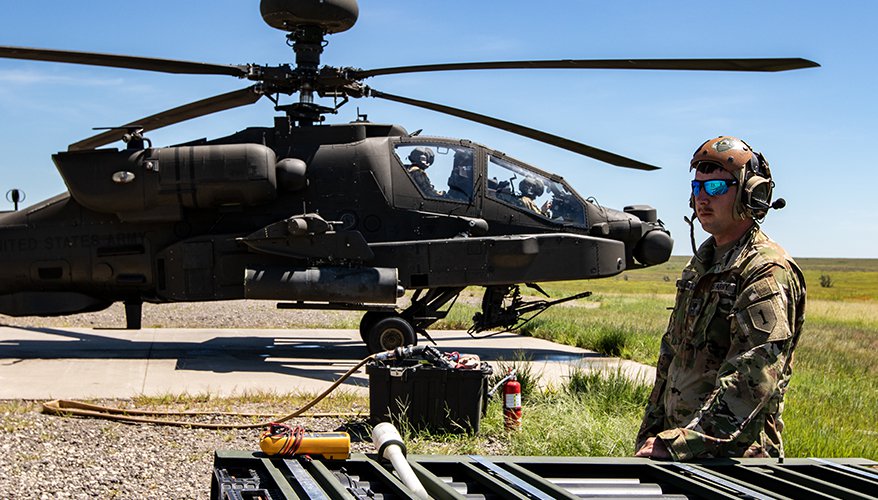 Army photo
Washington, DC. — The Army has updated its operational doctrine to ready U.S. land forces for multi-domain operations between now and 2030.

Given the changing global security environment, the service released a revised version of its operational manual titled Field Manual 3.0 on Oct. 10 that will serve as a framework for the Army's operations. The document highlights a shift to large-scale combat operations and makes multi-domain operations the Army's official capstone doctrine, marking a "major milestone in our transformation to the future," said Army Chief of Staff Gen. James McConville.

"It recognizes that the Army will be tested in every domain — in air, land, sea, space and cyber — and that the future Army must prepare to fight in multiple domains at once," McConville said Oct. 11 during a speech at the at the Association of the United States Army annual conference in Washington, D.C.
FM 3.0 gives theater armies, corps, divisions and brigades a doctrinal approach on how to address the challenges that shape the operational environment, according to the document.

McConville pointed to China's military modernization efforts, Russia's full-scale invasion of Ukraine and the threats North Korea, Iran and violent extremist groups as significant threats to global security.

Multi-domain operations will require a shift in training, as the Army will need to have highly specialized soldiers for all environments, he said.

This year, the service reactivated the 11th Airborne Division to serve as the Army's newly established Arctic operational headquarters in Alaska. The specialized training soldiers in this division receive to operate in extreme Arctic conditions — which includes cold-weather survival and navigation in mountainous terrains — is an example of how the Army is soldiers for multi-domain operations, McConville said.

The updated manual also outlines how the service is modernizing for potential large-scale combat operations, which the document notes is "the greatest challenge for Army forces."

Secretary of the Army Christine Wormuth said during her keynote address at the conference that the Army is shifting organizational focus to larger formations that are more capable of integrating with the other services and U.S. allies.

"To realize this vision and build the army of 2030, we are transforming our force structure and evolving how we fight. We must do this to prepare for the challenge of large-scale combat operations, strengthen deterrence in the Indo-Pacific and to be ready if deterrence fails," she said.

Along with new force structures and training, McConville pointed to several new technologies that will assist the Army's multi-domain operations.

He emphasized that anti-access and aerial-denial capabilities are crucial for large-scale combat operations, which is why the Army is developing a range of new missiles. This includes the Long Range Precision Fires program, which the service considers its top modernization priority.

Intended to replace the Army Tactical Missile System capability, the LRPF will be able to engage with targets at ranges of 300 kilometers and farther, according to the service.

The High Mobility Artillery Rocket System, or HIMARS, has been a crucial weapons system for Ukraine during Russia's invasion, McConville said. The weapon system has a range of 75 kilometers.

"Now imagine how much the game changes when we start employing Precision Strike Missiles from a HIMARS platform with a 500 [kilometer] range, or we employ the soon-to-be-fielded mid-range capability that can sink ships from over 1,000 kilometers, or we employ a hypersonic missile capability that can travel thousands of kilometers with pinpoint accuracy," McConville said.

Combined with fires capabilities, the Army is employing long-range precision effects for all-domain operations. The service has stood up three Multi-Domain Task Forces to provide counter hybrid threat capabilities — such as intelligence information, electronic warfare, cyber and space operations — and plans for a fourth, McConville said.

"I can envision a future Army that gives combatant commanders the option of establishing no-movement, no-fly and no-sail zones from land," he said.

Combined arms will continue to play a key role in Army multi-domain operations, McConville said. The service is making improvements to the M1 Abrams tank, fielded the Mobile Protected Firepower light tank, and is replacing the Bradley Fighting Vehicle with the upcoming Optionally Manned Fighting Vehicle, or OMFV.

The service will award three vendors phase 3 and phase 4 contracts for the OMFV in the spring of 2023, he said. The first unit will be equipped with the Army's new Armored Multi-Purpose Vehicle, which will replace the M113 Family of Vehicles, sometime next year, he added.

The Army is also ushering in next-generation helicopters part of its future vertical lift program. Prototypes for the future attack and reconnaissance aircraft, or FARA, are expected to fly by the end of 2023, and that a contract decision for the future long range assault aircraft, or FLRAA, is expected in "within the next few months," he said.

In addition, the Army needs to alter how it sets up and maintains command posts, he noted.

"In Iraq and Afghanistan, we got used to having large, static operations centers — even at the company level," McConville said. "That's all gone now. Our command posts aren't going to have stadium seats anymore. They must be agile, more dispersed and able to move at a moment's notice."

McConville emphasized that the service is not just making incremental improvements to the Army, but is rather transforming it from the post-9/11 wars.

"It's not about fighting the last fight better, it's about being able to win the next fight so decisively that no one wants to fight us," he said.
Topics: Army News