BATTLEFIELD COMMUNICATIONS
AUSA NEWS: Army Cutting Numbers of Tactical Radios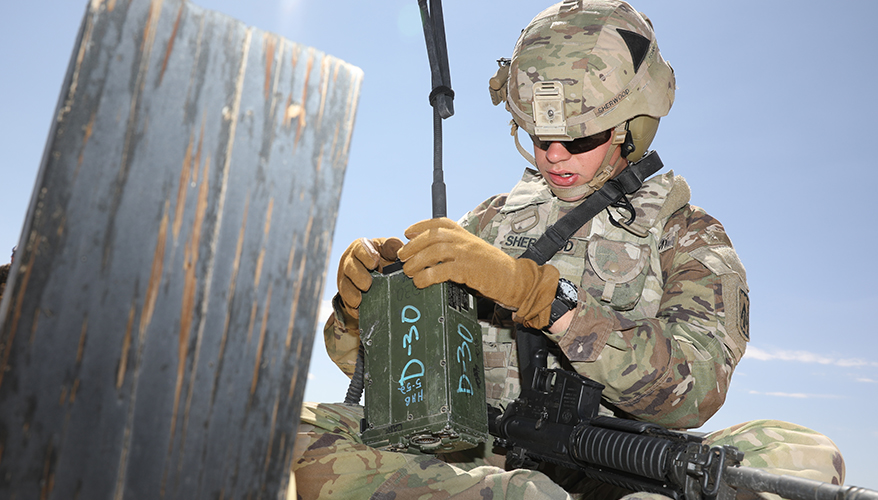 Army photo
While the service modernizes its communication forces for 2030, it could mean leaving some of its tactical radios behind, the Army's chief information officer said Oct. 11.

As part of the capability portfolio reviews the Army established over the summer, the Army is looking at how it can reduce the Army's fleet of Single Channel Ground and Airborne Radio System, or SINCGARS, said CIO Raj Iyer, head of one of the Army's newest offices.

The service is carefully balancing modernization — and achieving its Pentagon mandate for data-centricity — while making sure there are enough legacy systems for soldiers now. There are hundreds of thousands of SINCGARS in use as tactical radios, he noted.

"The Army has too many radios," he said during the Association of the United States Army's annual conference in Washington, D.C. "As we get into being in a contested environment, we got to make sure that our radios are protected, our communications [are] protected."

Earlier this year, the Army awarded L3Harris and Thales contracts with a ceiling of $6 billion for its Combat Net Radio modernization program.
Iyer said it wasn't possible to upgrade all the radios to the encryption level required by the National Security Agency.

"For us to modernize our radios for encryption, that's a lot of money," he said. "When you look at the quantity of radios that we have in the Army, the cost and time that it takes us to modernize these radios gets us into the 2035, 2040 timeframe, and that is clearly not going to meet the Army of 2030 needs."

The Army is still figuring out which of its systems are expendable, Iyer added. Part of the review of the SINGCARS program is deciding which tactical levels can have unclassified systems and which need the upgraded encryption.

"The reason why we've never been able to make a decision on this is because when a unit gets deployed, right now, what they have to fight with is those same radios," he said. "So we can't take them away, saying that, 'Hey, for the Army of 2030, you're gonna get A, B, C and D and all of these capabilities, and so we're going to take these away and you'll get them in 2030."

The service is looking to tailor its communications needs to each theater instead of the Army's typical one-size fits all approach, Iyer said.

"We know what's needed at the [Europena Command] theater today is a different threat and risk profile from [Indo-Pacific Command], which might be a little bit more out into the future," he said.

In addition to tactical radios, the service is "aggressively cutting down" on its data centers, Iyer said. The Army's initial digital transformation strategy called for eliminating six of 12 data centers, but Iyer said it has added one more to the chopping block. The five remaining centers will be linked with a commercial cloud in fiscal year 2023.

"We're going to need this because as we operationalize cloud in Indo-Pacom or Europe or even down to the tactical edge, we know that we're going to do a combination of something that's hybrid, on premise some, and then some commercial," he said. "It's going to be both but getting to the hybrid architecture is our key priority."

Iyer noted that support from senior leadership has made the service's transformative network modernization possible.

Deputy Defense Secretary Kathleen Hicks signed a memorandum calling for the Pentagon to become a data-centric organization. Since then, Army leadership has been on the move, he said.

"For anybody who has been associated with the Army, for something of that scale to kind of trickle down at all levels in the Army and how fast that happened just the last 12 months is really unheard of," he said.
Topics: Battlefield Communications