AUSA NEWS: Honeywell Debuts Mixed-Reality Headset For Vehicle Operators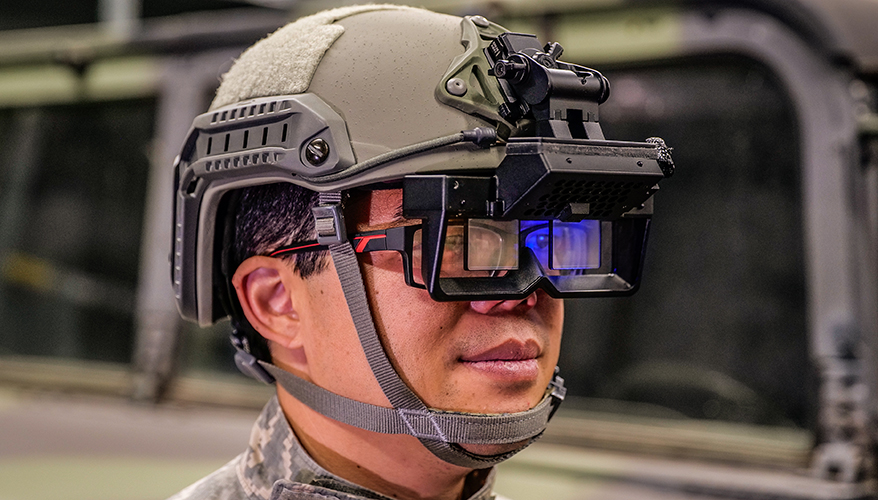 Honeywell photo
WASHINGTON, D.C. — Long-time defense contractor Honeywell has unveiled a new mixed-reality headset for military vehicle operators to increase situational awareness in hazardous conditions.

The Army and Marine Corps reported 3,753 non-combat accidents resulting in 123 service member deaths in fiscal years 2010 through 2019, according to a 2021 Government Accountability Office report. The Honeywell 360 Display, introduced on Oct. 10, is designed to limit these accidents and protect soldiers by providing them a complete view of their surroundings while on the move, said Ricky Freeman, Honeywell Aerospace's president of defense and space.

"It allows from … an enclosed platform — your [Mine-Resistant Ambush Protected vehicles], those types of land vehicles — the opportunity to just effectively drive," Freeman said during an interview at the Association of the United States Army's annual meeting and exposition on Oct. 10.

"With a certain set of [360-degree] cameras and other mounted technologies, it gives you a real-time view of the world around you," he said. "And this is critical: real-time view without the occasional sickness that one incurs when they are in a virtual reality environment, that time lag between what the world shows and what your eyes see … we've eliminated that to near zero."

Receiving feeds from a variety of sensors and exterior cameras, the head-mounted display provides operators a 360-degree view of the environment. The display can integrate visualization from multiple databases such as terrain, traffic and weather, a Honeywell press release said.

Providing soldiers the information they need in real-time, the display requires minimal training before operating the system, Freeman said.

"That gives the driver more comfort, more time and capabilities, and less training because it takes literally minutes to become adaptable to the environment," he said. "I did it myself personally, and within three minutes I was running a slalom course."

The display underwent extensive testing, including "hundreds of demos by very senior Army leaders," he added. The system can be set up on almost any ground vehicle platform, a key capability as the Army has named the Next-Generation Combat Vehicle as one of its six modernization priorities.

"It is agnostic — we put it on the Hummer, you can put it on actually civilian cars if you really wanted to go that far," he said. "But as far as the combat vehicles, it covers the spectrum," from MRAPs to next-gen vehicles, and they can all benefit from the capability, he added.

"If you're in a war zone, the last thing you want to do is stick your head out, because you know what that means," he continued. "But the ability to stay under cover, under armor the entire time — and most importantly, the lack of fatigue that occurs to the eyes in this virtual reality environment is one of its keys. You can drive for hours as you would in a normal vehicle; that's the critical capability there."

The agnostic nature of the system will allow for the integration of additional capabilities in the future as well as the possibility of using the Honeywell 360 Display on airborne platforms, Freeman said.

"There are some future areas that we're looking at that [work] in the connected battlespace," he said. One is the ability to designate a target of interest and transmit information to a UAV for processing, he said.
"There's all kinds of ways that we can shape the capacity that this capability brings in, and it's also agnostic to airborne platforms," he said. "There's any number of ways we see being able to use this … that creates that connectivity in the battlespace that is going to be critical in the joint all-domain command and control environment," he said.
Topics: Emerging Technologies, Combat Vehicles