Middle East Arms Market Remains Hot Despite COVID Hurdles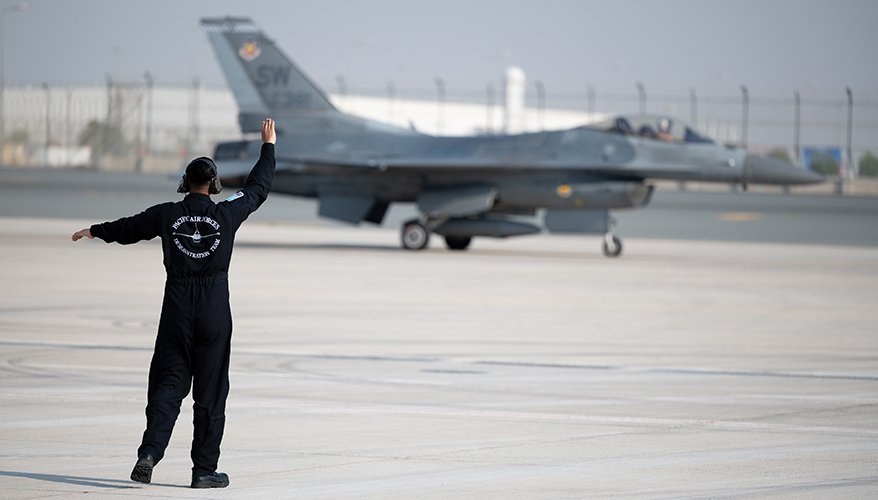 An F-16 demonstration team prepares for the Dubai Airshow.
Air Force photo
DUBAI, United Arab Emirates — Despite ongoing challenges related to the COVID-19 pandemic, defense companies gathered in droves at the annual Dubai Airshow to ink new deals and show off their wares.
Industry executives and government officials didn't let the pandemic stand in the way of new business. Organizers of the international confab reported $78 billion worth of commercial and defense deals, compared to the approximately $50 billion in sales from the 2019 show.
In addition to inking arms contracts, companies showcased partnerships and collaborative agreements that will lay the foundation for what some say may be a more stable regional defense industry in the future.
The United Arab Emirates' more than $14 billion in military spending this year alone highlights how many opportunities there are in the country despite a contracted economy because of the pandemic, said Nicholas Dawson, a Middle East analyst at Forecast International, a Newtown, Connecticut-based market consulting firm. Expenditures are expected to increase even more as the region continues to be a "hotbed of conflict," he said.
For example, recent incidents of Iran harassing U.S. Navy ships in the Persian Gulf may result in countries such as the Emirates and Qatar building up their defenses in case of escalation and threats to their interests, he said.
Currently, the region makes up 7.5 percent of the world's combined total defense spending. But that could tick up by 2027, Dawson said.
"We're looking at a pretty good increase to where it could potentially hit an 8 percent of global combined total defense spending," he said.
Some U.S. contractors are increasing their presence in the UAE and gaining a regional foothold. For example, Abu Dhabi state-owned manufacturer EDGE Group and L3Harris announced they would open a service center in the nation for electro-optical and infrared systems in support of its air surveillance and reconnaissance WESCAM MX-series EO/IR capability.
Moving forward, the agreement could be expanded, according to Gary Rosholt, corporate vice president of Middle East operations at L3Harris.
"It has the potential to move into a full assembly and production as we kind of increase the business case on some new opportunities and procedures for follow-up," he said.
L3Harris has been operating in the region for decades, and Rosholt expects the UAE to continue to value its relationship with the United States.
"I think they do value the U.S. as we do value their opportunities," he said.
Despite success with the service center, Rosholt acknowledged the company is still waiting on some additional opportunities.
"We still have a lot of strategic [foreign military sales] cases that are still in delicate negotiations, but we remain optimistic," he said.
Beyond large manufacturers, some smaller businesses were attempting to make their mark in the region.
For example, Melbourne, Australia-based Sentient Vision Systems marketed its search-and-rescue sensor to the Persian Gulf states. It partnered with U.S. company Phoenix Aerospace — which has previously worked on platforms in the region — to install the technology on aircraft and provide support on the ground, said Richard Glyn-Jones, director of business development for Sentient Vision Systems.
"There are so many times that I hear stories of larger companies who set and forget," he said on the sidelines of the airshow. "Coming into the region with something that is a fully certified piece of hardware, with a local entity support, for us has been kind of the key thing to being able to progress to that next stage."
The UAE was the fifth largest recipient of U.S. arms in the 2016-2020 time frame, according to a report from the Stockholm International Peace Research Institute titled, "Trends in International Arms Transfer, 2020."
However, relations between the UAE and U.S. government haven't been smooth in recent years.
Human rights watchdogs have condemned Emirati support for military operations in Yemen. UAE-backed forces have "arbitrarily detained and forcibly disappeared scores of people," according to Human Rights Watch's "World Report 2020."
However, despite promising to end arms sales that provided support to Yemeni forces, President Joe Biden's administration has kept deals with Abu Dhabi on the table.
Another rift could open between the long-time partners because of Abu Dhabi's air fleet aspirations. The UAE awarded French aviation company Rafale $19 billion for 80 fighter jets a few weeks after the airshow, a move that could impact negotiations for the Lockheed Martin-built F-35 joint strike fighter.
Dawson, of Forecast International, noted that the UAE has diversified its aircraft in recent years, but an F-35 sale is still politically important for its relationship with Washington. The deal seemed to be on the rocks after U.S. officials expressed concerns about Abu Dhabi's ties to Chinese company Huawei in 2021.
"It's very important to them to be able to receive this, and it will be more of a guarantee that we do still trust them," he said.
Companies looking to expand into the UAE and other countries in the region should weigh the risks, Dawson emphasized. Nations in the Middle East are often punished for human rights violations, such as Italy's embargo on selling arms to the UAE and Saudi Arabia, which halted the sale of thousands of missiles, he noted.
"If that is on your conscience, do be wary of that," he said.
Meanwhile, the airshow was a chance for Abu Dhabi to solidify relationships with countries such as Israel.
After the United Arab Emirates and Israel reached a peace agreement in 2020, more than five Israeli defense companies attended the international confab in Dubai for the first time.
For example, the Israel Aerospace Industries company announced a partnership on defense research during the conference, with an executive from the company noting that collaboration on the civilian front may be a stepping stone to further collaboration between the two countries.
The company is open for business in the defense and nondefense sectors, said Aviv Kanelbaum, manager for business development and marketing for IAI's MBT space division.
He noted the UAE's national space agency's ambitions to provide opportunities for partnership on technologies such as satellites. For example, the country has launched a probe to observe Mars and has plans for the exploration of Venus.
Kanelbaum said there are discussions between IAI and the space agency about the potential for research operations for civilian space technology.
Israeli company Rafael Advanced Defense Systems offered its counter-unmanned aerial system technology known as Drone Dome. Regional manager Rafi Etan cited the proliferation of inexpensive, customizable drones around the world as an issue Abu Dhabi is ready to take on with holistic solutions.
"It's a very advanced customer," he said. "The requirements and the capabilities are really top notch, tier-one capabilities."
Another Israeli firm, Elbit Systems, announced the establishment of Elbit Systems Emirates prior to the show.
Meanwhile, Middle Eastern countries are increasingly hoping to modernize their aircraft and air defense systems, Dawson said.
"Air defense and ... air superiority tend to be the main theme for the region," he said.
This interest was reflected at the confab when Airbus sold two additional A330 Multi-Role Tanker Transport platforms to the United Arab Emirates Air Force and Air Defense.
A unit of EDGE Group called HALCON sold $880 million worth of precision guided missiles to the UAE armed forces. The Thunder and Desert Sting class of missiles purchased will be manufactured in Tawazun Industrial Park in Abu Dhabi.
Another subsidiary of EDGE called EARTH, is teaming up with Lockheed Martin to modernize the UAE's Joint Aviation Command's fleet of Apache helicopters.
Manufacturing technologies were also showcased at the conference. That included Exechon Enterprises' carbon fiber robotic arm — the XMini.
The latest mobile configuration for the arm is portable, lightweight and could speed up the aerospace manufacturing process significantly, said Shafik Nasser, chairman at Exechon.
The technology can help improve the UAE and other countries' supply chain management after COVID-19 revealed vulnerabilities, he said.
Companies more than ever want to have confidence in their ability to produce a product on the spot, he said.
"If your factories are not connected to the supply chain or not connected to the kind of parts that you can manufacture and deliver, especially when you're dealing with the global market, it becomes a problem," he said.
Robotic manufacturing can also expand opportunities for defense manufacturers to localize in a cost effective way, he noted.
"Working with other countries, you're able to implement and integrate the expertise to deliver parts in the region," he said. "So, we end up allowing companies to create more satellite supply chain capabilities locally instead of globally."
Other advanced manufacturing strategies should sweep the region, according to one industry executive.
The UAE in October released its "Fourth Industrial Revolution Strategy," which aims to develop industries around robotics and autonomous vehicles among other industrial goals.
Another push for more UAE firms to reach global markets is the "Make It in the Emirates" lab, which will give training to local companies across industries on corporate marketing, supply chain and sourcing.
Two years ago, EDGE Group launched its own digital transformation, said Reda Nidhakou, the vice president for strategic programs and corporate development at EDGE Group PJSC. Techniques such as value stream mapping, digital shop floor management and connectivity of machines on the shop floor were implemented across the 25 units of its business, he said.
The company faces challenges to modernizing its manufacturing, and Nidhakou said constant evaluation of each technique's added value was key to reaching manufacturing efficiency goals.
"We did not shy away in the past two years from revamping or repurposing certain initiatives whenever we have doubts," he said. "It has to allow us to develop and get our products to market faster. It has to allow us to basically cut waste and cut non-value-added activities to reduce costs."
The pandemic pushed the company to accelerate the technologies it already had in the pipeline, but it also highlighted how useful collaboration can be, he added. He pointed to the Ministry of Industry and Advanced Technology's launch of a nationwide initiative to promote local partnerships.
"It aims to share knowledge between the companies and tackle these topics together," he said.
Topics: Global Defense Market