Silicon Valley Takes on the 'Valley of Death'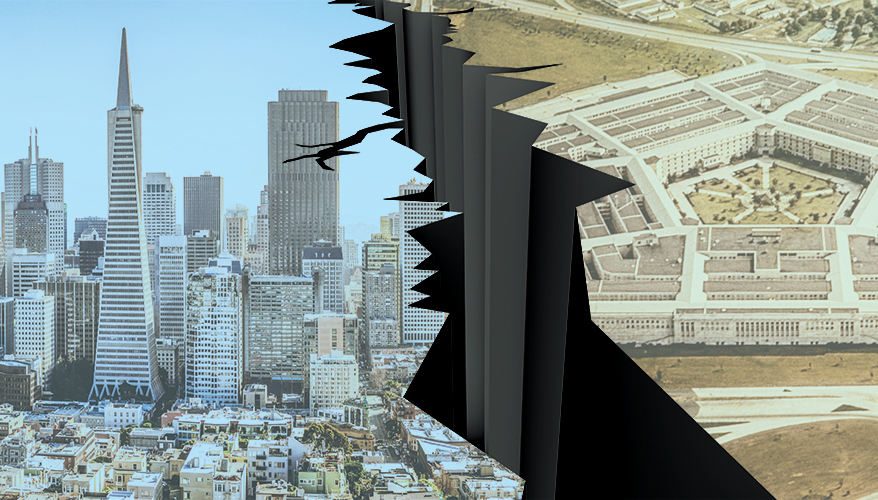 iStock photo-illustration
SIMI VALLEY, Calif. — The commercial technology sector wants to help the U.S. military acquire new capabilities. But if the Pentagon doesn't change the way it does business soon and help innovators bring their products across the "Valley of Death," they will go belly up or walk away, industry and military leaders are warning.
The Defense Department has launched a slew of initiatives in recent years aimed at expanding its innovation base and bringing startups and nontraditional companies based in Silicon Valley and elsewhere into the fold. But there's a problem — promising technologies still often fail to move beyond the research-and-development phase and into large-scale procurement. The phenomenon is known in defense acquisition circles as the Valley of Death.
The problem — and the need to fix it — was front and center at the recent Reagan National Defense Forum, the annual confab of national security elites in Simi Valley, California.
"Let's face it. For far too long, it's been far too hard for innovators and entrepreneurs to work with the department, and the barriers for entry into this effort to work with us in national security are often too steep — far too steep," Secretary of Defense Lloyd Austin III said during his keynote address.
"Let's say some great California startup develops a dazzling way to better integrate our capabilities. All too often, that company is going to struggle to take its idea from inception to prototype to adoption by the department," he added. "We call this syndrome the Valley of Death, and I know that many of you in this room are painfully familiar with it."
The phenomenon deters some innovators from ever trying to do business with the Pentagon, he noted.
Undersecretary of Defense for Research and Engineering Heidi Shyu said there isn't a dearth of high-tech firms that want to work with the military.
"Looking around in terms of number of companies, I don't see a shortage of innovation. Where I see the problem is they get seed money to develop designs and prototypes, and they die on the vine, because our acquisition system is too rigid," she said during a panel at the forum.
As an example, Shyu noted her recent visit to a small business in Santa Monica, California, working on what she dubbed a "superb product."
"They said, 'We're running out of money,'" Shyu recounted without identifying the company. "I said, 'Hello, you're just telling me today?
You think I have a bank account I can open up and give it to you tomorrow?'"
"That's the problem," she continued. "They have venture capitalists that are interested in putting funding in them [but only] if they have production contracts. So, it's the Valley of Death. They have a design, the prototype won't be ready for another year and a half, right? So I'm … trying to figure out how I can find them some money to bridge them over."
There are two key metrics for assessing the Pentagon's relationship with the national security innovation base, said Air Force Chief of Staff Gen. Charles "CQ" Brown Jr. One is access to innovators, and the other is the ability to transition desirable capabilities into large-scale production.
"The access is actually pretty decent and pretty good. So, a lot of dialogue and discussion. But the transition is where we fail and fall really short," he said.
There's a lot of excellent innovation on one side of the Valley of Death. "We just can't get it to the other side of the valley and scale it," he added.
In recent years, the Pentagon has ramped up its use of other transaction authority agreements after Congress passed legislation in 2015 and 2016 encouraging their use. OTAs are intended to cut through bureaucratic red tape associated with the Defense Department's more traditional acquisition processes and facilitate rapid prototyping and follow-on production. The total value of OTAs awarded in 2020 topped $16 billion, according to decision science company Govini.
However, production OTAs account for just a tiny fraction of total OTAs awarded, according to the Center for Strategic and International Studies. The vast majority are for R&D and prototyping.
Additionally, projects initiated under the Small Business Innovation Research program, which Austin said the Pentagon is "doubling down" on to help small companies work with the department, often struggle to find funding after they reach the end of their SBIR Phase 2 contracts because they are not connected to a program office, officials have noted.
Nevertheless, the Pentagon has had some successes in helping nontraditional firms get their technologies across the Valley of Death. For example, in 2020 the Defense Innovation Unit — which is based in Silicon Valley and has outposts in other commercial tech hubs around the country — facilitated the transition of 11 successful commercial prototypes to other Defense Department agencies for large-volume procurement. From its inception in 2015 to 2020, the organization successfully transitioned a total of 26 commercial solutions, according to DIU.
But much more needs to be done, industry insiders say.
"Time is running out with Silicon Valley," warned Katherine Boyle, general partner at venture capital firm Andreessen Horowitz, also known as a16z, which is based in the region.
"After five years of DoD saying, 'We want to work with the best startups,' we have, at most, two years before founders walk away and private capital dries up. And many, many startups will go out of business waiting for DoD to award real production contracts," she said in a tweet storm when the Reagan National Defense Forum kicked off.
"Experienced founders and investors know that until you have a production contract, these [other awards] are … little door prizes," she added.
Billions of dollars in venture capital have gone to defense-focused companies, but the Defense Department is dropping the ball, according to Boyle. That has implications for the workforce.
"Early-stage startups are waiting, and many will languish after getting OTAs and pilot contracts that felt real but weren't," she said. "While investors will give a handful of these companies the benefit of the doubt, you're going to see talented, hard-working teams go bankrupt and head back to Facebook and Google."
To address the problem, the Pentagon needs to award production contracts to "the most important startups with the teams who've proven they can build," she said. "These don't have to be big contracts. But they have to be real production contracts that show founders and investors that DoD is serious."
The Defense Department also needs to change the "culture" of procurement, Boyle said, noting that acquisition officers face blame if they bet on a startup and it doesn't pan out. Instead, officials should be incentivized to work with venture-backed startups that can create technologies that warfighters need, she argued.
The Pentagon can't continue with business-as-usual as adversaries roll out new high-tech capabilities, Boyle warned.
"The future of American national security depends on us finding a way to solve this procurement crisis," she said.
Joe Lonsdale, co-founder and managing partner at venture capital firm 8VC, said investors need to see results if they are going to keep bankrolling companies that are trying to work with the military.
"There's a lot of money that has gone to work in the venture capital ecosystem the last three, four, five years, in part inspired by a lot of these smaller programs that have helped get things going," he said.
Investors want to know "is this an area where people can actually make money?" he added. "A lot of people have a lot of minor work. And so far, we haven't seen the big wins. … It is a critical moment to figure this out."
Contributing to the problem is what Lonsdale described as a "lack of courage" in the Defense Department when it comes to picking winners and losers in the commercial tech sector.
Brown said the Pentagon needs to select some key programs and shepherd them across the Valley of Death to encourage organizations in the innovation ecosystem.
"When they get to the other side of the valley, we've got to continue to nurture them to show some success because if we don't do that, then I really believe all that venture capital is just going to walk," he said. "They're going to find someplace else to go."
Marine Corps Commandant Gen. David Berger said he is already hearing anecdotal stories of companies bailing.
"Two of the CEOs that I know that I talked to, I asked them, 'How's it going you guys?' They said, 'It's bad,'" Berger told reporters at the forum. "They're going to take their money and go do commercial stuff because they can't see where the return on investment is going to be. … That worries me."
Shyu said problems associated with the Pentagon's planning, programming, budgeting and execution process, known as PPBE, is hindering the department's ability to quickly deliver promising capabilities to warfighters.
Her office is planning to conduct a rapid joint experimentation campaign with products from innovators that combatant commanders are interested in. The hope is that they can move to rapid fielding. But in the past, that has been a challenge because "there's no transition budget," she said.
"Let's say the [combatant commands] love that capability and they want it. … Well, I have to go back to the service and say, 'Did you POM for that?'" Shyu said, referring to the program objective memorandum that lays out multi-year plans for resourcing projects.
The 2022 National Defense Authorization Act recently passed by Congress directs the establishment of a new commission tasked with comparing the PPBE process of the Defense Department with similar processes of private industry, other federal agencies and foreign nations, and making recommendations for improvement.
In the meantime, Shyu is asking for some "bridge funding" to get systems across the Valley of Death, although she didn't disclose how much money she's seeking.
"This is something that I've got to work internally within the DoD and I've got to work with the Hill because they want to … count every penny that we have," she said.
Rep. Ken Calvert, R-Calif., ranking member of the House Appropriations defense subcommittee, has a plan to mitigate the Valley of Death.
"The U.S. government has been a lousy partner, quite frankly," he said. "We get companies and we waste their time … and then we're wondering why we're not getting the technologies we want."
Calvert wants to create a new "innovation fund" through the appropriations process.
"Start out, say, with about $100 million, and then we can pick a number of people that we want to succeed and get them through that Valley of Death where they can actually get to procurement," he explained.
"I'm going to work with my friends on both sides of the aisle and the Senate" to set up the fund, he added. "I'm hoping that we can do that as soon as possible."
Topics: Defense Department